A Seastreak ferry grounded inside Bushwick Inlet on New York's East River Saturday afternoon, leading to the evacuation of 125 passengers and crew, according to the Coast Guard, police and fire officials.
The 150'x40'x6.43' Seastreak Commodore had departed Sandy Hook Bay in New Jersey just before 3 p.m. and grounded shortly after 4 p.m., according to AIS data reported by Marine Traffic and a statement from Seastreak. Photos and video on social media showed the vessel aground in Brooklyn's Williamsburg section, and listing to port.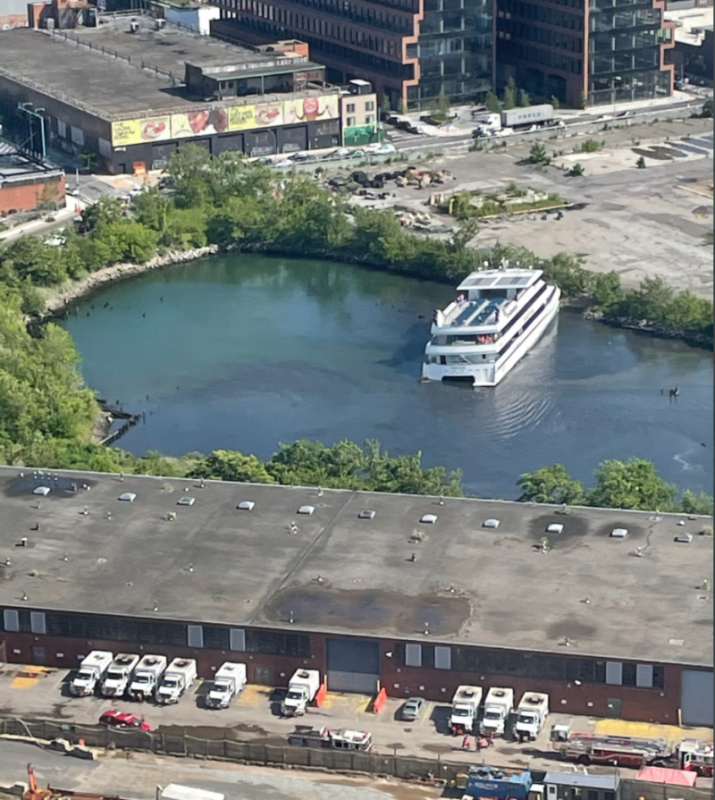 With reports the vessel was taking on water, Coast Guard, police and fire marine units responded to the scene and disembarked 118 passengers and seven crew to take them ashore, according to the Coast Guard. Fire officials said one crewmember suffered non-critical injuries, and Seastreak officials later said the crewmember was hospitalized for observation with what may have been heat exhaustion.
In their statement, Seastreak officials said the Commodore was traveling the East River to East 35th St. in Manhattan when it "experienced a mechanical issue that caused the vessel to lose power and steering. The vessel slowly drifted into Bushwick Inlet on the Brooklyn side of the East River and came to rest along the shore."
The captain and crew alerted passengers to take seats and hold on before the ferry went aground. There were no injuries among the passengers, the company said.
The Commodore was secured Saturday evening in Bushwick Inlet as dewatering operations continued, according to the company and fire officials. In a Sunday update, Seastreak officials said repairs had progressed.
"We are appreciative of the prompt responses of both the USCG and the FDNY, who were calm and professional in assisting with an orderly disembarkation of our passengers to the shore," according to the company's new statement. "The safety of our passengers is our top priority and we are cooperating with the USCG to conduct an investigation as to what caused the mechanical or electrical failure.
"While the hull of the Commodore did sustain some damage that allowed water to enter the port hull, temporary patches have been applied and pumps were used to pump out the water. The vessel is now floating freely and will be towed to a shipyard later today for repairs.
"We are sorry that this happened, and that our passengers had to go through this ordeal. All passengers will receive a full refund for their travel yesterday and will be provided complimentary tickets for future trips this season. "