A top New York energy and environment official who worked on her state's drive for offshore wind energy, now director of the Bureau of Ocean Energy Management, announced Wednesday the federal agency is resuming its environmental review of the Vineyard Wind project.
"Offshore wind has the potential to help our nation combat climate change, improve resilience through reliable power, and spur economic development to create good-paying jobs," Amanda Lefton, formerly first assistant secretary for energy and environment in New York State. "BOEM is committed to conducting a robust and timely review of the proposed project."
In November 2020 the Vineyard Wind developers requested BOEM pause its review process so they could prepare and updated plan for using GE Haliade-X turbines, with power output up to 14 megawatts which could reduce the number of machines required off southern New England.
Under the Trump administration's outgoing Interior Secretary David Bernhardt, the department refused – and furthermore issued a ruling by its top lawyer that Vineyard Wind would have to start the review process all over if it wanted the change.
On Jan. 22, Vineyard Wind submitted a letter asking BOEM to resume review of its construction and operations plan. Five days President Biden issued an Executive Order directing the Interior Department "to identify steps to accelerate responsible development of renewable energy on public lands and waters," according to an agency statement. "Interior has initiated a review of processes and procedures to date as it re-invests in a rigorous renewable energy program."
The Responsible Offshore Development Alliance, a coalition of fishing groups and communities, said it is still concerned "about the flawed process for offshore wind leasing and development in U.S. waters, and hopes BOEM will capitalize on this opportunity to improve public engaement."
"Given the complexity of the leasing process, the fact that the public was informed the review had been terminated, and renewable power goals have increased since theinitiation of the review, the re-initiation merits additional opportunites for public comment."
In New York Lefton was a state legislative aide, union leader and deputy policy director for the state chapter of the Nature Conservancy before being named to the energy and environment post by Gov. Andrew Cuomo in January 2019.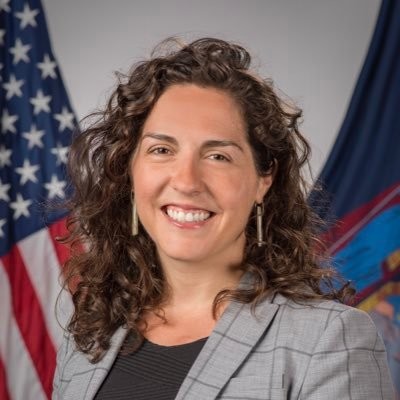 Offshore wind advocates applauded her move to BOEM.
Lefton "will join a team of seasoned clean energy experts and will play a critical role in the responsible development of offshore wind energy off the country's coastline, according to a statement by the New York Offshore Wind Alliance. "As a key advisor to Governor Cuomo, Ms. Lefton was instrumental in the development and passage of two nation-leading laws: The Climate Leadership and Community Protection Act (CLCPA) and the Renewable Energy Growth and Community Benefit Act. Importantly, the CLCPA included the largest offshore wind energy commitment in the United States, which is critical in meeting the law's renewable energy and greenhouse gas reduction targets."
"Having a seasoned state government and policy leader like Amanda at BOEM's helm over the next four years provides the offshore wind industry confidence that the Biden Administration will fulfill its commitments to double offshore wind and expand opportunities for renewable energy development," said Liz Burdock, president and CEO of the Business Network for Offshore Wind. "I look forward to working closely with Amanda and introducing her to the diverse supply chain Network members represent as we seek to advance existing projects and a pathway to a strong U.S. supply chain."
"We appreciate Director Lefton's experience in supporting New York's nation-leading effort to embrace the economic and environmental benefits of offshore wind and are pleased that she will bring that forward-looking vision to the Bureau," said Laura Morton, senior director of policy and regulatory affairs for offshore wind with the American Clean Power Association.
New York's push for offshore power attracted a new player in energy major BP, which with wind developer Equinor closed Jan. 27 on a partnership with BP paying $1.1 billion for a 50 percent interest in Equinor's lease areas off the East Coast. The new partnership will develop up to 4.4 gigawatts potential with the Empire Wind and Beacon Wind projects.
"The completion of the partnership follows the recent success of the Empire Wind 2 and Beacon Wind 1 projects in being selected to provide New York State with 2.5GW of power," according to a BP statement. "This is the biggest US offshore wind award to date. Together with the existing award to supply 816MW from the Empire Wind 1 development, this represents a total commitment to provide 3.3GW of renewable offshore wind energy to the State of New York."
"We see significant opportunities by rapidly growing bp's offshore wind business, making a major contribution to our strategic goals and developing assets that will provide long-term, stable returns," said Dev Sanyal, the company's vice president for gas and low-carbon energy.
The Empire Wind lease area awarded in 2016 lies between 15 and 30 miles southeast of Long Island, covering 80,000 acres. The Beacon Wind lease area covers 128,000 acres about 20 miles south of Nantucket and 60 miles east of Montauk Point.