U.S. Government representatives and National Oceanic and Atmospheric Administration (NOAA) leaders gathered in Ketchikan, Alaska, recently to celebrate the reopening of the renovated port facility.
The revamped facility serves as a crucial hub for supporting NOAA's research vessels, playing a pivotal role in assisting the operations of NOAA's research ship Fairweather, which calls Ketchikan its homeport.
NOAA Administrator Rick Spinrad, Ph.D., emphasized the significance of having a dedicated base of operations in Alaska, describing it as integral to NOAA's scientific pursuits and its mission to ensure safe navigation and foster the growth of the blue economy. He lauded the facility's incorporation of cutting-edge green technology and its climate-ready infrastructure, including a state-of-the-art floating pier designed to accommodate Ketchikan's dynamic tidal shifts and anticipate future sea-level changes.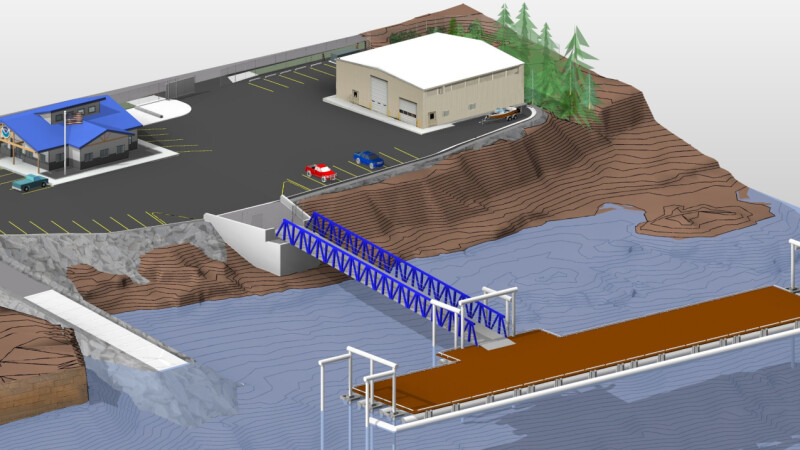 The $18.7 million contract awarded to Alaska-based Ahtna Infrastructure & Technologies by NOAA Marine and Aviation Operations in April 2021, was a major catalyst for transforming the facility. Supported in part by the state of Alaska, the project encompassed the construction of a new office building, a floating pier, and a boat ramp. Additional enhancements included modernized power, sewer, communications, and water utility systems, all geared towards servicing visiting ships efficiently.
Rear Adm. Chad Cary, deputy director of the NOAA Commissioned Officer Corps and NOAA Marine and Aviation Operations, highlighted how this state-of-the-art facility positions NOAA to better support emerging technologies, including uncrewed systems, and enhances operational readiness for Alaska-focused scientific endeavors.
Furthermore, its strategic location closer to the Arctic underscores its growing importance for fisheries and seafloor mapping missions.
The NOAA fleet, comprising 15 research and survey ships, operated, managed, and maintained by NOAA Marine and Aviation Operations, stands as the U.S.'s largest fleet of federal research vessels.