New York City announced it will build its first hybrid-electric ferry, with plans for the new Governors Island ferry to begin operations in the summer of 2024.
The announcement came from NYC Mayor Eric Adams and Trust for Governors Island President and CEO, Clare Newman.
"Each year, hundreds of thousands of visitors board our vessels and journey to Governors Island to experience our rich recreational, cultural, and educational resources," Trust for Governors Island President and CEO Clare Newman said in a statement. "We are thrilled to make the journey easier for our visitors while helping to lead the charge in electrifying the vessels of New York Harbor."
The ferry's hybrid propulsion system will be able to operate on either a zero-emission battery-only power or on a battery-assisted hybrid with diesel backup. The low-emission vessel will have a cruising speed of 10 knots and is projected to reduce carbon emissions by 600 tons annually.
Infrastructure plans for the rapid charging of the ferry have not yet been released. Once the charging installation is operational, the ferry can utilize battery-only propulsion which will reduce its emissions even further.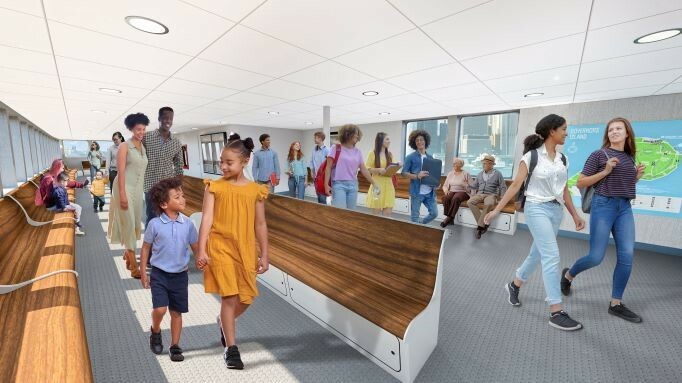 The new ferry is designed by Elliott Bay Design Group, with modern amenities for its 1,200-passenger capacity. EBDG is in the process of delivering a number of hybrid ferries to harbors across the U.S. The company will provide technical and support services to the Trust during the ferry's construction.
Conrad Shipyard, Morgan City, La., will build the ferry. The shipyard's chairman and CEO, Johnny Conrad, noted his excitement to be a part of such an historic event.
"Since Governors Island is accessible only by ferry, we are proud that the Trust for Governors Island has selected us to play such a vital role in its growth and progress," Conrad Shipyard CEO Johnny Conrad said in a statement. "This ferry will be the first-ever hybrid vehicle and passenger ferry in New York Harbor. Conrad is proud to be at the forefront of alternate energy solutions in the marine industry".
The new hybrid ferry will replace the 67-year-old passenger ferry Lt. Samuel S. Coursen, commissioned by the Army in 1956.
The public will name the new boat. A citywide competition has been opened to all New Yorkers on the Governors Island website, where residents can submit name suggestions for the new vessel. The contest cutoff date is May 25.