Nauticus Robotics, Houston, has developed a fleet of surface and subsea robots, called the Nauticus Fleet. The first units are due to be launched this summer.
The company's 59' autonomous surface vessel (ASV) Hydronaut, is specifically designed to transport, deploy, communicate with, recharge, and recover Aquanaut, the company's subsea robot. Enabled by Nauticus' autonomous machine intelligence software platform, toolKITT, the vessels maintain a cooperative pairing, thereby powering the capabilities of the fleet to complete complex subsea tasks.
"We believe this technology will impact the industry in three distinct ways: a greater than 90 percent reduction in greenhouse gas emissions over conventional methods; a greater than 50 percent reduction in operational cost; and an up to 90 percent reduction in personnel deployed offshore," Nauticus CEO Nicolaus Radford told WorkBoat. "Hydronaut is where the maritime industry truly meets intelligent robotics."
UK-based Diverse Marine built the ASV. The company said it has the infrastructure and partnerships to build Hydronauts worldwide, including Jones Act-compliant newbuilds with its U.S.-based shipyard partners. The company recently posted an update on the installation of the vessel's wheelhouse windows provided by Global Marine Design.
Hydronaut features a semi-planing aluminum alloy monohull. The ASV will be powered by two Volvo Penta IPS 9000 Tier III engines. The engines are paired with IMO Tier III selective catalytic reduction (SCR) aftertreatment fuel technology, making the vessel carbon neutral. The ASV's top speed will be 21 knots.
"Hydronaut was built with sustainability in mind, with its ultra-efficient systems enabling it to use a mere 0.5m3 of diesel fuel per day. Meanwhile, Aquanaut is powered 100% electrically using lithium-ion batteries," Radford said.
The technology outfitting this vessel resembles that of a space shuttle, which is fitting considering a large percentage of the Nauticus team members are former NASA robotics engineers, including Radford. The systems are powered by two generators: both NANNI QLS (65T 52 KW, 32T 24 KW). In addition to its Furuno navigation suite, the Hydronaut is outfitted with eight Hikvision IP Cameras and primary, secondary, and tertiary ship-to-shore communications: 4/5 G, Satellite, and Iridium, respectively. These cameras will act as a set of eyes for the remote visualization dashboard stationed at land-based controls.
MarineAI's Guardian remote piloting software wil be used on the vessel.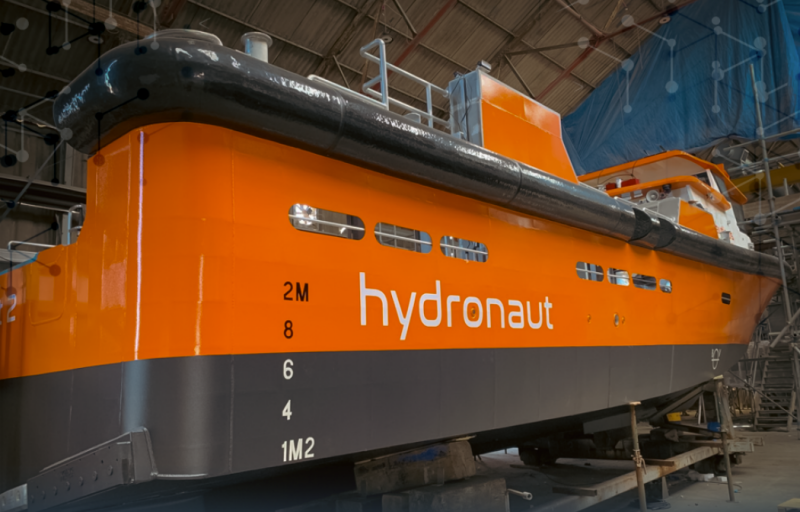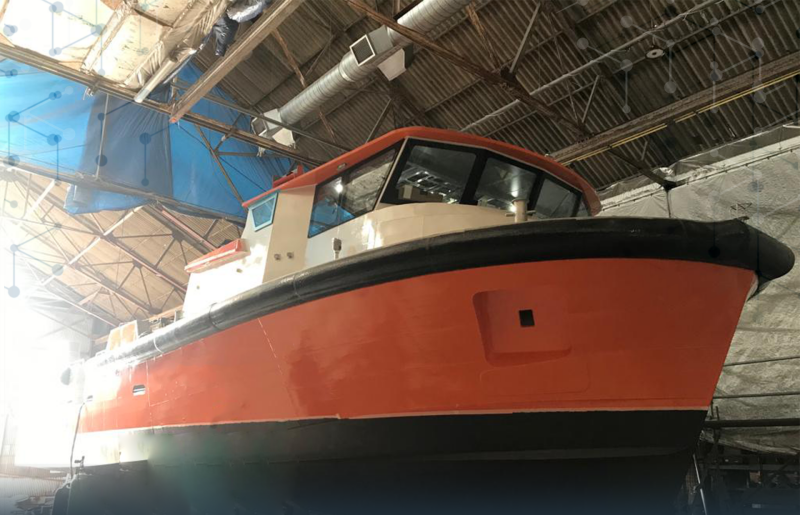 The autonomous through-hull deployment of transducers and acoustic communications systems will allow for the cooperative pairing of Hydronaut and Aquanaut.
When manned, accommodations for crewmembers include two twin cabins, a shower compartment, a table, and a galley. Each Hydronaut is outfitted with a SMART Gyro SG80 stabilizer to enhance deployment and recovery operations for Aquanaut and to improve comfort for crew members. Kongsberg Maritime is designing the AUV's subsea launch and recovery system.
Nauticus said the company is in discussions with major offshore operators in the North Sea, Gulf of Mexico, and elsewhere about how its technology can benefit offshore operations. "We are eagerly anticipating their delivery and commissioning later this summer," Radford said. "They will cruise to our operating bases in Scotland and Norway."
Nauticus Robotics will be exhibiting at the International WorkBoat Show this fall, and you can find them at Booth 239.