A Louisiana barge tow struck and damaged a bridge in 2021 but the towboat's pilot never reported it to authorities, the National Transportation Safety Board said this week.
In the early morning hours of Dec. 23, 2021, the 94'x34', 1,700-hp, Miss Mollye D , operated by Deloach Marine Services LLC, Port Allen, La., was pushing six hopper barges on the Intracoastal Waterway to New Orleans, when the pilot lost control of the tow. While navigating the channel, the 676' tow, began to swing to port. When the pilot realized the tow was not positioned well, he put the engines in reverse. The tow then struck the bridge, which ran parallel to the waterway. The pilot told investigators he initially did not see the bridge, nor did he know the tow struck the bridge.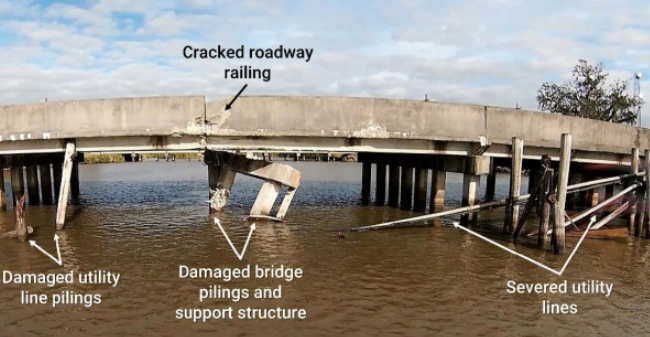 When the tow struck the bridge, water, electrical and gas lines along the bridge ruptured, triggering alarms at the utility providers. Workers sent to investigate found the bridge damaged and reported it to the Coast Guard.
Video from a forward-looking camera on the Miss Mollye D captured a vehicle passing over the bridge with visible lights before the contact. In addition, the sudden loss of speed and the visual indication of the barges pitching up would have been clear indicators of the bridge strike.
According to NTSB investigators, based on the evidence, it is apparent that the pilot was aware the barge tow hit the bridge, but he did not report it to the relief captain or to the Coast Guard. Federal regulations require the operator of a vessel involved in an unintended bridge strike to immediately notify the nearest Coast Guard office.
The bridge, which does not cross a navigable waterway, was closed to traffic following the contact. The south lane of the bridge remains closed until repairs can be made. Repairs to the bridge were estimated at $2 million. No injuries were reported.
The NTSB determined the probable cause of the contact of the Miss Mollye D tow with the Route 182 bridge was a loss of control of the tow by the pilot at the helm of the towing vessel, likely due to impairment by factors such as fatigue or drug use.
"This casualty underscores the importance of reporting bridge strikes and other casualties immediately after they occur," the report said. "Traffic over the bridge was not stopped until the utility workers found the damage, hours after the casualty occurred."
The bridge could have failed or severed gas and electric lines could have ignited a fire in the time between the striking and the finding of the damage.