The next 30 years will bring as much sea level rise to U.S. coastlines as in the past 100 years, by 2050 causing moderate tidal flooding on average more than 10 times as frequently as today, according to a new report compiled by federal agencies.
In a Feb. 15 press conference announcing the findings, NOAA Administrator Rick Spinrad said an average 1-foot rise by 2050 is basically baked into the future, given ongoing climate trends. While it is critical to reduce carbon emissions that warm the atmosphere, coastal communities must prepare for the consequences now, NOAA officials say.
The regional impacts will vary, dependent not only on tides and local sea conditions, but geological trends along the coasts. Where land is subsiding on the Atlantic and Gulf of Mexico coasts, sea level change will have much bigger effects compared to the Pacific states.
Rise in the next three decades is anticipated to be, on average:
East Coast: 10 - 14 inches.
Gulf of Mexico: 14 - 18 inches.
West Coast: 4 - 8 inches.
Caribbean: 8 - 10 inches.
Hawaiian islands: 6 - 8 inches.
Northern Alaska: 8 - 10 inches.
"The Sea Level Rise Technical Report provides the most up-to-date sea level rise projections for all U.S. states and territories by decade for the next 100 years and beyond, based on a combination of tide gauge and satellite observations and all the model ensembles from the Sixth Assessment Report of the Intergovernmental Panel on Climate Change (IPCC)," according to a NOAA synopsis.
"The report projects sea levels along the coastline will rise an additional 10-12 inches by 2050 with specific amounts varying regionally, mainly due to land height changes."
The report updates the federal government's 2017 sea level rise projections, and uses additional information on tide, wind, and storm-driven extreme water levels affecting current and future coastal flood risk.
The NOAA Sea Level Rise Viewer is an online tool where users can download future flooding projection map by ZIP code and down to neighborhood level.
"By 2050, moderate flooding–which is typically disruptive and damaging by today's weather, sea level and infrastructure standards–is expected to occur more than 10 times as often as it does today," said Nicole LeBoeuf, director of NOAA's National Ocean Service. "These numbers mean a change from a single event every 2-5 years to multiple events each year, in some places."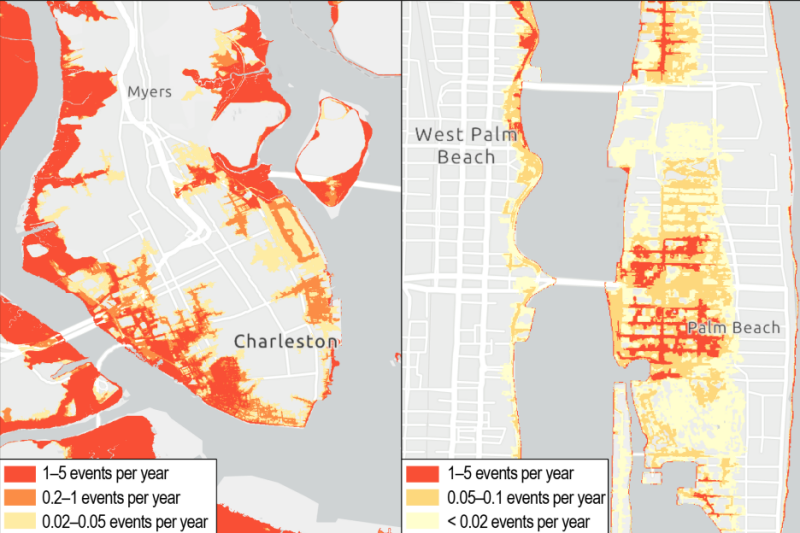 "For businesses along the coast, knowing what to expect and how to plan for the future is critical," said Commerce Secretary Gina M. Raimondo. "These updated projections will help businesses, and the communities they support, understand risks and make smart investments in the years ahead."
The report with its 2050 predictions puts out a timeline for the fate of already threatened, low-lying coastal communities.
"This latest report on sea level rise provides an urgent call for action to protect Louisiana's coast and communities," said Simone Maloz, campaign director for the group Restore the Mississippi River Delta. "Louisiana's land loss crisis coupled with more intense hurricanes and sea level rise puts our state and its people in a precarious position. These threats require us to work with all speed and power to protect our communities before the worst effects take hold."
Updating from the last edition in 2017, the new technical report delves into detailed discussions of how even modest sea level changes can have dramatic effects on once-infrequent flooding.
"Because of threshold effects related to changes measured relative to a fixed elevation, even the relatively small increases in sea level over the last several decades have led to greatly increased frequency of flooding6 at many places along the U.S. coast. Much of the coastline is already close to a flood regime shift, with respect to flood frequency (and presumably damages)," the report says.
"That is, only about a 0.3–0.7 meter (0.98 to 2.3 feet) height difference currently separates infrequent,moderate/typically-damaging and major/often-destructive high tide flooding from minor/disruptive "nuisance" high tide flooding, whose impacts are already remarkable throughout dozens of densely populated coastal cities.
"For example, the trends in minor/disruptive high tide flooding have grown from about five days in 2000 to 10–15 days in New York City and Norfolk, Va., in 2020; in Miami, Fla., and Charleston, S.C., annual frequencies have grown from 0–2 days to about 5–10 days over the same period. These increases will continue, further accelerate, and spread to more locations over the next couple of decades," the report says.
The multi-agency report comes out of the Interagency Sea Level Rise and Coastal Flood Hazard and Tool Task Force, composed of NOAA, NASA, Environmental Protection Agency, U.S. Geological Survey, Defense Department, Federal Emergency Management Administration and the U.S. Army Corps of Engineers, as well as several academic institutes. The report leverages methods and insights from both the United Nations Intergovernmental Panel on Climate Change (IPCC) 6th Assessment Report and supporting research for the U.S. DoD Defense Regional Sea Level database.