November 2, 2023
Dantech Your Trusted Importer & Distributor of Wencon Products and Solutions in North America

Introducing Dantech Offshore Marine Group - Experts in Corrosion Control and your trusted Wencon Partner in the USA

Established in the 1990's, Dantech Offshore and Marine Group has been a trailblazer in mechanical and electrical maintenance and repair services for the offshore marine industry. Their headquarters, strategically situated in Pompano Beach, Florida, house a comprehensive inventory from top manufactureres, along with a state-of-the-art service and repair shop.

Revolutionizing the approach to Marine & Offshore asset maintenance, both above and below the waterline, Dantech your trusted Importer & distributor of Wencon products and solutions in North America. Wencon, headquartered in Denmark, is a globally renowned expert in corrosion control, and Dantech stands as their sole representative in North America.

At the core of the Wencon concept are comprehensive epoxy solutions designed to streamline maintenance and repair work, providing long-term protection for surfaces exposed to the harshest marine and industrial conditions. The Wencon solutions offer a game-changing approach, addressing a wide range of repair and maintenance needs for assets of all ages and sizes.

Wencon's pure epoxies, devoid of metallic filler and solvents, boast extreme versatility. With a product line consisting of only four groups, Wencon offers thousands of possible applications, from emergency repairs and surface restoration to protection against corrosion, cavitation, wear, or breakage. These solutions exhibit strong adhesion to all types of metal and steel alloys, including brass, bronze, cast iron, aluminum, GRE, Fiberglass, FRP, and various composite materials.

Benefits of the Wencon Solutions are manifold—rapid curing time, non-electrically conductive, elimination of bi-metallic corrosion, 100% machinability, resistance to high temperatures and a wide range of chemicals, and the ability to withstand pressure up to 2250 PSI. Wencon products have a long shelf life and possess robust adhesive capabilities, making them excellent for bonding dissimilar materials both above and below the waterline.

Dantech's commitment to corrosion control goes beyond product distribution. Dantech Offshore and Marine Group offers real-time application services, both in-situ and at their local repair shops in Florida and the Bahamas. Dantech's team of professionally trained Wencon technicians and applicators is ready to preserve the integrity of your assets. Serving all major ports across the USA and around the world, Dantech takes pride in being your go-to expert for top-notch service and unmatched solutions. Trust Dantech Offshore and Marine Group as your partner in ensuring the safety, reliability, and longevity of your valuable assets.

Dantech Offshore and Marine Group boasts an extensive distribution network in North America with the following distributors and their regions:

Merritt Supply: Florida

World Wide Metric: California New Jersey, Florida, Texas

H.S. White: Florida, Texas

Wassnik Marine Service: Canada

With over 35 years of experience, Wencon offers products specifically designed to provide protection for surfaces subjected to harsh conditions.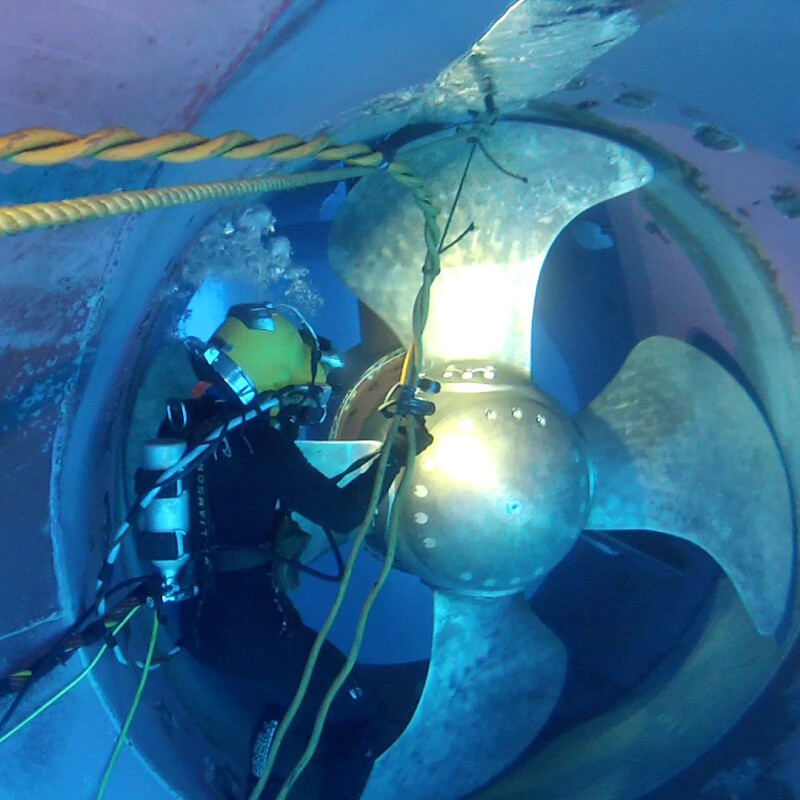 This fast-curing pipe repair bandage is perfect for quick and effective fixes to cracks, leaks, fractures, and corrosion porosity in piping. It's suitable for a wide range of substances, including chemicals, fuels, benzines, saltwater, oil, steam, gases, diluted acids, alkalis and solvents.
Wencon Pipe Tape is a preimpregnated fibreglass bandage ready for use after soaking in water for 10 seconds. After 10 minutes cure the bandage hardens and the pipe can usually be reactivated. The bandage is fully cured within 1 hour.
Typical applications are repairs in piping carrying, fuels, benzines, saltwater, oil, steam, gases, diluted acids and alkalis, solvents, and chemical resistant.
This versatile epoxy compound cures in just 10-20 minutes and is ideal for emergency repairs, patching, sealing, and filling cracks, leakages, and holes in pipes, flanges, tanks, and more. It boasts strong adhesion to all metal surfaces and is fully machinable. This multipurpose epoxy paste is ideal for a wide range of emergency repairs where an ultra-quick curing and moldable compound is required.
Wencon Putty is non-conductive and will therefore not cause bi-metallic corrosion. After curing the compound is resistant to chemicals, fuels, benzines, saltwater, oil, steam, gases, diluted acids, alkalis, and solvents. Heat resistance ranges from 60° C (140°F) in corrosive and heavy load environments and up to 250° (482°F) C when applied as a filling compound.
The Wencon UW Coating is a two-component product, to be applied on wet surfaces or under water. The UW Coating is ideal for repair of ballast- and cooling pipes, in connecton with Wencon reinforcement tape. Developed for repair jobs which, due to high humidity, have to be done in wet conditions.
After curing, Wencon UW Coating will provide a smooth, nonporous coating, which is resistant to bi-metallic corrosion, light chemical attack, corrosion, and impingement. Wencon UW Coating contains no metallic fillers or solvents. Wencon UW Coating is a double coat system and is consequently supplied in two different colours, orange and brown.
Typical applications are coatings of steel surfaces rebuild with Wencon UW Cream, and coatings under water - like ships hulls and/ or other submerged structures, tanks, pipes etc. Examples of repairs under extreme conditions could be: on-site repair of sea-water filter housings etc. unable to achieve a dry surface. The UW Coating is also used for scratched painting on hulls in splash-zones and under water.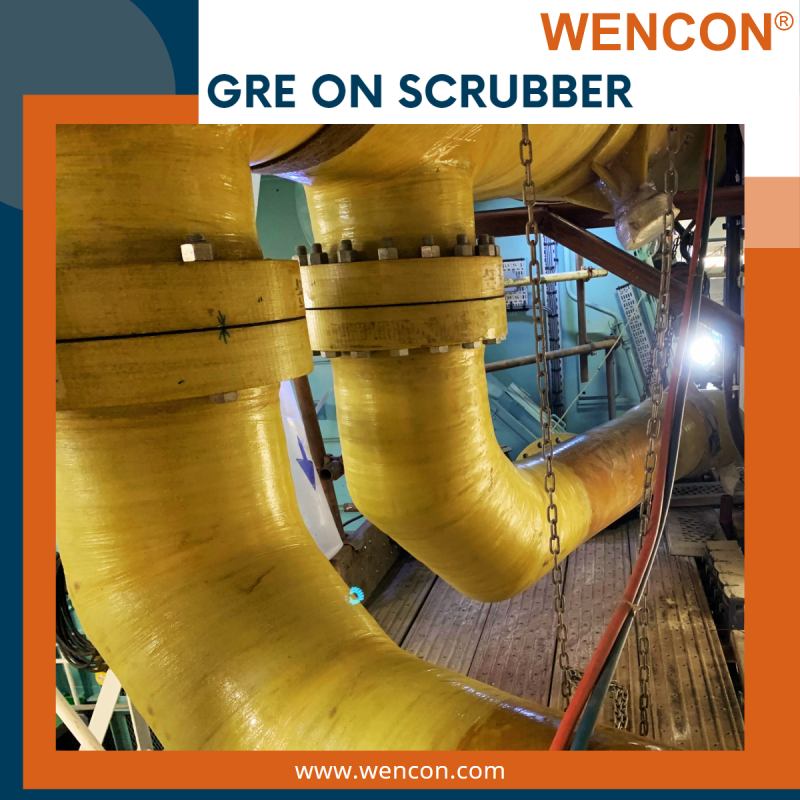 This fast-curing two-component epoxy compound is tailored for emergency repairs where quick curing is essential to minimize downtime. It's also versatile for regular maintenance tasks and as a filling compound.
Wencon Rapid shows many of the characteristics of metals, which together with outstanding adhesion to all metallic surfaces makes the repair compound highly suitable for repair of corroded and worn metals.
Wencon Rapid is very suitable for applications where thicker layers of material are required, as the compound quickly sets and becomes solid. Typical applications are corroded tanks, pump housings and impellers, valves, tubes, pipes, heat exchangers, flange faces, seats, worn shafts, hydraulic rams and all emergency repairs, where a short curing time is required. The compound can also be used as a filling compound.
A basic two-component epoxy compound with a wide range of applications for repairing and rebuilding worn, damaged, corroded metal parts. It exhibits outstanding adhesion to all metallic surfaces.
Typical applications are corroded tanks, pump housings, impellers, valves, pipes, flange faces, roller bearing seats, worn shafts, hydraulic rams and heat exchangers. Wencon Cream is also excellent as a filling compound.
Wencon Repair Kits are available in different sizes, even categorized by passenger vessels, tankers, commercial fishing, and dry bulk. The Repair Kits cover most aspects of emergency repairs and long-lasting maintenance, and each are suitable for all ships. All kits contain instructions for use, technical information, and detailed application data sheets. Customers can select one of Wencon's standard repair kits or compose their own customized kit needed for their application.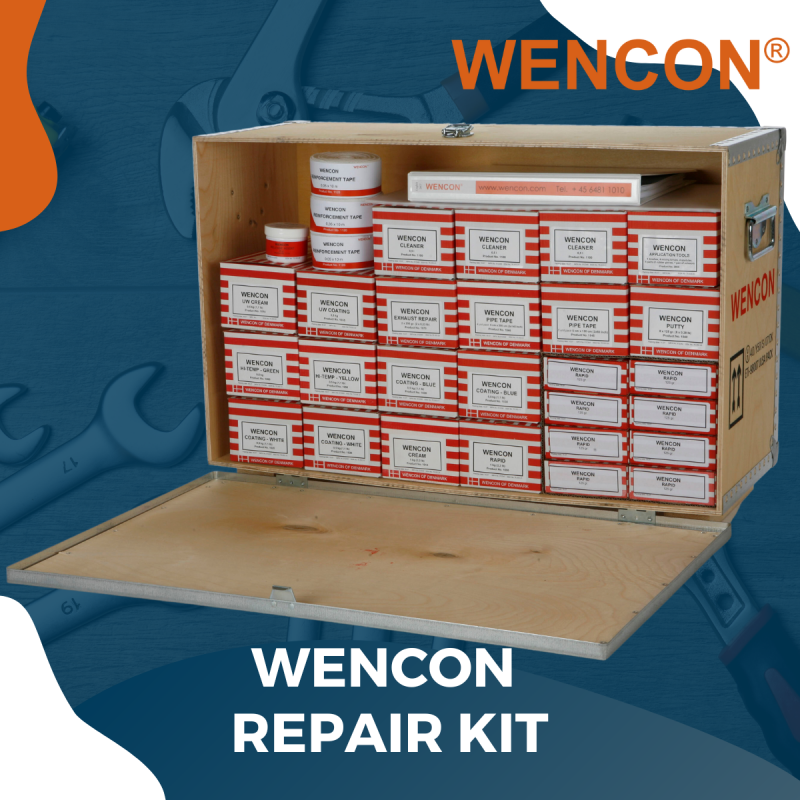 Additional Wencon accessories include a Rotating Blaster, Wencon cleaner, Wencon Bio Cleaner, Wencon Reinforcement Tape, and a Wencon Release Agent.
With Dantech Offshore Marine as the exclusive distributor of Wencon products in North America, you're not just getting a service provider; you're partnering with a legacy of excellence. Ensure the longevity and reliability of your marine and offshore assets with the trusted expertise of Dantech and the unrivaled quality of Wencon products. Contact Dantech Offshore Marine today and experience the difference in marine and offshore repair solutions.
Set sail for success with Dantech – your trusted partner on the open seas.