The Inland Marine Expo (IMX) kicked off its 10-year anniversary from Nashville, Tenn., by highlighting the challenges the industry faces, and the actions being taken to resolve them.
"One of the biggest challenges that we have as an industry and that we're all faced with, whether you're a shipyard, a harbor operator, inland or offshore, is workforce and workforce development," said Clark Todd, president and CEO of tank barge operator Blessey Marine Services, New Orleans.
Todd mentioned the uptick he has seen in talent development positions, a role that was almost nonexistent a decade ago, and how those positions are critical in resolving the workforce issue.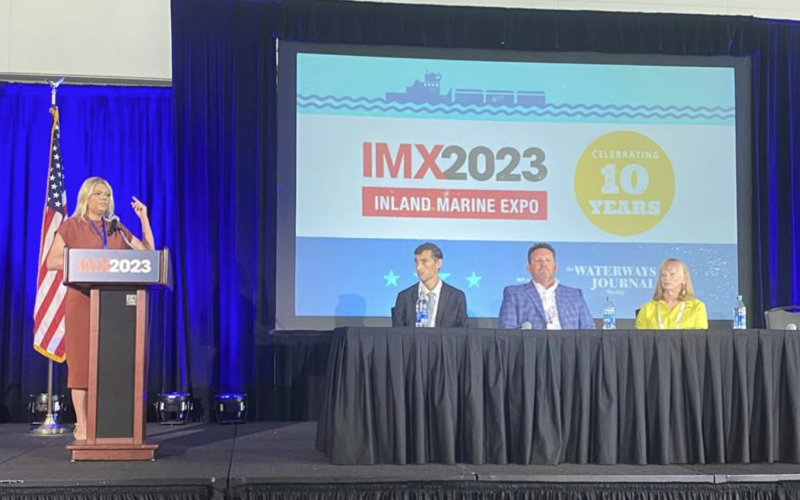 Defending the Jones Act is also a top priority for the inland marine system. Under the Jones Act, a U.S.-flagged vessel that sails from one U.S. port to another must be built in a U.S. shipyard, owned by a U.S. citizen or permanent resident, and operated by a U.S. company or individual.
Todd said the importance of protecting U.S. jobs and the national security that the Jones Act provides needs to be recognized. "Our mariners are the most important asset that we have in our industry," he said.
Todd added that mariner safety can continuously be improved.
Sustainability — avoiding the depletion of natural resources in order to maintain an ecological balance — was the final challenge Todd mentioned. Though maritime is considered the most sustainable means of transportation, he noted it is a challenge that needs to be taken seriously, and there is a lot more the workboat industry can do to take it to the next level. "Sustainability is here, and it is something that we need to pay attention to within the next few years," he said. "We all have a responsibility to protect our environment."
Despite all these challenges, Todd noted that the inland marketplace "is in a true state of equilibrium."
The barge industry is a very stable marketplace right now speaking on the inland side of things, he said. "In the 22 years that I've been in this industry, the three downturns that I've been a part of, the resilience of this industry is incredible."