Blasting onshore on the 16th anniversary of Hurricane Katrina, Hurricane Ida sent its immense storm surge coursing over southeast Louisiana, with gusts up to 172 mph reported at its Port Fourchon landfall at midday Sunday.
After landing at near-category 5 hurricane strength, Ida slowed its forward speed passing between Galliano and Houma, sustaining 130-mph winds with gusts to 160 mph around 6 p.m. Sunday.
With distress calls coming from LaPlace and other communities in coastal parishes, first responders and volunteers organized to move in with morning light.
"In Louisiana we have a lot of shrimp fishermen, commercial fishermen," ready to head out for high-water rescues, Todd Terrell of the volunteer group United Cajun Navy told CNN late Sunday.
Falling trees blocked roads across the region and caused the first reported death in Ascension Parish where a man was killed when a tree fell on a house, authorities said.
"It's bad," said Julie Falgout of Louisiana Sea Grant. "I know several Vietnamese fishermen in Bura moved their boats inside the levee. Some of them are flipped over, and others drifted away and haven't been found yet."
Docks in Dulac are heavily damaged, and Lafourche and Terrabonne parishes "are devastated," said Falgout. In Houma, "my house is totaled, the whole roof is off, and everything soaked," she said.
Port Fourchon "is pretty torn up," said Falgout. Most of the offshore service vessel fleets there moved west to Port Arthur, Texas, and Houston-area refuges before the storm, she said.
But some fishermen kept their vessels outside of levees, hoping to resume work after the storm passed, and Falgout said she is trying to assess the fleet's conditions.
"We have more boats affected than in (Hurricane) Laura" last year, she said. "We didn't think anything could beat Laura, but we just saw something that did.
"We'll build back. But everyone is tired."
"It's bad all over," agreed Acy Cooper of the Louisiana Shrimp Association. "Lafourche and Terrebonne (parishes) got pretty much wiped out."
"The fishing industry has taken a real beating. The (shrimp and ice) plants are going to be knocked out for a while, said Cooper. "They weren't making a whole lot of money to begin with, with competition from imports and everything else."
The region's waterfront infrastructure may have largely survived Ida's storm surge but repairs will take weeks, said Cooper.
"It's going to be at least a month, no doubt, to get the plants and docks back up," he said. "It's overwhelming at times … hopefully everything gets back to normal while we still have a season."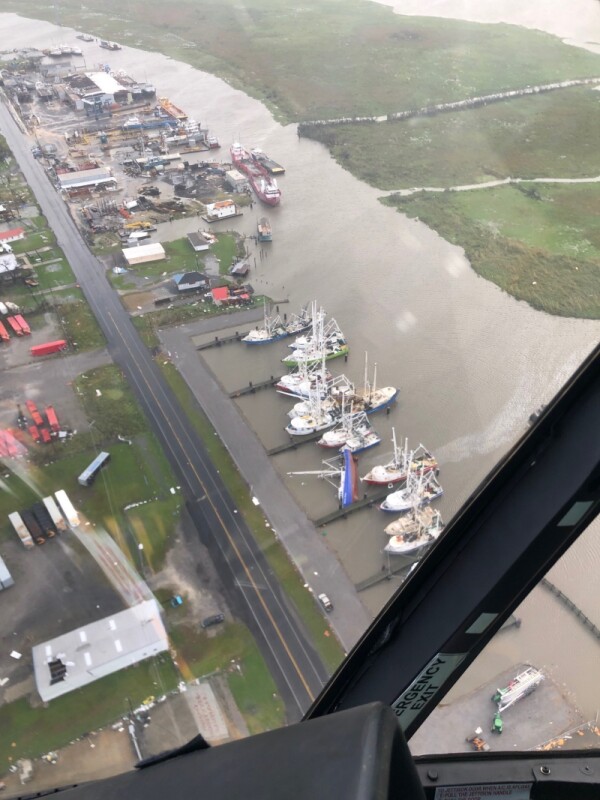 On Sunday, Gov. John Bel Edwards said state officials were confident in Corps of Engineers modeling that $15 billion in flood protection improvements since Katrina in 2005 would contain the storm surge, predicted to be 12' to 16' at peak locations.
"If there's a silver lining, and it's hard to see one today, it's that our levee system performed extremely well," Edwards said at a Monday afternoon press conference.
The Biden administration granted Louisiana's request for an emergency declaration and by Monday afternoon 18,000 people had already signed up with the Federal Emergency Management Agency for aid, said Edwards.
The Mississippi River at the Carrollton gauge in New Orleans peaked at 11.36' at midday Sunday — well below the 17' flood stage — dropping to 7.42' at 7 a.m. Monday. Levees were overtopped in places in Plaquemines Parish, including Jean Lafitte where local officials prepared to rescue some 200 people who rode out the storm.
Edwards said search and rescue crews staged at 3 a.m. to move out at first light and rescued hundreds of people across the region. The mission now is to go out and do a grid search" to methodically sweep for stranded people, said Edwards.
But the New Orleans power grid was not up to the task, as eight transmission lines failed Sunday evening, according to power company Entergy, leaving around 940,000 users in the dark. One massive power line tower collapsed, dropping its lines into the Mississippi River upriver from New Orleans near Avondale just before 9 p.m.
Entergy officials said they were working to assess and restore connections Monday.
"It will likely take days to determine the extent of damage to our power grid and far longer to restore electrical transmission to the region," the company said.
Hospitals are the priority for restoring power, said Edwards, who noted three hospitals had to be evacuated and a fourth, Terrebonne General Medical Center, was in the process of moving out patients and staff late Monday.
The high winds sent idle vessels breaking away, including 22 barges and a ferry at Chalmette just below New Orleans. The New Orleans Regional Transit Authority reported its ferries RTA2 and Thomas Jefferson also went AWOL; both ran aground without posing any danger of damaging levees, and tugboats were readied to retrieve the vessels when it was safe.
In Bayou Barataria, runaway vessels piled up and damaged a bridge, said Edwards.
With the hurricane's approach, the Greater Lafourche Port Commission opened its Emergency Storm Harbor Marina to commercial fishing vessels seeking safe harbor within the South Lafourche Levee System.
The South Lafourche Levee District closed the gate over LA 1 at the Leon Theriot Lock in Golden Meadow, while the Ted Gisclair Floodgate in Larose and the Leon Theriot Lock in Golden Meadow are closed to all marine traffic.
Downgraded to a tropical storm early Monday morning, Ida made a slow march toward the north-northeast. Forecasters predicted continued showers and heavy thunderstorms through Tuesday to complicate rescue and recovery operations.
Overnight cruise lines still recovering from the pandemic shutdown are weighing their options for scheduled trips to or from New Orleans.
"American Queen Steamboat Company is assessing the impact of Hurricane Ida on Lower Mississippi River ports and no vessels are in New Orleans or the Lower Mississippi River region," the company said in a statement Tuesday. "All guests and crew are safe with the American Queen currently in the northern Mississippi port of Tunica, (Miss.), American Duchess on the Ohio River and American Countess on the Upper Mississippi River in Minnesota. New Orleans is a resilient city and holds a special place in all of our hearts."
The American Queen was scheduled to leave Monday, Sept. 6 from New Orleans on a trip to Memphis ending Sept. 13, according to a published schedule, with the American Duchess sailing a reverse itinerary at the same time.
Dale Dupont contributed to this story.