One of a select group of destroyers built during World War II for the U.S. Navy, and subsequently serving as a plane guard for aircraft carriers during the Vietnam War, will soon have a new home off a 600' pier in Jacksonville, Fla.
The USS Orleck, named in honor of Lt. Joseph Orleck who lost his life in a naval battle off Salerno, Italy, in World War II, has for the last decade served as a museum in Lake Charles, La., where its presence and reputation attracted thousands of visitors over the years.
"We never had enough money to pay for big billboards announcing that it was here," said Stephan Miller, who has long served as the ship's superintendent in Lake Charles. "But the word just always seemed to get out that it was here."
People come from northern Europe, Spain, Italy, and throughout Asia to Lake Charles just to see it," continued Miller. "One time there was even a group of 20 or 30 Englishmen who travel together by bus visiting museum ships who stopped by."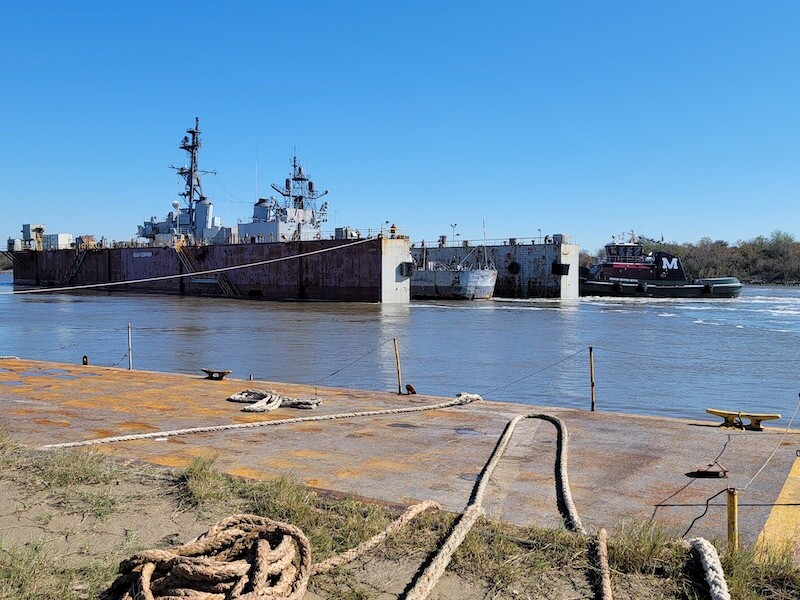 Plans to move the 2,350-ton Orleck to Jacksonville, where it will once again, as in Lake Charles, serve as a floating museum, have been long in the talking stage, involving any number of public officials and private supporters in two different states.
"It's something we've been working on for the last 12 years," said Daniel Bean, the president of the Jacksonville Historic Naval Ship Association. "We're finally getting to an end point with this project, but I won't be totally happy until I see it with my own eyes coming up the St. John's River."
A Gering Class destroyer built at a cost of $6.3 million in 1944 by the Consolidated Steel Corp. in Orange, Texas, the Orleck's history is fused with the history of the mid-20th century U.S. Navy.
It supported United Nations forces during the Korean War, for which it received four battle stars. But it is most remembered for its service during the Vietnam War when it won the nickname of the "Grey Ghost of the Vietnam Coast," securing a remarkable 14 battle stars.
In summer 1966 an Associated Press wire service story noted that in Vietnam, the Orleck during a 101-day period had fired "nearly 12,000 rounds of 5.38-inch ammunition against 452 targets, destroying 852 structures, damaging 827, and leaving 546 burning."
The newspaper Stars and Stripes recently remarked that in that war, the Oreck "fired more rounds in support of ground troops than any ship in the Navy."
Not until the fall of 1982 was the ship decommissioned. Five years later it was removed from the Naval Vessel Register. Transferred to Turkey, it was put into service for that country's navy where it was renamed the TGC Yucetepe.
Nearly two decades after that, in August of 2000, the Turkish government transferred the boat to the Orange, Texas-based Southeast Texas War Memorial and Heritage Foundation. There it was once again officially called the Orleck and established as a museum and memorial.
Meanwhile, remarked Ron Williams, the long-serving director of the USS Orleck Naval Museum in Lake Charles, the ship has "had some experiences with storms."
Williams recalls that not only was the ship severely damaged by Hurricane Rita in September of 2005, it was also hit by Hurricane Laura in the late summer of 2020.
"That hurricane hit just about every other vessel up and down the Calcasieu River," said Williams. Ultimately, the ship broke loose from its moorings and ended up drifting a mile or so downstream.
What made the Hurricane Laura hit especially problematic was that it came after the Jacksonville City Council had agreed to buy the ship.
"This was just one more thing, along with the pandemic and lockdown, to delay the project," said Williams. "For a while, none of us knew what was going to happen next."
Towed to Port Arthur, Texas, late last year, where it was put into drydock at the Gulf Copper and Manufacturing Co. for an ultrasound inspection, the ship was soon determined to be in good enough shape to make the voyage to Jacksonville.
"For Jacksonville, the 3rd largest Navy city in the country, it just makes a lot of sense to have a historic ship like this downtown," said Bean. "The city has struggled to develop downtown, there haven't been a lot of things for people to do. Now there will be a significant and historic attraction for them to enjoy."
In his press conference, Bean made a point of noting that the Oreck as an exhibition will especially be highlighting it's history in Vietnam.
"Unlike any other warship that is on display in our country," continued Bean, "our focus will be on Vietnam and to recognize what the Orleck accomplished, but also what our fellow Americans accomplished."
Plans for the Orleck, which is expected to be towed to Jacksonville by either late February or early March, include the construction of a building at the pier where it will berth housing a gift shop, ticket office, and restrooms.
Altogether, the project transporting and turning the Orleck into a Jacksonville museum has a rough $2.8 million price tag, with funding coming from a variety of sources, including private donations, banks loans and grants from the state of Florida.