The rarefied world of the America's Cup provided inspiration for a ferry that is one of a growing number with low-emission, high-speed hybrid- and electric-powered designs. At the same time, the continued operation of two historic landmarks is a nod to the past of a dynamic sector that is gradually recovering from a steep Covid-19-induced passenger drought.
Crew and commuters heading to work have been hard to find. Ridership for many ferry operators was down 40%-50%, but things are getting better. And one new Staten Island ferry was finally expected to be in New York harbor this year.
COVID AND OTHER WOES
As summer began, passengers came flooding back "to the point we're at pre-pandemic levels on most routes," said Ian Sterling, spokesman for Washington State Ferries (WSF). A lot of the traffic is due to tourism, since many office buildings are not back to work yet.
As for crew, "we simply don't have the number of people we need," which has led to cancellations, he said. Normally, from February to June, they have one or two cancellations a month. This year, they've already had 55-plus round-trip sailings cancelled. While that's just 1% to 2% of the total, it's a problem for the passengers who count on the ferry. "We're trying to address it as best we can. Just finding qualified people is a challenge," Sterling said.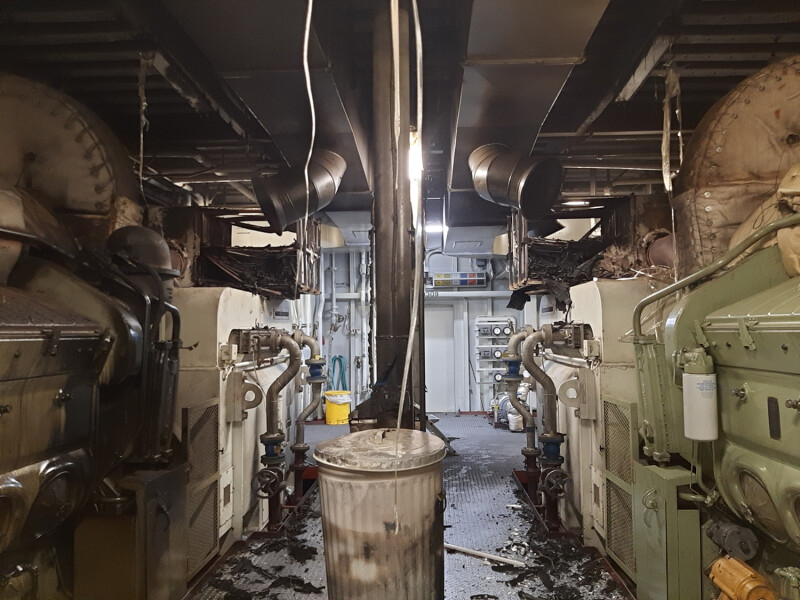 Compounding WSF's woes was an April engine room fire that sidelined the 460'2"×90'×17'3" Wenatchee which was undergoing sea trials with recently rebuilt engines. The cause is under investigation. The Jumbo Mark II ferry that carries 2,500 passengers and 202 vehicles is one of the largest in the fleet and one of three scheduled to be converted from diesel to hybrid-electric propulsion.
Across the country in June, a grounding on New York's East River sidelined the Seastreak Commodore, the highest capacity Subchapter K fast passenger ferry ever built in the U.S. None of the 107 onboard was injured. The Atlantic Highlands, N.J.-based company said an issue caused the 150'×40', 600-passenger vessel to lose engine power and steering. The Coast Guard is investigating. According to The (Nantucket) Inquirer and Mirror, Seastreak announced the cancellation of all its ferry service from New York to Martha's Vineyard and Nantucket until Sept. 3 due to the Commodore being out of service.
During the worst of Covid, Seastreak dropped from an average of 2,000 round-trip riders a day to around 50-100, with most being essential workers who rode for free for several months, said James D. Barker, Seastreak's director of business development.
Late this spring and early summer Seastreak saw huge gains in ridership to 50% or more of their 2019 numbers, and the company was expecting even more after Labor Day. The ferry operator was also expecting to take delivery in late July of the Commodore's sister vessel, the 600-passenger, 148'×40' aluminum Seastreak Courageous, built by Midship Marine, Harvey, La.
ELECTRIC POWER
In Seattle, an electric hydrofoil fast ferry is moving closer to reality with public-private partnership funding for a project that began in 2018 after naval architect Paul Bieker of Bieker Boats moved back to the area and was struck by the traffic congestion.
"The waterways are pretty clearly underutilized transportation-wise compared to land," said Bieker, designer of the hydrofoils for the America's Cup winning Oracle Team USA. "When you are engineering those boats, you have a sense of how magic they are. Following a race boat clipping along at 35-40 knots leaving a little spray, you realize that the race boat is doing that on 50-hp of energy" — a sea change in efficiency.
Having spent the last 20 years designing performance yachts, Bieker knew ferries were in a different world, especially when it came to regulations. So he approached Seattle-based naval architecture and marine engineering firm Glosten with the ferry concept.
The 150-passenger, 98'×23' design calls for carbon fiber foils and hull with foam cores above the waterline. "High performance, high temperature cured carbon fiber composite structure is pretty similar in strength and stiffness to high strength steel," Bieker said. It's also just one-fifth the weight. Carbon fiber also is about one half the weight of aluminum.
High-speed ferries have significant power requirements. "The faster you go, you need exponentially more power," said Matthew Lankowski, the program manager at Glosten. "The only way to go fast and have zero emissions is to drastically reduce your resistance." Hydrofoils, which cut resistance 60-70% "don't need batteries, but batteries need hydrofoils."
The ferry would have a range of 15-20 nautical miles and go about 30 knots. Lighter weight hydrogen power would be the choice for longer ranges.
They're now working on the preliminary design, which Lankowski expected to be done by mid-September, and a business model likely finished by year's end. Estimated cost is $20 million or less for a functional design and pilot program, which could be operational in 2023.
The funding announced last summer includes about $612,000 in federal and local money. The public-private partnership includes Kitsap Transit, Bremerton, Wash., which in 2019 launched the Glosten-designed Waterman, a 150-passenger, 70'×26' aluminum catamaran – the first hybrid-electric passenger ferry in Puget Sound.
The federal share was $372,910. More would be welcome.
"Creating a carbon-free maritime industry is an unprecedented challenge that creates a unique opportunity for U.S. technology developers. If this is our goal, time is of the essence," Glosten president Morgan Fanberg told a House committee in April. "We will soon lose to foreign competition that is better funded and better prepared to lead the maritime industry toward decarbonization."
Citing the foil ferry project, he said, "By comparison, a UK-based developer of a competing design was awarded a $45 million (USD) government grant to complete and build their design."
Battery power is definitely attracting attention. Following last fall's debut of the two Maid of the Mist Niagara Falls all-electric tour boats, Ed Schwarz, vice president of marine systems, ABB Marine & Ports, Miramar, Fla., has received inquiries mostly from ferries and other passenger vessels that go from point to point.
"It's a really a perfect segment for zero emissions," he said. ABB designed the electrical propulsion systems with lithium-ion batteries for the two that are the first new, all-electric zero-emission passenger vessels built in the U.S.
Ferry operators considering newbuilds are looking seriously at hybridization, he said. As more choose that option, economies of scale kick in and the cost of materials goes down. And batteries are getting smaller and cheaper.
While owners may see a 5%-20% increase in the cost of the vessel, they may also see the same percentage decrease in operating costs, Schwarz said. "Hybridization usually pays for itself in four to eight years."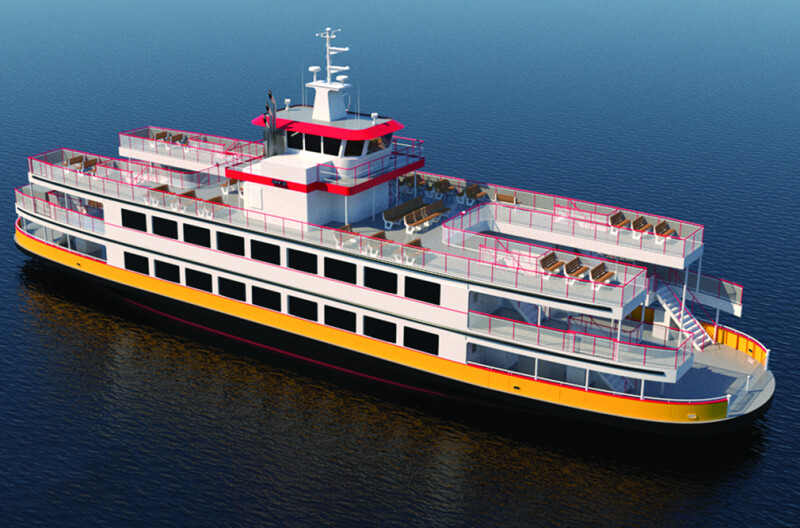 ABB is providing the propulsion system for a new diesel-electric hybrid ferry for Casco Bay Lines, Portland, Maine. The 599-passenger, 15-car, 164'×40'×12' double-ended ferry designed by Elliott Bay Design Group (EBDG) will cost an estimated $14.2 million and is expected to be in operation by early 2023.
The ferry operator said the technology will eliminate up to 800 metric tons of CO2 emissions annually on the year-round Peaks Island route.
"We are also in the midst of significant renovations to our terminal and marine infrastructure," said Casco Bay general manager Hank Berg. "These renovations are necessary to accommodate the rapid growth in passenger, vehicle and freight traffic we experienced before Covid."
Ridership of 1.1 million in 2019 dropped to 630,770 last year. "However, largely due to our decision to 'platoon' our crews early on in the pandemic, there have been no disruptions in service," he said. "This is critical as we are literally the lifeline for those who live on the islands we serve."
And summer staffing has been harder than in the past. "The majority of our crew are longtime employees," Berg said. "We're exploring ways to incentivize these folks to refer seasonal employees for the busy season."