Everywhere I look, I see climate change. Not so much directly, here in the Pacific Northwest, but through the lens of the media.
I read stories about alarming temperature increases in Greenland and watched news reports showing California burning up during the summer and drowning under atmospheric rivers in the winter.
Worldwide, many people have come to the realization that burning oil and all its derivatives releases massive amounts of carbon dioxide and other gasses that increasingly insulate our globe and trap too much heat.
The maritime industry is now faced with a carbon problem. Not only do tens of thousands of commercial vessels rely on prime movers fueled by diesel distillate, but a large portion of commercial marine operations have been simply moving fossil fuels from one place to another or supporting its extraction. As an industry, it is a carbon-based lifeform.
REDUCING EMISSIONS
That, however, is changing. In 2018, the International Maritime Organization adopted a clear decarbonization goal for its members: Reduce total annual GHG (greenhouse gas) emissions by at least 50% by 2050, compared with 2008. Many countries have also established individual decarbonization goals, often promising to diminish GHG to net zero by 2050.
The U.S. is now one of these countries. In the recently released U.S. National Blueprint for Transportation Decarbonization, the federal government has officially committed to reducing GHG emissions from our transportation sector to net zero by 2050. To accomplish this, the transportation sector, which is the source for one-third of all U.S. emissions, will have to clean up its act in a hurry. "To address the climate crisis," it said in the introduction to the report, "we must eliminate nearly all greenhouse gas (GHG) emissions from the sector by 2050." That means every cargo vessel, pushboat, tugboat, tour boat, ferry, OSV, SOV, dredge, and patrol boat must be powered by carbonless energy in 27 years, at most.
A pie chart inside the blueprint shows the source of total U.S. GHG emissions. Transportation, at 33%, is the biggest. Electric power is second at 25%. Within the transportation sector, nearly half (49%) comes from "light duty vehicles" (cars and pickups) and 21% from "medium and heavy vehicles" (bigger trucks and buses). The maritime portion of the transportation slice is only 3%, which is about 1% of total U.S. greenhouse gas emissions.
That may be a small portion of the overall problem, but for the owners and operators of an estimated 38,000 commercial vessels in the U.S., getting to or even close to zero emissions by 2050 is huge. That's an enormous amount of diesel and gasoline propulsion and auxiliary power that would have to be replaced or modified.
Is it possible? Obviously, so early in the process, there will be doubters.
Jason Blume falls into that category. "I think it's a very bold challenge, but, no, I don't think it's possible," said Blume, North American sales manager at MAN Engines & Components Inc., Pompano Beach, Fla. That's based on the limits of current technology and "how we are going to get to that [future] technology" in a relatively short period of time.
Then there's the question of where the future fuel comes from. "Maybe a boat will be carbon-free," said Blume, "but then have to trace back how that energy was produced for the vessel." Did it come from "some sort of clean energy, wind power or solar power or natural gas or coal? It's what they call well to wake. It's extremely difficult. I don't see how to make that chain completely carbon-free."
Holding out a glimmer of hope, Blume added, "It's all challenges that we'll have to push through and see the best we can offer." (MAN is working to reduce the carbon footprint with new dual-fuel hydrogen-powered engines. See page 34 in this issue.)
Currently, with zero emissions, "have to" is essentially voluntary. The blueprint for decarbonization doesn't include legal mandates. Instead, the government's lead agencies and departments (energy, transportation, Environmental Protection Agency (EPA), and Housing and Urban Development (HUD), will use numerous "levers" to enable and support the "transition to a sustainable transportation future."
One lever is "policy and regulation," which may include market incentives such as production tax credits for sustainable fuels, GHG and fuel economy standards, grant programs, and maybe carbon pricing. Another lever is "infrastructure, industrial investments and financing," which would include "grid transformation and upgrades to enable transportation electrification" and "production of sustainable fuels such as hydrogen and sustainable biofuels."
A third lever, "research and innovation," should offer many opportunities for developing clean technologies. Money from the Bipartisan Infrastructure Law and the Inflation Reduction Act will fund a lot of this. The Department of Energy (DOE) alone will stand up 60 new programs, including 16 demonstration and 32 deployment programs. DOE is also expanding funding for 12 existing technology research, development, deployment and diffusion (RDD&D) programs. "The private sector, with incentives from the BIL and IRA, can focus resources on scaling and commercializing technology solutions that drive decarbonization," the blueprint said.
The other three levers are data and analytic tools, workforce education and training, and stakeholder engagement and public-private partnerships, in which "all levels of government and the private sector should align their efforts to enact solutions through technical assistance and collaborative work."
The overall grand strategy of the blueprint has three parts:
• increase convenience,
• improve efficiency, and
• transition to zero-emission vehicles (and vessels) and fuels.
The convenience factor isn't a major piece of the puzzle for commercial marine, other than making zero-emission ferries more attractive alternatives to cars. Improving energy efficiency, however, is an important consideration for commercial marine operations with more potential for both saving money and reducing GHG. The blueprint also encourages greater use of maritime transportation: "For freight, maritime and rail offer the cleanest options."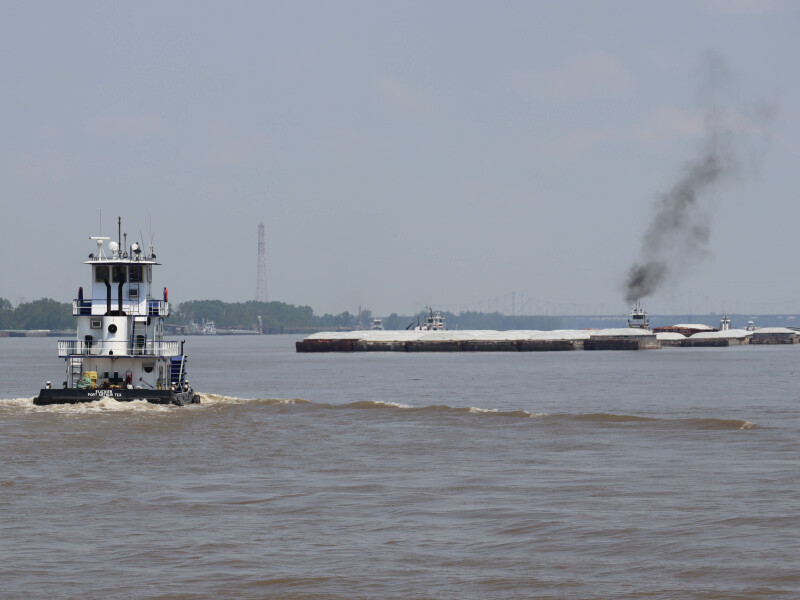 CLEANER CHOICES
The American Waterways Operators intends to emphasize this existing advantage. In a Jan. 17 memo to its members, AWO board vice president Rick Iuliucci and AWO vice president for regulatory affairs Caitlyn Stewart wrote that "Empirical data shows that the tugboat, towboat and barge industry is the most environmentally friendly, fuel-efficient mode of freight transportation, with both lower greenhouse gas emissions per ton-mile and a substantially smaller carbon footprint than competing modes."
Stewart said the data was from Texas A&M Transportation Institute studies that, "in particular compared the fuel efficiency and greenhouse emissions of freight transportation modes." Yet, she added, there are a lot of ways AWO member companies are further "looking to reduce their environmental impact, including bringing new low-carbon alternative fuels or new performance systems into the fleet."
The biggest challenge for AWO member companies "is how to make that kind of decision commercially viable." So, while there's that hurdle to overcome, Stewart said AWO members look forward to working with customers, government partners, port and terminal partners, as well as other "industry stakeholders to figure out how we can play a role in reducing the carbon footprint of the transportation sector."
Another new federal government publication, the Energy Efficiency and Decarbonization Technical Guide released last year, provides a ton of information about those sustainable technologies, especially as they relate to the U.S. commercial maritime industry. Case studies of vessel types (tanker, containership, ferry, tugboat, Great Lakes bulk carrier and offshore supply vessel) include hypothetical operations with various propulsion options, including alternative fuels, such as hydrogen, ammonia, biofuels, Fischer Tropsch diesel and methanol.
The guide considers both internal combustion engines (ICE) and fuel cells. There's also a section on Onboard Carbon Capture and Storage, which is currently seen as prohibitively difficult and expensive.
The 296-page guide was written by a small group of engineers at Glosten, Seattle-based naval architecture and marine engineers and published by the Maritime Administration. It's full of graphs and tables with green and red highlights that emphasize the decarbonization factors. There are calculations for both well-to-tank and well-to-wake GHG emissions. For example, ammonia is a zero-carbon fuel, for both fuel cells and ICE, but "the production of most ammonia has a significant well-to-tank GHG component," according to the guide. So-called green ammonia can be produced using green hydrogen and renewable-energy electrolysis.
The Efficiency Technologies section describes a variety of options from hull coatings to sails to pre-swirl and post-swirl devices for propellers. Another valuable feature of the guide is the inclusion of dozens of clickable website links in the three appendices for references, technologies, and deployments.
The guide's concluding remarks note that energy efficiency technologies and decarbonization solutions comprise a "dynamic landscape." The guide "provides both a snapshot of that landscape, as well as a forward view of what energy efficiency and decarbonization solutions will reach maturity and gain adoption in near- and mid-term timelines. However, the evolving landscape will prove some technologies will become obsolete, while others that are not broadly known today may see rapid development and uptake in that same near- and mid-term timeline.
"The developers of this guide seek to maintain a record of technology developers and vessel deployments and periodically update this guide every three to five years to reflect new and upcoming advancements across the marine industry."
Editor's note: Correspondent Michael Crowley contributed to this report.