Nichols Brothers Boat Builders, Freeland, Wash., and Everett Ship Repair LLC, Everett, Wash., are supporting the passenger vessel industry as it faces various market challenges.
Currently, the passenger vessel industry is facing strict emissions requirements, market fluctuations post pandemic, and now shipyard unavailability, Ice Cap Holding LLC officials said. Nichols Brothers and Everett Ship Repair are subsidiaries of Ice Cap.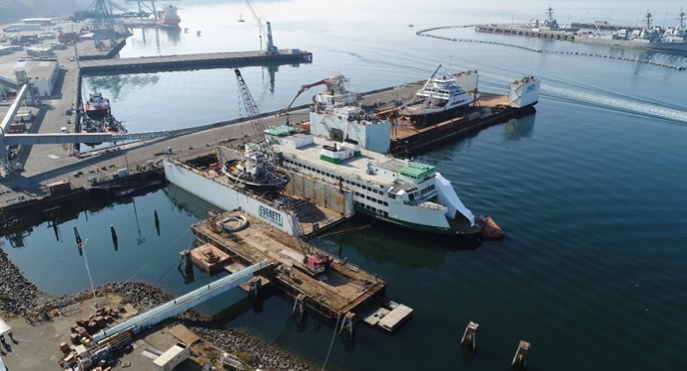 Everett Ship Repair with YT-803 in Drydock, M/V Cathlamet dockside and M/V Christine Anderson in drydock. Ice Cap photo
Nichols Brothers and Everett Ship Repair are working to maximize their shipyard capacities and skilled workforce to support vessel operators in need of shipyard space.
ESR operates two drydocks for operators on the West Coast, Alaska and Hawaii. The Faithful Servant is one of the four largest drydocks in the Pacific Northwest and can accommodate vessels up to 436'x110' with a lifting capacity of over 8,000 short tons. The Emerald Lifter, ESR's newest addition to their expansion project, accommodates vessels up to 220'x62', with a lifting capacity of over 2,000 short tons.
In addition to drydock space, ESR offers in-water service with 500' of moorage space pier-side, barge-side, or alongside six dolphins.
ESR's goal is to dock vessels for quick turnaround. Recently, Lindblad Expeditions placed the Nichols-built M/V National Geographic Venture cruise ship in ESR's Faithful Servant drydock for regulatory inspections and standard drydocking.
ESR was able to complete the work and return the vessel to the water four days ahead of schedule.
At the same time, ESR was preparing the M/V Cathlamet for a more complex emergency repair job for Washington State Ferries. ESR served as prime contractor and subcontracted module construction to Nichols Brothers, before installing the new pickle fork modules at ESR. ESR was able to accommodate the vessel in the Faithful Servant for drydock repairs prior to mooring the vessel pier-side for final completion.
At the same time, Pierce County's M/V Christine Anderson (also originally built at Nichols Brothers), arrived at ESR for regulatory drydocking, repair, maintenance and preservation. Modifications included the sea chest vent piping as well as the shaft seawater cooling system. ESR completed a new paint system with full blasting, paint coatings to the hull and superstructure, as well as application of a non-skid coating to the car deck.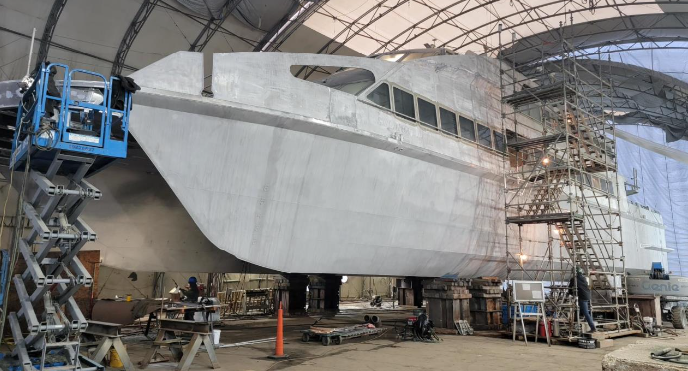 M/V Solano under repair at Nichols Brothers Boat Builders on Jan. 27, 2023.
In recent months Nichols has on several passenger vessels at its facilities, including Kitsap Transit's M/V Solano, formerly owned and operated by San Francisco Bay Ferries WETA. The M/V Solano is undergoing an extensive overhaul of the machinery equipment, gearboxes, main engines, generators, and jet thrusters. Several pipe systems are being retrofitted with copper nickel aluminum. Outfitting includes a new custom console with state-of-the-art navigation electronics, latest interior finishes and seating throughout. The vessel will be topped off with new paint to match the Kitsap Transit color scheme.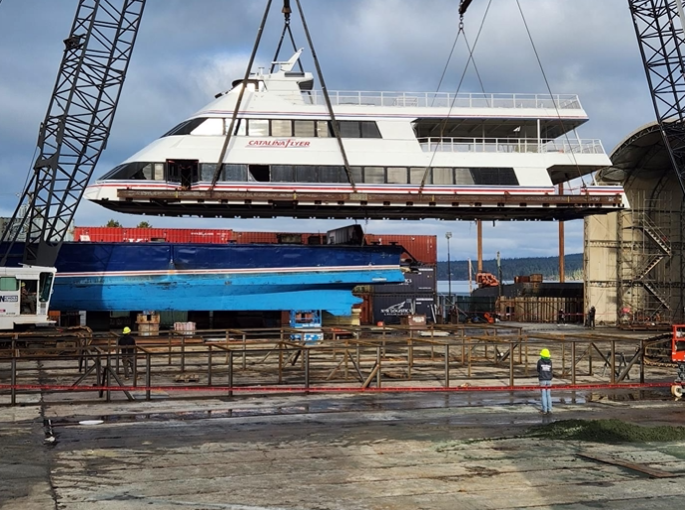 M/V Catalina Flyer House removal at Nichols Brothers.
The Catalina Flyer contracted with Nichols Brothers to undergo major upgrades, including a full superstructure restoration and major equipment upgrades within the hull. Nichols prepared the vessel for superstructure removal prior to the upgrades. Once the superstructure is removed, Nichols will install new interior wall panels, update the electrical, install a new sound system, fire detection system, modern Dampa lighting and ceilings, upgrade the console and electronics package, install new steering controls, and update the interior UES seating.
The bars on both main and upper decks will be upgraded, as well as restrooms, along with new windows throughout, and upgrades to the HVAC. Nichols Brothers will fabricate new house mounts for the superstructure as it sets on the hull.
The hull will require minor plating repairs. Inside the hull Nichols will perform a complete blast and paint system, replace original engines — removing the existing Caterpillar engines and replacing them with new MTU 16V 4000 main engines. Gearboxes will be rebuilt, as well as the generators, a new dry exhaust system will be installed, and upgrades to the fire, bilge, freshwater and black water piping will also be completed. Shafting and steering components will also be renewed.
Nichols Brothers also completed major upgrades and repairs to the M/V Glacier Express, a sightseeing high-speed catamaran owned and operated by Major Marine Tours, Seward, Alaska.
While in the shipyard the superstructure was removed from the hulls prior to extensive repairs and upgrades to both the house and hulls. The vessel underwent a complete repower consisting of removal of the existing main engines and replacing them with new Cat engines. New ZF gears were installed, and the main engine exhaust was rerouted from through side to discharging through bottom. Generators were also removed and replaced.
New rudders were built and installed. The vessel also received a new hydraulic steering system, fire and bilge pumps, and piping as required.
Additionally, the plate was also replaced. New structural fire protection, machinery space ventilation system, and renewal of the fire protection system was also completed. Simultaneously, the house received new mounts and beam structure repairs. A complete new electronics package was installed along with steering controls, sound system, fire detection system, Dampa lighting system, and Dampa ceiling. All windows were removed and replaced with new glued on double pane windows. Nichols Brothers built a new exterior canopy for the second passenger deck.
Major Marine's Melissa Ann underwent repair, maintenance, and preservation at Nichols including new Dampa ceiling, Dampa lighting system, complete pressure wash and paint, hull and superstructure plating repairs, new life raft mount at the vessel's stern, bow exterior railing, new second deck canopy over passenger area, and renewal of some house mounts. Minor piping and electrical repairs were also done. All required Coast Guard inspections were completed prior to redelivery to the customer.
Nichols is supporting Kitsap Transit with required repairs as part of their annual Coast Guard inspection onboard the M/V Finest, along with some convenience upgrades. The vessel is also receiving a refresh of the antifoul paint while at Nichols Brothers.