There is a sea change taking place in the workboat industry. It's been years in the making, but now we're getting a better look at what's to come. Hybrids, all-electric, autonomous, alternative fuel, and offshore wind support vessels were once thought of as years down the road.
That is no longer the case.
"By working closely with the U.S. Coast Guard that innovative technology partners, and with best-in-class shipyards such as All American Marine, we can make the transition to decarbonized shipping a reality today," Pace Ralli, co-founder and CEO of SWITCH Maritime, said recently after the launch of his new hydrogen fuel cell-powered ferry. "We don't have to wait."
As for the first U.S.-built liquid natural gas ATB, which was delivered in November 2020, Shane Guidry, principal owner of Q-LNG Transport, said, "We believe this vessel's DPS-1+ notation raises the bar in safety, efficiency, and compatibility in the LNG bunkering market."
INSTALLATION VESSEL
Construction of the first U.S.-flag, Jones Act-compliant offshore wind turbine installation vessel (WTIV) got underway Dec. 16, 2020, with the keel laying for the Dominion Energy boat.
The 472'x184'x38' WTIV will be one of the largest in its class, with a Huisman main crane boom length of 426' and lifting capacity of 2,200 tons — enough to handle the next generation of 12- to 14-megawatt turbines standing over 800 feet.
"This is a monumental step for the offshore wind industry in America," Robert M. Blue, Dominion Energy's president and chief executive officer, said during keel laying ceremonies for the first Jones Act-compliant wind turbine installation vessel built in the U.S.
The vessel is under construction by global marine shipbuilding firm Keppel AmFELS at its Brownsville, Texas, shipyard, and will carry up to 119 when it goes into service by the end of 2023, according to Dominion Energy.
The overall project cost, excluding financing costs, is estimated to be around $500 million. Dominion said financing is arranged through a lease financing agreement with leading global banks and "construction and financing costs will not impact Dominion Energy Virginia's customer's bills."
Dominion is already operating its twin-turbine, 12-megawatt Coastal Virginia Offshore Wind (CVOW) pilot project, located 27 miles off the coast of Virginia Beach. The project went live in September 2020 and is operational while awaiting the Bureau of Ocean Energy's final technical review.
Ocean surveys and geotechnical work are underway for Dominion's 2,640-MW full-scale CVOW commercial project, which will be located in a lease area adjacent to the pilot project. These surveys will support the development of the Construction and Operations Plan that Dominion submitted to BOEM at the end of last year.
Dominion Energy said it expects the vessel "to be fully utilized in support of the installation of over 5 gigawatts of planned offshore wind generation off the East Coast of the U.S. through 2027 and beyond."
The vessel's construction is expected to create nearly 700 direct construction jobs and use more than 14,000 tons of U.S. domestic steel, with nearly 10,000 tons sourced from Alabama and West Virginia suppliers. After commissioning, the vessel will be based out of Hampton Roads, Va. with a U.S. crew.
HYDROGEN FUELED
This summer, All American Marine Inc. (AAM) and SWITCH Maritime launched Sea Change, a 70', 75-passenger zero-emissions, hydrogen fuel cell-powered, electric-drive ferry that will operate in the California Bay Area. The boat is awaiting USCG approval to fuel and begin operational trials.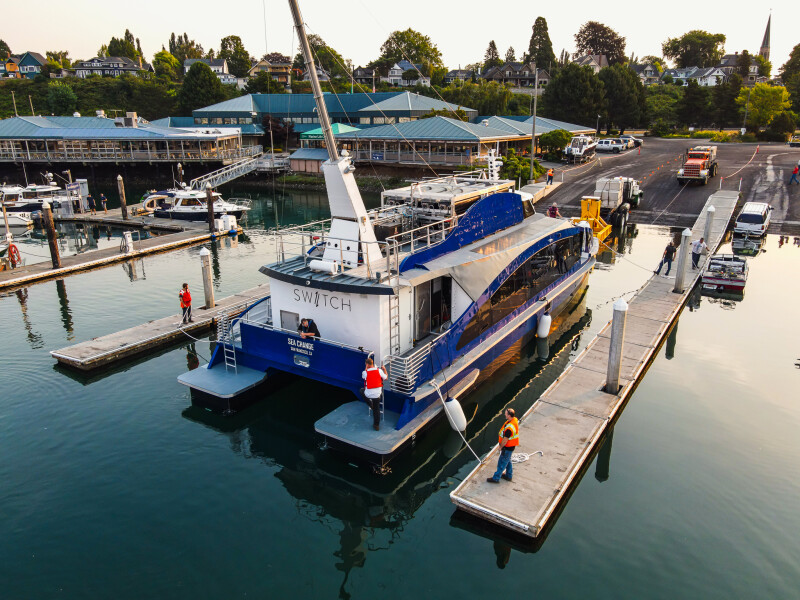 Sea Change is the first hydrogen fuel cell vessel in the U.S. It is equipped with a hydrogen fuel cell power package provided by Zero Emissions Industries (formerly Golden Gate Zero Emission Marine), comprised of 360 kW of Cummins fuel cells and Hexagon hydrogen storage tanks with a capacity of 246 kg. The system is integrated with 100 kWh of lithium-ion battery provided by XALT and two 300 kW electric propulsion systems provided by BAE Systems. The hydrogen fuel cell powertrain system affords the same operational flexibility as diesel with zero emissions and less maintenance. The vessel design originates from Incat Crowther, and the construction supervision and management are led by Hornblower Group.
The project is funded by private capital from SWITCH, an impact investment platform building the first fleet of exclusively zero-carbon maritime vessels to accelerate the decarbonization and energy transition of the U.S. maritime sector.
ALL-ELECTRIC TUG
Crowley Maritime Corp., Jacksonville, Fla., will build and operate eWolf, the first all-electric powered harbor tugboat that can complete a job without expending a drop of fuel.
The 82'x40'x17'9" tug, with 70 tons of bollard pull, advances Crowley and the maritime industry's efforts toward sustainability and decarbonization, the company's chairman and CEO, Tom Crowley, said.
By comparison with a conventional tug, over the first 10 years of its operation, the new eTug will reduce 178 tons of nitrogen oxide (NOx), 2.5 tons of diesel particulate matter, and 3,100 metric tons of carbon dioxide (CO2) versus a conventional tug, Crowley said.
In addition, the electric tug will replace one that consumes more than 30,000 gals. of diesel per year. The eTug will operate out of San Diego and will be operational by mid-2023.
The new boat will be built at Master Boat Builders, Coden, Ala., using the design and on-site construction management by Crowley Engineering Services and, its recently integrated Jensen Maritime Consultants naval architecture and marine engineering group. The eTug's battery system will be charged at a specially designed, shoreside station developed with Cochran Marine.
The eWolf will feature a design that allows the vessel to operate fully electric with full performance capabilities — and zero carbon emissions. The eTug will feature a fully integrated electrical package provided by ABB Marine and Ports. With 360° visibility and a 16'5" draft, the tug will also feature ABB's artificial intelligence technology (AI) to increase safety and efficiency.
UNMANNED SURFACE VESSEL
Huntington Ingalls Industries (HII), Newport News, Va., debuted in May the Proteus unmanned surface vessel (USV) for testing and development of autonomy capabilities.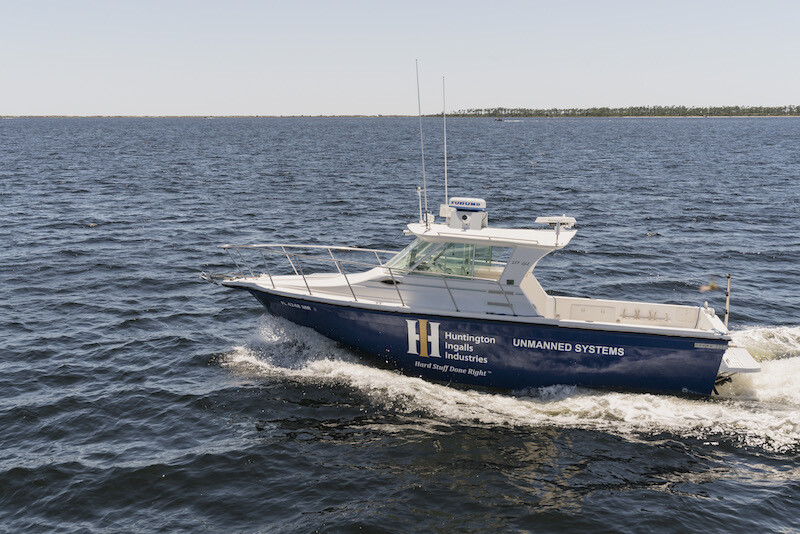 The 27' Proteus USV was outfitted with Sea Machines Robotics' SM300 autonomy system and completed a successful demonstration off the coast of Panama City, Fla.
"We are thrilled to launch our Proteus USV," Duane Fotheringham, president of the Unmanned Systems business group in HII's Technical Solutions division, said in a prepared statement. "The vessel performed exactly as expected with the SM300 system's proven and safe autonomous capability.
"This marks a significant milestone in our commitment to advancing our unmanned systems capabilities and our continued partnership with Sea Machines to further develop USV solutions for our customers."
For the demonstration, HII's Proteus USV was equipped with commercial perception sensors, including GPS, automatic identification system, depth transducer, radar and a camera enabling a 360° field of view. HII deployed a separate 51' dive boat during the demonstration to illustrate the SM300 system's off-the-shelf solutions including its obstacle avoidance capability and adherence to the International Regulations for Preventing Collisions at Sea.
AUTONOMOUS TUG
Seattle-based Foss Maritime selected Sea Machines Robotics' SM300 autonomous control system for use aboard its new tug Rachael Allen, the fourth of four new ASD-90 tugs built at Nichols Brothers Boat Builders, Freeland, Wash.
The 6,866-hp, 90-ton bollard pull Rachael Allen is the first U.S.-flag harbor tug to integrate autonomous systems in real-world commercial operations, the companies said. The project also marks the first installation of a Sea Machines autonomous system on a vessel of more than 5,000 hp.
The tug was scheduled to operate in California, where it will provide tanker escort and ship assist services to Foss customers.
The Rachael Allen is powered by two MTU Tier 4 engines, producing 6,866 hp. Towing equipment includes a Markey Machinery DEPGF-52R winch with 750' of 10" synthetic line on the bow and a Markey DEPC-32 stern winch with 250' of 6.5" circumference line on the stern.
Autonomous technologies are designed to streamline manual, repetitive and tedious tasks, allowing personnel to focus on higher-level operations with reduced risk, Sea Robotics officials said. Specific SM300 capabilities include transit autonomy, as well as remote access to the tugboat's on-board machinery, allowing personnel to manage and support operations from anywhere on the vessel or from shore.
Navigation obstacle detection and avoidance capabilities come standard with the SM300, further reducing risk for crew during at-sea operations.
LNG ATB
In November 2017, Q-LNG Transport LLC awarded a contract to VT Halter Marine, Pascagoula, Miss., to build a first-of-its-kind (in the U.S.) liquid natural gas (LNG) articulated tug/barge (ATB) unit. The ATB consists of a 324'x64'x32'6", 4,000-cu.-meter barge and a 128'x42'x21' 5,100-hp tug.
Q-LNG, Houston, announced in November 2020 the successful sea trial of the LNG ATB unit.
Q-LNG 4000 is the first ATB unit to attain a DPS-1+ notation from the American Bureau of Shipping (ABS), Q-LNG officials said.
DPS-1+ notation requires certain equipment, software, simulations, and studies be conducted to show the vessels capability to hold in a location utilizing reference points for vessel positioning. The rigorous review allows the vessel to operate without additional support in close proximity of other vessels.
The notation adds flexibility to deliver LNG fuel in open water and other conditions not accessible to vessels without DPS-1+ notation.
The ATB went to work for Shell Trading (US) Co. on a long-term time charter.
CAT TIER 4 SYSTEM
The 110'x33' linehaul towboat Gretchen V. Cooper, built by Blakeley BoatWorks (BBW), was delivered to Cooper Marine and Timberlands (CMT) in March.
BBW and CMT, located in the port of Mobile, Ala., are wholly owned subsidiaries of Cooper/T. Smith. The company said the new towboat is the U.S.'s first linehaul towing vessel powered by a Caterpillar propulsion system featuring Tier 4 high-speed C3512E 3,400-hp Tier 4 diesel marine engines with selective catalytic reduction. The Cat engines operate at 1,800 rpm and are coupled to Twin Disc MGX-5600 gears.
Currently, Tier-4 diesel engine standards are the strictest Environmental Protection Agency (EPA) emissions requirements for new engines found in inland marine vessels. Tier-4 compliant engines significantly reduce emissions of particulate matter, or black soot, and nitrogen oxides to near zero levels. The engines are designed to save fuel and reduce emissions by more than 86% for large applications like marine vessels.
"Our customers expect Blakeley BoatWorks and Cooper Marine & Timberlands to drive industry innovation, and our building and operating one of the industry's most environmentally friendly towboats marks our unwavering commitment to always exceed their expectations," said Angus R. Cooper III, president, Cooper/T. Smith.