The importance of innovative tools and systems for search and rescue (SAR) missions is well documented, as these maritime crews often have to put themselves in extreme situations at a moment's notice. Missions can require long hours in extreme climates, meaning that any solution that can indirectly ease such challenges, much less how it can directly serve as a lifesaving component, is critical. That's why the suite of Webasto temperature control products that are designed to do both is so notable.
For nearly two decades, Webasto has worked to bring their automotive expertise in sunroof and HVAC development to the marine segment. The Webasto marine portfolio is diverse and centered around a first in class service team to bring personal support to builders, dealers and customers. Their suite of temperature control products have made a difference across the industry, but recent news about how they're serving an incredibly broad and important maritime market showcases how these products are making a difference.
Chantier Naval Forillon recently announced that they build every Canadian Coast Guard SAR cutter with a suite of Webasto temperature control products. The Gaspé, Québec, Canada-based shipbuilder has launched four such vessels with six more scheduled. The difference these solutions have made to crews is something they've been able to quantify and showcase in multiple ways.

The power of custom maritime solutions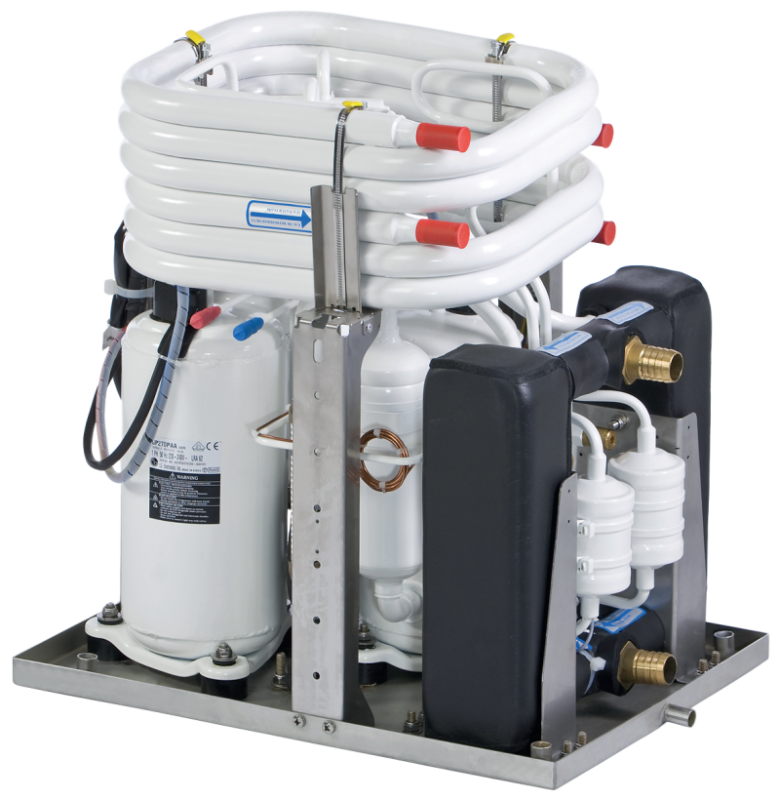 As a leading provider of HVAC with a history that stretches back to 1901, Webasto has developed marine specific products that have been derived from the automotive space, which includes Breeze, an engine powered AC that brings AC to open cockpits, fly bridges and even cutty areas while the boat is running.
Breeze is a great example of how Webasto listens to end users & dealers to adapt an automotive solution to resolve a problem in the marine segment. This is one of the distinct characteristics that sets Webasto apart from others in the industry. Ultimately, this is why shipbuilders are choosing Webasto solutions over the competition. Webasto prides its-self in their 360-degree approach to partnerships.
"The one key difference is the special attention to customer support and service that we provide," said Benjamin Perramant, Sales Manager / Engineer at Webasto. "The Webasto team is here for every customer from the beginning of a project through commissioning and then back again for dealer and also end user support. Our team prides itself on working hard for our internal and external teams to make the process as seamless as possible."
The level of engineering support from Webasto to co-develop a reliable HVAC marine application is what made a difference to Chantier Naval Forillon and compelled them to utilize the suite of Webasto temperature control products for all of their Canadian Coast Guard SAR cutters. That level of support is just one of the ways their SAR crews are seeing the difference out on their actual missions.
Combining the Webasto AC and the Webasto heating systems
There are numerous solutions and options that Chantier Naval Forillon could have chosen to support the Canadian Coast Guard. What stood out to them about Webasto was the innovative and pragmatic approach the company takes in developing the most efficient marine AC and heating systems for the market. This approach has created real advantages that the Canadian Coast Guard SAR crews are now able to leverage in multiple ways.
"Being able to use both the Webasto AC and the Webasto heating systems with the same Webasto controller creates real advantages for crews," Perramant told Workboat Magazine. "They're user friendly and easy to install with a Webasto guarantee that the vessels will provide more heating and cooling output for less electrical power."
That efficiency is enabled on account of the BlueCool C-Series Chillers, which deliver cool or hot air more efficiently than previous models. The Chillers are paired with BlueCool A-Series Marine Air Handlers that have Webasto's Instant Drain Condensate Management System. This quiet innovative system allows one vessel compartment to be heated while another can be independently and simultaneously cooled.
The Canadian Coast Guard SAR cutters are also equipped with a Webasto Marine Coolant Heater that delivers on-demand hot water. The water system can be utilized when treating hypothermia victims, which can provide the four-man crew with options in life-threatening situations. The capabilities of these solutions have proven to be as powerful as they are versatile for shipbuilders of all types.
Adopting a Webasto solution
The new opportunities that Webasto temperature control products have created for SAR crews is evident, but installing these solutions can be a process that needs to be thought through. That's why the company advises potential users to bring Webasto into the conversation about project solutions as early as possible.
"Timing is everything and the Webasto team is known for being a partner throughout the project," said David Wollard, Director of Marine Sales for Webasto. "We work with many different builders, so we'll be able to support you through whatever challenge you might be facing. Our team brings a wealth of knowledge and experience to any project, no matter the size or scope."
The Canadian Coast Guard SAR cutters built by Chantier Naval Forillon, which constructs and maintains all different types of maritime vessels, are the first that the company has developed with Webasto. Thanks to the custom nature of their products, other shipbuilders and crews can similarly enhance the well-being and life-saving capabilities of the SAR crew with Webasto solutions.
---
Download the full Webasto Commercial Marine Catalog
For more information about Webasto, visit their site website, connect with them on social media via Facebook or LinkedIn or request an offer.