The Biden administration's "Investing in America Tour" stopped at Cummins' Fridley, Minn., plant early this month.
President Joe Biden, Minnesota Gov. Tim Walz, and Minnesota Congressional members toured the 1.1 million-sq.-ft. plant and discussed their clean energy policies aimed to boost domestic manufacturing.
The speakers highlighted large-scale investments from the Inflation Reduction Act, the Bipartisan Infrastructure Law, the American Rescue Plan, and the CHIPS and Science Act. All theses bills were signed into law prior to the Democrats losing control of the House to Republicans in last year's elections.
There is a shared common goal to rebuild U.S. infrastructure and bring back domestic supply chains. Doing so will increase job production across the country.
What a day in Fridley!

"We are grateful to President Biden and Congress for the vision on clean energy and the confidence in American business to deliver on it," said @Cummins' Senior Vice President Tony Satterthwaite. pic.twitter.com/35d0bf4jBa

— Cummins Inc. (@Cummins) April 3, 2023
At the event, Cummins also announced an investment of $1 billion across its U.S. manufacturing network in Indiana, North Carolina, and New York. The focus of this investment is to create low-to-zero carbon emission engines. About $425 million of the $1 billion will head to Cummins' Jamestown, N.Y., plant to produce its fuel-agnostic, 15-liter internal combustion engine (X15N). Walmart will be the first company in the U.S. to conduct field tests of the X15N running on renewable natural gas later this month.
The production and implementation of these emission-reduction engines are just the beginning for ports and shipping vessels seeking low-to-zero fuel-type alternatives. An increase in the domestic supply chain of alternative fuel production will also help drive down their costs.
In October 2022, following the signing of the Inflation Reduction Act into law, Cummins announced it will begin manufacturing electrolyzers, set to produce clean hydrogen from renewable or nuclear electricity. Through the electrolysis reaction, water is broken down into hydrogen and oxygen molecules. This process is currently the leading pathway to achieve the Department of Energy's Hydrogen Shot goal of cutting clean hydrogen costs by 80% in the next decade.
President Biden noted the urgency for domestic clean energy production. "When Cummins first manufactured hydrogen electrolyzers they had to make them overseas, these are the machines that make clean hydrogen renewable energy used to power our economy from clean cars to trucks to steel to cement manufacturing. Now thanks to the Inflation Reduction Act with tax credits for renewable energy, Cummins is going to manufacture these electrolyzers here in America for the first time."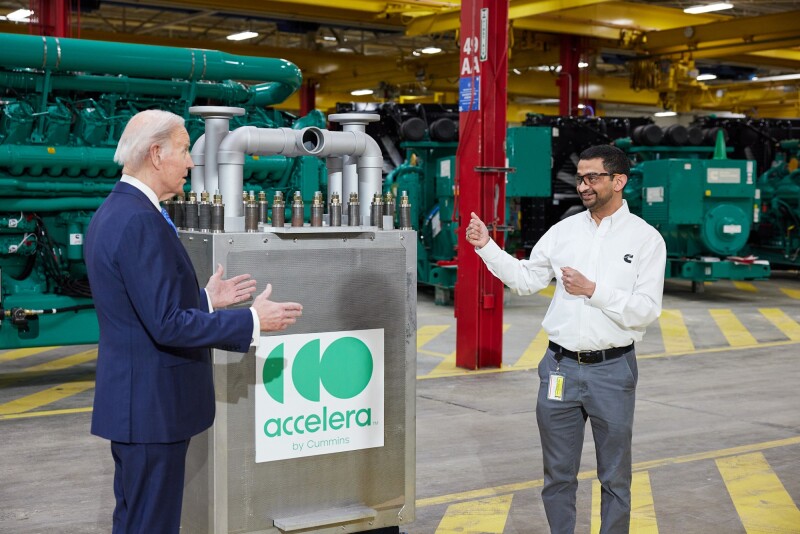 Accelera is the new brand for Cummins' New Power business segment. The brand, launched last month, is made up of a diverse portfolio of zero-emissions solutions, including hydrogen fuel cells, electrolyzers, battery systems, and ePowertrain systems. Accelera boasts on-site hydrogen production at ports using electrolyzer systems, as well as barge retrofits for hydrogen fuel storage and delivery.