WorkBoat, producers of WorkBoat Magazine, WorkBoat.com and the International WorkBoat Show, has announced the launch of WorkBoat + Wind, a new quarterly digital publication, and a new strategic partnership with the Business Network for Offshore Wind (BNOW).
"WorkBoat has been steadily covering the emergence of offshore wind in both our magazine and digital platforms for years, but the launch of WorkBoat + Wind alongside such a respected partner that is solely focused on the development of the U.S. offshore wind industry and advancement of its supply chain really shows the seriousness with which we view this opportunity for our customers," said Publisher and Group Vice President Bob Callahan.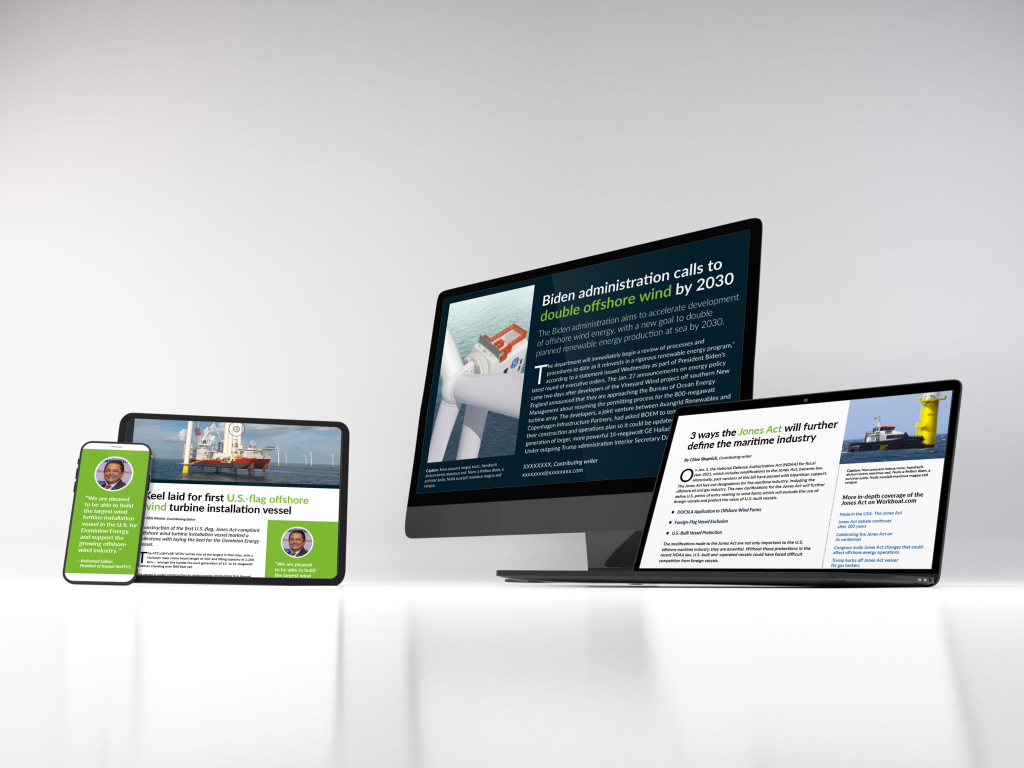 WorkBoat + Wind will feature in-depth reporting and breaking news on the U.S. Offshore Wind Market as well as guest columns from industry thought leaders.
BNOW will contribute a column to each edition of the publication, maintaining a standing engagement in WorkBoat live digital content focused on offshore wind. BNOW will also be represented at the International WorkBoat Show in New Orleans, Dec. 1-3, 2021.
"The Network is excited to expand our working relationship with WorkBoat. Together, we will continue to create vital content, events, and networking opportunities to grow our industries in the upcoming year and beyond," said Liz Burdock, president, and CEO of the Business Network for Offshore Wind, the only non-profit focused on growing offshore wind energy in the U.S. and its supply chain. "The development of a robust U.S. offshore wind energy requires an expansive supply chain, particularly industry professionals at all levels of the maritime industry."
WorkBoat + Wind will be released quarterly directly to reader's inboxes. Customers can sign up to receive WorkBoat + Wind and all other WorkBoat digital content here.
"Our goal is to be the source where our customers come for the latest news presented in a way that really speaks to them and their place in this growing market," said Callahan. "We believe there is a huge opportunity for our audience, and we want to be a conduit for them taking advantage of it."
For more information or to advertise in WorkBoat + Wind or any of the WorkBoat brand products, email [email protected]