DEME Offshore US will team with Foss Maritime to construct the 800-megawatt Vineyard Wind 1 offshore energy project, using the "feeder" concept of a foreign-flag wind turbine installation vessel (WTIV) supplied onsite by Jones Act-compliant U.S. vessels, Vineyard Wind developers announced Wednesday.
The joint venture between Avangrid Renewables and Copenhagen Infrastructure Partners would be the first truly utility-scale offshore wind energy project in U.S. waters. Now on the verge of winning approval for its construction and operations plan from the federal Bureau of Ocean Energy Management (BOEM), the project could be begin delivering energy into the Massachusetts power grid in 2023.
Belgium-based DEME is the installation contractor, with offices in Massachusetts to serve as the base of operations. A DEME WTIV jackup vessel working on the Vineyard Wind lease, starting 15 miles offshore from Martha's Vineyard, Mass., would be supplied by Foss vessels from the port of New Bedford.
The feeder-vessel model was used in the first U.S. pilot projects, the 30-MW Block Island Wind Farm off Rhode Island by Deepwater Wind/Ørsted and the 12-MW Coastal Virginia Offshore Wind by Dominion Energy. Dominion is backing construction of its own first U.S.-flag WTIV, amid widespread concern in the industry that global demand for services of those heavy-lift vessels could slow the development of offshore wind projects in U.S. waters.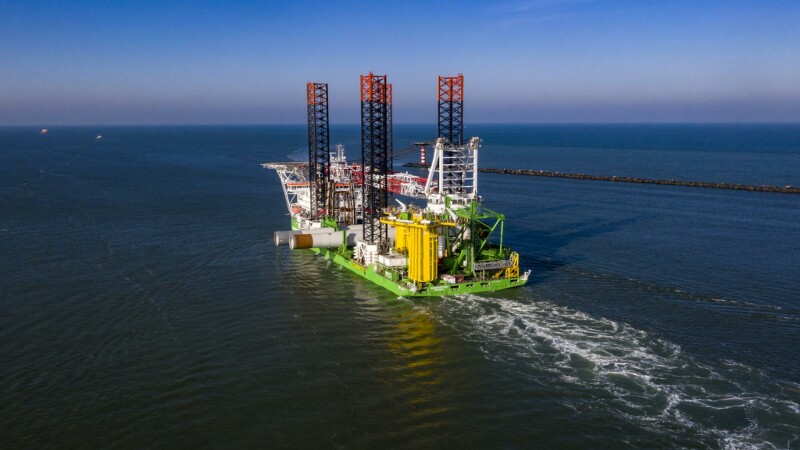 For Vineyard Wind, Foss Maritime, a longtime U.S. maritime service contractor with union labor, will provide the Jones Act compliant feeder vessels. That's a big political selling point for offshore wind in Northeast states, where organized labor has lots of clout with pro-wind energy governors and lawmakers.
"We have a once-in-a-generation opportunity to create a new industry that will help middle class families and those trying to make it to the middle class," said Gerard Dhooge, of the Seafarers International Union, and president of the Boston & New England Maritime Trades Council, AFL-CIO. "With partners like Vineyard Wind, DEME Offshore US and Foss Maritime partnering with organized labor, we can and will create a more prosperous future for people in the New Bedford region and throughout Massachusetts."
"We're very excited to make this announcement today not only because it's an important step in the development of our first project but also because of the impact it will have on the U.S. workforce," Vineyard Wind CEO Lars T. Pedersen said in announcing the contract. "The offshore wind industry has tremendous potential to create good paying jobs and investment opportunities while also reducing carbon pollution. By working with companies like DEME Offshore US LLC and Foss Maritime, we can ensure that US labor is gaining from the experience of well-established operators, so that the industry can take proper root and grow a fully American workforce."
"Our method is Jones Act compliant, driven by high-tech engineering, patented solutions and special adaptions to both companies' vessels for this project," said Jan Klaassen, director of DEME Offshore. "The deployment of the U.S. feeder concept by the DEME Offshore US/Foss Maritime team will create a great opportunity for U.S. mariners to get familiar with the offshore wind industry."
"Beginning in 1889 we have provided our fleet of highly capable tugs, deck cargo barges, marine engineering staff, experienced project managers and highly trained mariners to work on complex marine projects in harsh environments," said Will Roberts, president of Foss Maritime. "We appreciate the opportunity to work closely with DEME Offshore in support of the Vineyard Wind project."