Offshore wind developers Ørsted and Eversource say they have struck an agreement with environmental groups to improve protection of endangered north Atlantic right whales during construction and operation of the South Fork Wind project.
The companies say they will adopt monitoring measures to make sure right whales are not nearby during construction activity, and use mitigation steps to reduce underwater noise during pile driving.
They will also evaluate other new monitoring technologies, including thermal cameras, acoustic sensors, and data integration software. Developers say the findings from South Fork will be used in future projects.
A 10-knot vessel speed limit will be in place for all boats working on the project, "unless an effective adaptive speed management plan is in place," according to the developers. Such 10-knot limits are commonly sought by the National Marine Fisheries Service when its monitoring detects right whale movements off the East Coast, triggering announcements of special management areas to reduce the danger of ship strikes.
Accidental encounters in the shipping lanes are a major cause of death for right whales, now estimated to number only around 340 animals. NMFS whale monitoring has shown substantial overlap between right whale movements and planned wind power developments off southern New England.
The 130-megawatt South Fork project, 35 miles east of Montauk, N.Y., has already been altered for environmental considerations under a "habitat alternative" plan approved by the Bureau of Ocean Energy Management in late 2021. Originally planned as an array of 15 turbines, the layout was reduced to 12 machines, a result of recommendations from NMFS and the fishing industry to set aside critical fish habitat.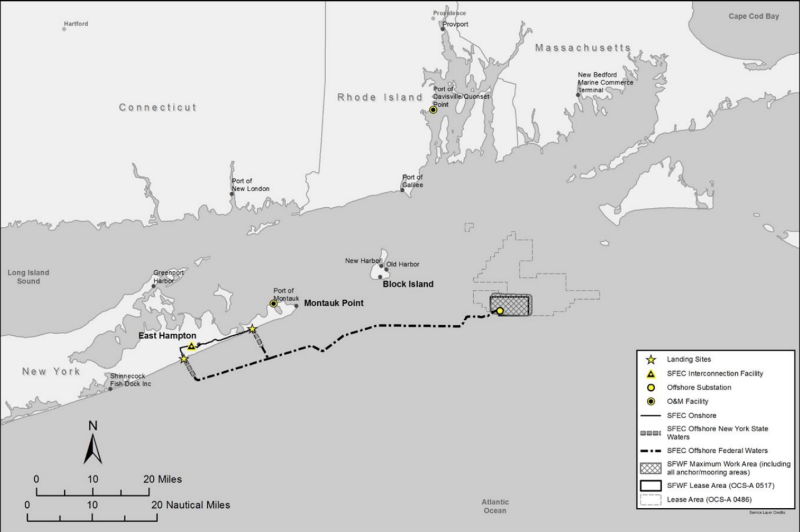 The new whale agreement was reached with the National Wildlife Federation, Natural Resources Defense Council and Conservation Law Foundation, organizations that have advocated for renewable energy for years – and taken some political heat over offshore wind critics' claims that turbine construction will pose new threats to whales.
In backing wind power, the environmental groups say moving away from fossil fuels must be part of the response to climate change, which is already making Northeast ocean waters some of the fastest-warming in the world and changing the whales' food supply and habitat.
"In order to address the climate crisis, we need the offshore wind industry to grow and thrive," said Alison Chase, a senior policy analyst at NRDC, in a joint statement with the developers Monday. "Measures like these by South Fork Wind to avoid, minimize, and mitigate impacts on the North Atlantic right whale are key to ensuring offshore wind development is done in a smart way that protects our valuable and vulnerable wildlife. We don't need to choose between clean energy development and wildlife protection, and this agreement shows how we can do both."
"This agreement enhances our existing ability to protect marine life based on 30 years of experience building and operating offshore wind farms, while trialing new technologies that will further strengthen our ability to both combat the threat of climate change and build projects that coexist with our ecosystem," said Rob Mastria, Project Development Director of South Fork Wind for Ørsted.
"Offshore wind is a crucial element of our nation's strategy to address the climate crisis, but it must be done in a way that protects vital ocean wildlife and habitat," said Dr. Priscilla Brooks, Director of Ocean Conservation at CLF. "The vessel speed restrictions and adaptive management measures agreed to by South Fork Wind will go a long way toward protecting these whales from being injured or killed by project vessels."
Ørsted says it is also funding an innovative app called WhaleAlert that tracks whales and distributes information to help vessels avoid collisions. The company is making "other investments in tracking software, and is partnering with a range of national and international academic institutions to advance biodiversity efforts."