Offshore wind development partners Equinor and BP bid into New York State's third offshore wind solicitation, offering 1,360 megawatts capacity from their Beacon 2 lease area 60 miles east of Long Island's east end.
Joining in the Jan. 28 solicitation from the New York State Energy Research and Development Authority (NYSERDA) was Leading Light Wind, a partnership between lead developer Invenergy and New York-based co-developer energyRe, proposing 2,100 MW of new capacity.
"Power from Beacon Wind 2 would complement the 3.3 GWs of potential offshore wind generating capacity for New York State currently under development by Equinor and bp with the Empire Wind 1 and 2 and Beacon Wind 1 projects," according to a joint statement from Equinor and BP. "As one of the most mature projects offered for NY3, Beacon Wind 2 is well on track to help New York realize its ambition to generate at least 70 percent of the state's electricity from renewable energy sources by 2030."
The Beacon Wind partners recently purchased the site of the Astoria Gas Turbines, with the potential to bring offshore wind from Beacon Wind 1 and Beacon Wind 2 directly to New York City, transforming the site into the Astoria Gateway for Renewable Energy, giving Queens a leading role in the state's energy transition.
Equinor and bp's proposal to NYSERDA includes new manufacturing plants and renewable energy career opportunities in the Albany Capital Region, establishing a new vision for the creation of a manufacturing hub in the upstate Hudson River region. The proposal includes cable components for offshore wind projects and working with wind turbine manufacturers to build turbine components.
"Equinor and bp are eager to build on the significant experience gained through our work in New York over the past five years to bring more offshore wind energy to the state," said Molly Morris, president of Equinor Wind US. "The commitments and opportunities that we have outlined in this bid are informed by our team's ongoing efforts to develop offshore wind for the state. Our deep understanding of the workers, communities and economic opportunities related to this new industry allows us to invest in New York where it matters most."
BP senior vice president offshore wind Matthias Bausenwein said: "This bid is another example of bp and Equinor in action to produce cleaner energy and help states meet their offshore wind goals. We're already progressing 3.3 GWs of planned offshore wind projects for New Yorkers. Our Beacon Wind 2 bid would allow us to produce even more renewable energy for the state while further investing in its economy, workforce and manufacturing sector."
Leading Light Wind's bid includes $500 million investment in offshore wind ports, manufacturing, and supply chain infrastructure.
"Leading Light Wind is charting a course for New York's clean energy future, one that is led by American innovation," said Michael Polsky, founder and CEO of Invenergy. "As the only American-led offshore wind project in the New York Bight, Leading Light Wind has an unmatched commitment to advancing a domestic offshore wind industry that secures American competitiveness in the global market, delivers a just energy transition, and builds new opportunities for New Yorkers."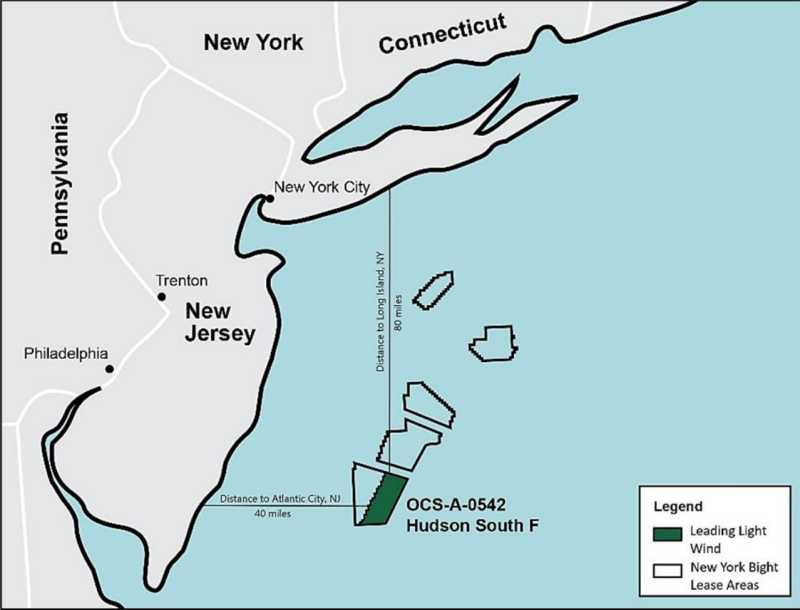 "Leading Light Wind is ready to bring our decades of expertise and experience to the fight for a resilient future," said Miguel Prado, CEO of energyRe. "Offshore wind is critical to reaching New York's bold climate and clean energy goals and can accelerate a family-sustaining green economy across the state. Leading Light Wind is uniquely positioned to realize New York's domestic leadership in offshore wind—and deliver on the promise of cleaner air and a healthier future for our communities."
Joshua Weinstein, vice president and head of offshore development for Invenergy, said Leading Light is "creating next-generation jobs through an innovation and operations base at the historic Brooklyn Navy Yard and marshaling port development at the Arthur Kill Terminal on Staten Island. In addition, we're offering an energy storage solution to provide grid resilience and align our project with New York's energy storage goals."
Leading Light Wind has a memorandum of understanding with North America's Building Trades Unions (NABTU) to ensure the project is built by New York union construction workers. The MOU covers all aspects of construction – from supply chain and port construction to offshore construction.