With a contract in place to build a $330 million wind turbine installation vessel in South Korea for the European and Asian markets, Eneti Inc. says its next goal is a Jones Act compliant WTIV for U.S. waters.
"We believe it to be one of the most exciting renewable energy markets on the planet," said Eneti managing director David Morant during a May 13 conference call with reporters. "We are very focused on the U.S…and in advanced discussions with U.S. shipyards."
Formerly Scorpio Bulkers, the shipping company announced in August 2020 it was beginning a transition from the dry bulk sector into renewable energy and made its name change in February. Company co-founder and chairman Emanuele A. Lauro said they are following the global trend toward wind power – and bigger, more powerful turbines to be built farther offshore.
"With this growth comes increasing maritime complexity," said Lauro. "We're making clear our intention to enter the U.S. wind industry."
The U.S. Bureau of Ocean Energy Management is looking at as many as 16 proposed wind projects off the East Coast – close to the biggest metropolitan load centers – potentially making it "one of the most substantial offshore wind build-outs ever seen," said Lauro.
Eneti's new WTIV will be built by Daewoo Shipbuilding and Marine Engineering, with delivery expected in the second half of 2024 to start work on European and Asian projects outside of China. Eneti has an option for a second vessel – looking forward to the widely predicted shortfall in WTIV availability, and escalating day rates as more projects are planned.
Eneti's 485'x183' vessel, designated NG-16000X by designers GustoMSC, will carry a 2,600 metric ton capacity encircling crane from Huisman, with capability to install future turbines of projected 15- and 20-megawatt capacity – lifting the generator nacelles up to 600 feet above the sea.
The vessel is being designed for future conversion in liquid natural gas or ammonia power, with shore power connections for clean running in port, as Eneti's wind power customers are looking to reduce their own emissions and fossil fuel use. The design calls for 4,400 KWh of battery capacity to reduce engine and generator cycling.
"They are also deeply about what I would call the ergonomics of the vessel," said Cameron Mackey, Eneti's chief operating officer. With professional mariners, technicians and equipment suppliers all working onboard, safety and accommodations are critical factors, he said.
The revenue potentials of such newbuild WTIVs are enticing.
With projections of up to 5,000 turbines installed worldwide by 2026, average global demand for WTIV services could provide work for 15 vessels annually during 2021 to 2026, and 20 vessels a year beyond 2026, said Morant.
"The under-investment in this supply chain is becoming acute, said Morant. With day rates now around $200,000 Eneti can foresee them climbing to $225,00 in the near future and beyond, he added.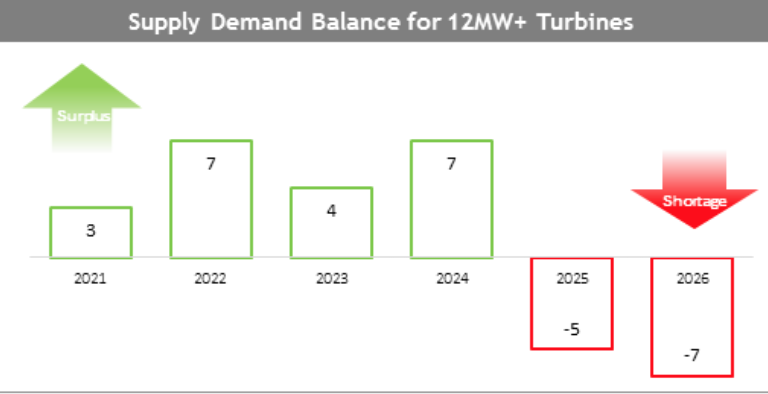 While Virginia-based Dominion Energy is having the first U.S. flag WTIV built by Keppel AmFELS at Brownsville, Texas, "the operating assumption of many" is that most of the U.S. industry must rely in the earlier years on the so-called feeder barge solution, using U.S. Jones Act vessels to carry turbine components out to foreign flag WTIVs, said Mackey.
"Operationally however it doesn't take an expert to see" that planning such vessel-to-vessel transfer of giant turbine parts at sea is fraught with risk," Mackey added. The "more reliable and safe solution" is moving forward with U.S. yards to build the vessels here, he said.
When Eneti settles on a U.S, builder it will be two and a half to three years to deliver a WTIV, company officials said. It may be very similar the Dominion design, but Morant said they have their own ideas about delivering the best value.