In June, the WorkBoat Composite Index got hammered, losing almost 400 points, or 12%. The PHLX Oil Service Sector Index lost, even more, 19%, dwarfing percentage losses posted by the S&P and Dow. Losers topped winners in June by a ratio of more than 7-1.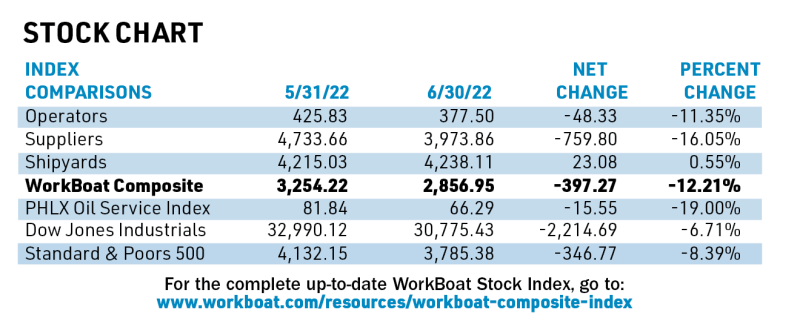 Among the big percentage losers was Transocean Ltd., the world's largest offshore drilling contractor, which saw its shares drop over 19% in June, despite oil prices over $120 bbl. in late June.
"While the Russian invasion of Ukraine and the resulting sanctions certainly contributed to these higher prices and focused the world's attention on the importance and value of energy security, we believe that the persistent underinvestment by E&P companies to replace the reserves has resulted in a diminished capacity to produce hydrocarbons globally serving as the primary driver of sustained higher oil prices," said Jeremy Thigpen, the company's CEO, during Transocean's May 3 earnings call with analysts.
"As you know, over the past few years, some of the capital that certain E&P companies may have previously earmarked for investments in reserve replacement and production growth was instead distributed to their shareholders in the form of dividends and buybacks as well as invested in various energy transition initiatives," Thigpen said. "All else being equal, this has left them with less capital to invest in, plan for and develop offshore projects."
For the complete up-to-date WorkBoat Stock Index, go to:https://www.workboat.com/resources/workboat-composite-index