In May, the WorkBoat Composite Index recouped about half of its April losses. For the month, the index gained 73 points, or 2.3%, after losing 152 points in April, or 4.6%. For the month, winners topped losers by a ratio of more than 2-1.
The top percentage gainer for the month was Tidewater Inc. The OSV operator gained 27.5% in May, or $5.49 a share.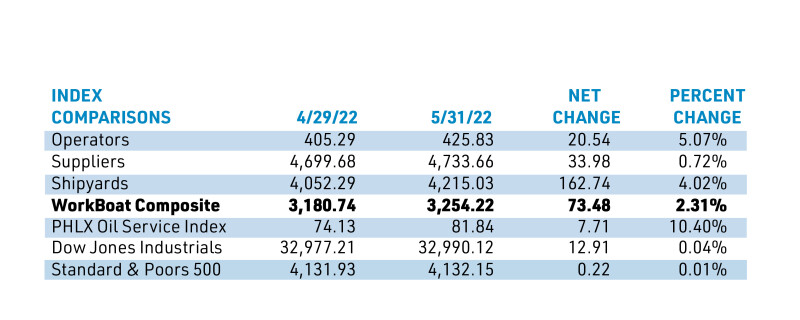 "I'm pleased to say that the first quarter was another solid quarter in a series of solid quarters. Momentum in the business continues to build, and we are starting to see the benefits of a tightening supply and demand balance we've been talking about over the last few quarters," Quintin Kneen, Tidewater's President, and CEO told analysts in May.
Kneen said that the Americas and especially the Caribbean "is one of the strongest markets we see today."
"Our day rates in this part of the Americas was up over $1,700 per day during the Covid. We believe the continued success in offshore development in the Trinidad, Suriname, Guyana region will continue to drive vessel demand in the region. And given the tightness in vessel supply, we'll continue to drive up day rates."
Kneen said market conditions "will result in its entire fleet working by the end of 2022, a combination of reactivations and disposing of non-core vessels."
"In short, the market is tight. We've reached near equilibrium in supply and demand balance for the larger PSVs."
For the complete up-to-date WorkBoat Stock Index, go to:https://www.workboat.com/resources/workboat-composite-index