U.K.-based Chartwell Marine and BAR Technologies are partners in launching a first-in-market offshore energy support vessel (OESV) equipped with hydrofoils, developed with expertise from lifting foils in high-end yacht racing including America's Cup contenders.
Developed in the 20th century for naval and fast ferry designs, hydrofoils lift a vessel's hull higher in the water at speed, reducing to frictional resistance and improving energy efficiency and stability.
The Chartwell Seacat Sceptre, built at the Diverse Marine yard in Cowes, Isle of Wight, for offshore wind energy service operator Seacat Services, is undergoing sea trials.
The new boat is based on Chartwell's 24-meter (78.7') crew service vessel design, driven by Kongsberg Kamewa S56 water jets and carrying up to 26 passengers.
Its big improvement is the Foil Optimization and Stability System (FOSS), developed and patented by BAR Technologies, which reduces hull resistance by positioning the lifting foil near the transom and controlling the running trim to ensure the hull is operating at its most efficient trims across the speed range.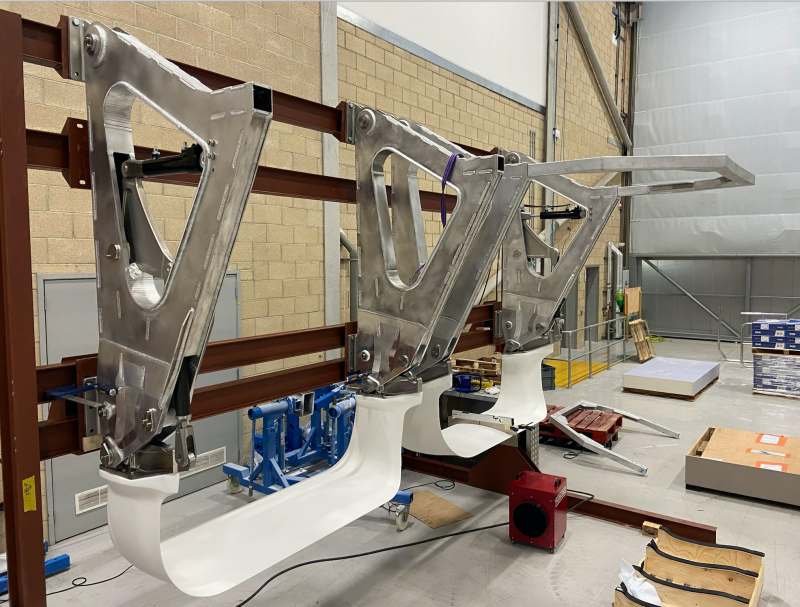 The system brings a 30% improvement in energy efficiency through wake reduction, and improves seakeeping and handling through general motion damping, active roll and trim response, and improved maneuverability and stability in varying sea conditions.
Mounting demands on the offshore wind supply chain include wind developers' stringent standards for operational performance, combined with pressures to service larger sites farther offshore while also and reducing costs and carbon emissions.
Seacat Sceptre's FOSS system is the first in this series of collaborative designs developed by Chartwell and BAR Tech, with a pioneering BARTech 30 vessel design anticipated for launch in the summer 2022.
First orders for both designs have been placed by Seacat Services as part of the company's plan to lead the adoption of energy efficient vessels and technologies in offshore wind support.
"Improving operational and environmental performance is a challenge facing all maritime sectors, so collaboration between these sectors and the sharing of expertise is a natural answer to the call for decarbonization, without ever losing sight of the critical operational requirements of the demanding offshore wind support sector," said Andy Page, managing director of Chartwell Marine.
"Optimizing the hull form is a critical component when engineering a holistic, incremental approach to emissions reductions; ensuring that energy efficient technologies are able to build from the strongest foundation of operational and environmental performance, and generate the maximum benefit for the sector," said Page.
John Cooper, CEO of BAR Technologies, said "technologies like FOSS create additional opportunities for the current market-leading vessel designs to adapt to and accommodate the emerging demands of their customers, not just in reducing emissions, but also in enhancing performance, comfort and the vessels operating window - in the case of FOSS, minimising motions of the crew and engineers onboard to ensure they reach the wind turbines quickly, throughout the year and with minimal fatigue.
"Working with Chartwell and Seacat to understand and accommodate best practice in OESV design and operation drove the development of a hydrofoil system which actively mitigates vertical accelerations in varying sea conditions - enabling faster transfers and broader operational windows, while preserving the comfort of passengers and crew."