If you drive down Engineers Road in Belle Chasse, La., you may run across a new Christmas display. That's where C&C Marine and Repair recently parked two 2,600-hp inland towboats outfitted with nearly a mile of Christmas lights. The light display also includes two 30' fabricated Christmas trees located on the bow of each boat, with a 5' star on top.
"The display was really an opportunity to give something back to the community," C&C Marine and Repair's owner Tony Cibilich said.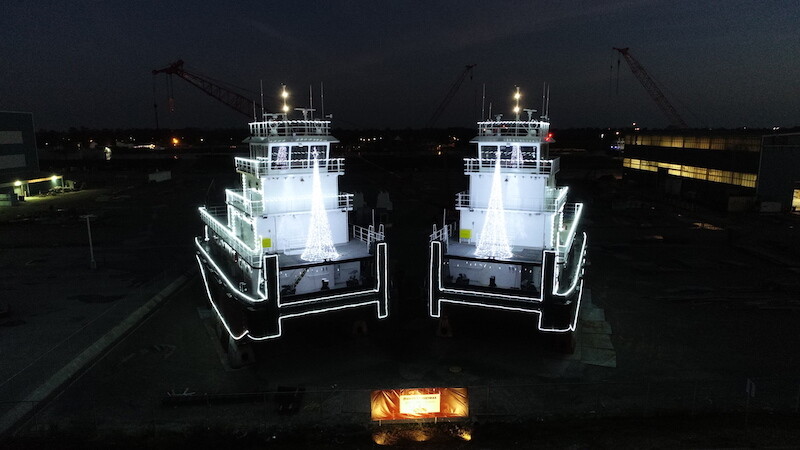 Both towboats are being built for Maritime Partners, a marine vessel leasing company based in Metairie, La.
"These boats were being stored in the yard, and we thought they would make the perfect backdrop to a nautical themed Christmas display", said C&C Project Manager Ben Sasso.
The displays were erected after the Thanksgiving holiday and will stay at their current location until after New Year's.
"I have really been pleased with the response we've received over the display. We've had several residents and business owners in the area call our office to tell us how much they enjoy the lights and how it lifts their spirits," said Matt Dobson, C&C's new construction manager.
C&C Marine and Repair was established in 1997, located in Belle Chasse on 80 acres along the Intracoastal Waterway. The company designs and builds towboats, dredges, barges, offshore supply vessels, along with a variety of other marine vessels. The company's facilities are designed to perform all new construction under roof, with multiple projects under construction at the same time.