Belle Chasse, La.-based C&C Marine and Repair has delivered to Kirby Inland Marine, L.P. the Bowling Green, the second in a three-boat series. The Bowling Green is being delivered just six months after the first vessel in the series was delivered.
The triple-screw 6,600-horsepower towboat measures 170'x50' with the pilothouse eyeline measuring at 39'3". The Bowling Green was designed by CT Marine LLC, based in Portland, Maine.
The vessel's design includes three Cummins QSK60-M main engines, provided by Cummins Mid-South, that are paired with three Reintjes WAF 1173 H/V reduction gears, provided by Karl Senner LLC. The towboat is outfitted with three 100" diameter stainless-steel fixed pitch propellers, provided by Sound Propeller Systems Inc, and features double steering rudder system.
Ship's service power is provided by three Cummins QSM11-DM, 275 kW generators, and the conventional steering system HPU was provided by EMI Marine.
The accommodations include a total of 12 beds (11 crew, plus 1 guest), and the vessel's design includes a floating, spring mounted superstructure for additional crew comfort.
C&C Marine and Repair was established in 1997 and is located on 80 acres along the Intracoastal Waterway. The company designs and builds towboats, dredges, barges, offshore supply vessels, along with a variety of other marine vessels. The company also offers a full range of barge repair and paint services, including top-side and hull damage repairs, ISE repairs, piping repairs and modifications, cargo tank repairs and modifications, and barge blasting and painting. The company's facilities are designed to perform all new construction under roof, with multiple projects under construction at the same time.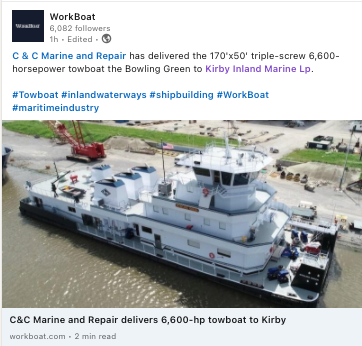 Stay connected, and follow us on LinkedIn: https://www.linkedin.com/company/workboat-com