Breaux's Bay Craft, Loreauville, La., delivered the new 90'x23'x12'4" aluminum pilot boat Spindletop to the Sabine Pilots on March 6. The Sabine Pilots, Port Arthur, Texas, serve the Texas ports of Orange, Port Arthur and Beaumont.
"This is the biggest all-aluminum pilot boat built in the U.S.," said Roy Breaux, the shipyard's owner. "There are bigger ones in other parts of the world, but this is the largest in the U.S."
Breaux's Bay Craft has specialized in building aluminum offshore crewboats for decades. However, the shrinking of the oil and gas industry in the Gulf of Mexico and the pandemic have forced the shipyard to further diversify. "We have produced hundreds of pilot vessels in the past, but we delivered our first pilot boat with the New Generation Deep-V bottom to the Tampa Bay Pilots Association, a 54-footer, in November 2019," said Breaux. "This same bottom was used on the Spindletop."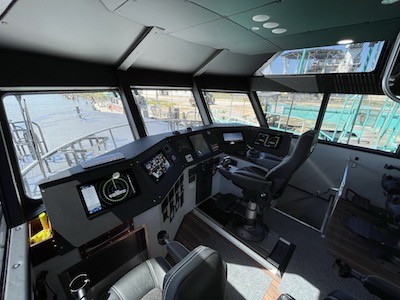 Designed by Breaux's Bay Craft and C. Fly Marine Services, the new Spindletop has two boarding platforms on the bow, port and starboard, and two overhead on the pilothouse, port and starboard. Rescue assist equipment includes a SeaLift custom-built rescue platform on the transom with a 24V hydraulic unit and a transom jib pole with a 120V electric winch. The rubber bumper system is a combination of D Bumpers and aircraft tires around the perimeter.
USCG-approved equipment includes lifejackets for 16 people, Revere Coastal Commander life raft, flare kit, battle lantern, and throw rings.
"The boat ran six pilots out in its first hour of operation," said Breaux.
The Herbert S. Hiller firefighting system includes one fixed CO2 suppression system with three bottles in the machine room. The Delta ventilation system includes four 11" blowers with temperature and speed control and Delta moisture eliminators with automatic vent dampers.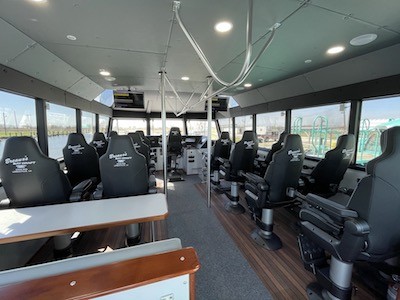 Inside the pilothouse are 15 NorSap 1600 chairs and one NorSap 1700 captain's chair with controls, VHF speaker and microphone in headrest, steering and three VHF push to talk buttons on armrest.
"We went to Breaux for a custom-built pilot boat that would maximize safety and comfort for our 17 mile stretch in the Gulf of Mexico and could not be happier with our choice," said Kenneth Leslee Hurd, boat superintendent, Sabine Pilot, Unit 31. "The Spindletop with its 4 Hamilton jets coupled to the 4 800 hp Scania engines, Humpree active ride trim tabs, and Breaux's new hull design she cuts thru our constant 3-4 ft chop that we run on a daily basis with ease. Another great feature from Hamilton is their new AVX(boat mouse) system that allows the operator to maneuver the vessel with ease in restricted areas."
Accommodations include two double bunk staterooms, a settee seating area, full head and shower, and one head treatment unit with fresh-water flush.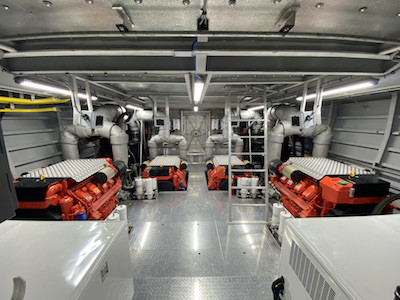 Main propulsion comes from four Scania DI16-82-M diesel engines producing 800 hp at 2,100 rpm each. The mains connect to four HamiltonJet HM461 waterjets through Twin Disc MGX-5146 marine gears. The propulsion package gives the boat a running speed of 27 knots and a top speed of 30.6 knots.
Ship's service power is the responsibility of twin Northern Lights gensets, sparking 38 kW of electricity each.
Tankage includes 4,000 gals. of fuel in two tanks — one 1,500 gal. forward tank and one 2,500 gal. aft tank; 360 gals. fresh water; and 100 gals. lube oil.
The electronics suite is made up of two Furuno DRS12A-NXT radar 4' scanners; four Furuno TZT19F 19" monitors; twin Furuno MCU004 remote control for MFD; Seatronx sunlight readable touch screen monitor; Furuno SCX 20 Sat compass; Furuno FA 170 AIS; Furuno DFF3D sonar; Furuno weather station; FLIR Systems M400XR stabilized thermal/visible camera with JCU; four FLIR thermal and visible imaging cameras for temperature measurement; three Icom M605 VHF radios with two Icom command microphones; one 10" monitor with six cameras with DVR for boarding areas — aft deck, machinery space and jet room; KVH Tracvision 3 motion satellite system, Sirius XM for weather overlay; three 32" TVs with Direct TV; and two Kingdel Windows 10 microcomputers.
The new pilot boat also features Humphree HA-1100 interceptors with active ride plus stability within a vessel motion control system.
"With our fifth Breaux-built pilot boat, she will last us many years to come — disembarking and delivering pilots to ships safely," said Hurd. "If any pilot groups would like to visit, they need to come and experience the ride, comfort, and quietness themselves."
Breaux's Bay Craft is currently building a 70' pilot boat for the Aransas-Corpus Christi Pilots, Corpus Christi, Texas.