Elizabeth Klein, who helped create the first U.S. offshore wind leasing program more than a decade ago, was named Tuesday to lead the Bureau of Ocean Energy Management – succeeding Amanda Lefton, who has led the agency during its massive ramp-up of leasing and permitting toward a goal of 30 gigawatts by 2030.
During Lefton's two years the Department of Interior approved the first U.S. utility scale offshore wind projects – Vineyard Wind off southern Massachusetts and the Coastal Virginia Offshore Wind project. BOEM has held three offshore wind lease auctions off the East and West coasts, opened environmental reviews for 10 projects and is preparing wind energy areas in the Gulf of Mexico, off Oregon, the central Atlantic states and Gulf of Maine.
Lefton will step down Jan. 19. Klein is an attorney long experience in clean energy, climate change, and environmental law and policy who has served as Interior Secretary Deb Haaland's seior counselor on water policy and climate change resilience, according to an Interior department statement.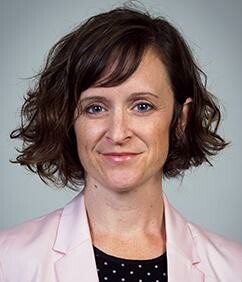 Before joining the Biden administration in January 2021. Klein was deputy director of the State Energy & Environmental Impact Center at NYU School of Law. The center supported state attorneys on cases involving clean energy, climate, and environmental initiatives – often at odds with the Trump administration, as it sought to loosen regulation of oil and gas industries.
In earlier years at the Interior department Klein worked for the Clinton and Obama administrations. As a deputy to Interior secretaries Ken Salazar and Sally Jewell, Klein "was a key architect of the Obama Administration's work to create a new offshore wind industry and leasing program," according to the department statement.
Salazar held a press conference at Atlantic City, N.J., in April 2009 where he spoke of the Obama administration's big hopes for starting a new U.S. offshore wind energy industry – along with, Salazar assured, responsible development of offshore oil and gas production, part of what the Obama administration called its "all of the above" strategy.
But a year later, the Deepwater Horizon platform explosion and fire in the Gulf of Mexico derailed the administration's plans and brought a massive shakeup to the nation's offshore energy management.
In 2023, events are reaching a circle of sorts. Two of the biggest offshore wind projects planned in the New York Bight, the Ocean Wind 1 and Atlantic Shores turbine arrays, are to be built within sight of Atlantic City.
In a statement marking the succession, Liz Burdock president and CEO of the non-profit Busienss Networl for Offshore Wind gave Lefton much credit for that evolution.
"Director Lefton will be remembered as a true champion of offshore wind whose leadership at a critical time for the industry transformed the U.S. into a premier global market. When she took the reins at BOEM, the offshore wind industry was on its backheels and unsure if it had a future," said Burdock. "In the past two years, Director Lefton and her agency have set a clear path forward and fostered greater confidence in the U.S. market that has already resulted in billions in new supply chain, manufacturing, and port redevelopment investments."
Lefton helped "lay the foundation to achieve the ambitious but achievable U.S. goal of deploying 30 gigawatts of offshore wind power by 2030," said Josh Kalpowitz, the American Clean Power Association's vice president for offshore wind.
"Under her leadership, BOEM compiled an impressive list of accomplishments, including approving two Construction and Operations Plans representing 932 megawatts of offshore wind energy, issuing six draft environmental impact statements representing nearly 9.5 gigawatts of clean power, and holding three successful lease sales that generated $5.44 billion in federal revenue, representing 971,560 acres."