April 27, 2023
KPM Marine crew seating: Safety, comfort and convenience
When transporting crew to an offshore worksite of any kind, the first priority is always safety. Whether you're transporting a crew of workers to an oil rig in an Offshore Support Vessel (OSV) or to an offshore windfarm in a Crew Transfer Vessel (CTV), it's imperative that everyone arrives safely and well rested, ready to begin whatever work they were sent there to do. While it may seem like a simple concept, there is a lot of research and design work that goes into making sure the occupant of the seat can complete a rough offshore passage with minimal physical fatigue and soreness.
KPM Marine has clocked thousands of hours spanning over a decade researching and testing their seats specifically for the demands of high-speed travel in varying sea conditions. The seats are designed for optimal safety and comfort for the passenger as well as a convenient, compact and lightweight design to meet the needs of the vessel manufacturers and re-fitters. In March of 2022, KPM officially merged with Scot Seat after years of collaboration to even further their design and manufacturing capabilities as well as expand the product range. Together, they offer a comprehensive range of specialty shock mitigation seats designed specifically for the demands of high-speed offshore travel being used all around the world by operators of CTVs, OSVs, military vessels, police forces and rescue services.
Elliptical vs. Vertical Seating Suspension
Most suspension systems on the market historically use a vertical suspension system to cushion the occupant from vertical drops off of waves and hard landings on the surface of the water, typically most effective on vessels with flat-bottom hulls. However, in reality the forces exerted on the body are more complex than one force, particularly on larger catamarans like CTVs or larger military patrol vessels, hard vertical slams off the back of waves are less common than angled decelerations as the bow of the boat plows into the trough of a wave. Side and quarter seas also present different stresses on the body of the passenger.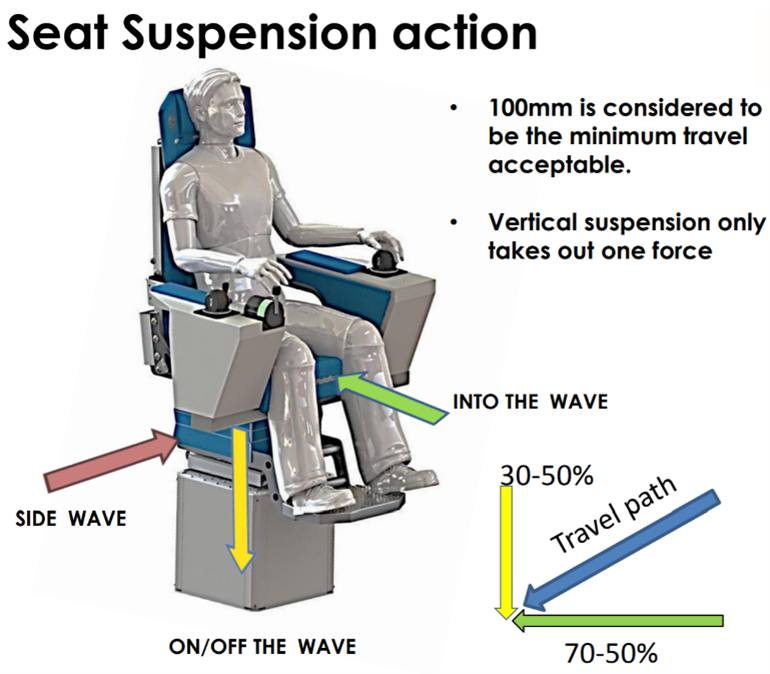 To accommodate the many forces that the sea can exert on a high speed vessel, KPM Marine uses an elliptical suspension system in many of their chair designs to be able to offer shock absorption from the combination of both fore & aft forces as well as vertical forces, along with the composite forces of the two happening simultaneously. The elliptical suspension design also has a longer travel path which allows it to suppress movement over a longer period of time to better absorb longer wavelengths like big rolling swells.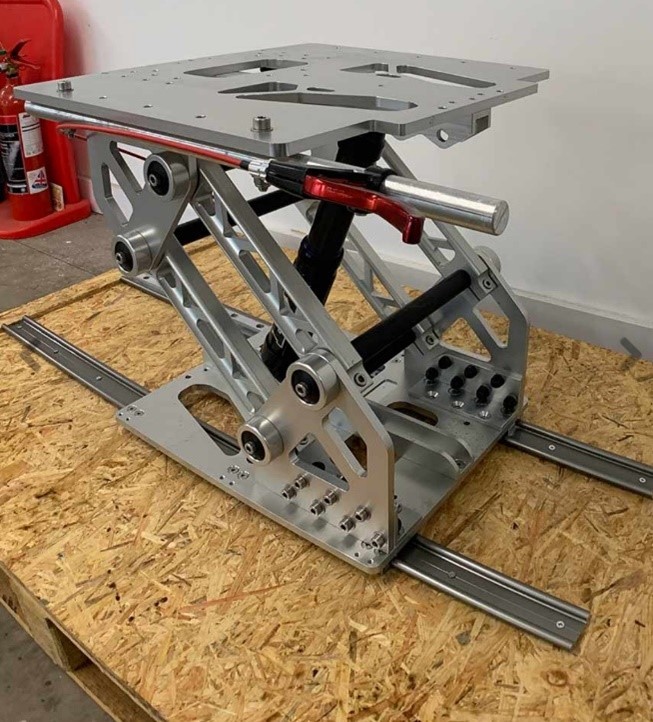 Crash Testing & Safety Features
All of KPM Marine's chairs have been extensively crash tested with dummies and passed rigorous safety standards. All of their Crew 100 seats are DNV certified to comply with the International Code of Safety for High-Speed Craft – Annex 10, making them among the safest and most rigorously tested chairs available on the market for marine use. One key point of emphasis is that their chairs have been crash tested for impact from behind.
On any sort of commercial vessel transporting crew, there could be loose equipment or other unsecured crew members that could impact the seat from behind in the event of a collision, so any passenger application should use seats that have been crash-tested for rear impact. As a result of the rear impact testing, KPM Marine's seat designs also eliminate any exposed metal or other potentially harmful features on the back of seats, so that in the event of a passenger colliding with the back of the seat, they will not be severely lacerated or impaled by any obtrusions from the seat in front of them.
All of KPM Marine's seats have been tested and certified for body sizes ranging from a 5th percentile adult female to a 95th percentile adult male, so you can be sure they are safe for the vast majority of the population. As a result, the chairs are highly adjustable and each individual passenger can easily adjust the resistance level in the suspension to be specific to their body weight and size. This also means they can be adjusted to accommodate different sea states. In addition, all of their seats come standard with a 4-point harness which proved more effective in crash testing than a lap belt, like on an airplane, or a 3-point harness like a car seatbelt.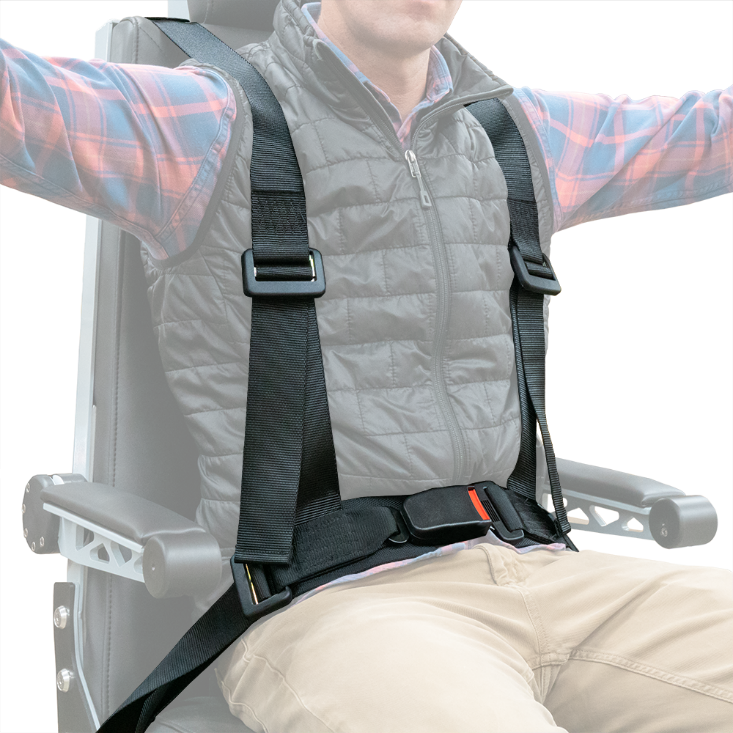 Modularity & Convenience
The only way to ensure the safety of crew seating is to have them bolted down to the floor of the vessel, so KPM Marine designed a track system that bolts to the floor, allowing the seat pedestals to be secured to the floor without being permanently mounted in that spot on the floor. The benefit to the track system is that chairs can be added, removed, and relocated with relative ease to accommodate different crews or uses for the vessel.
KPM Marine also pre-fabricates the pedestals for their seats which come in different sizes at two different heights, 270mm or 400mm. With the pre-fabricated pedestals and track system, the install process is very straightforward and saves significant time for the builder or re-fitter as all the pieces already fit together and simply need to be secured in place. The pedestals also offer added storage compartments for additional life preservers, safety equipment or whatever the crew is carrying.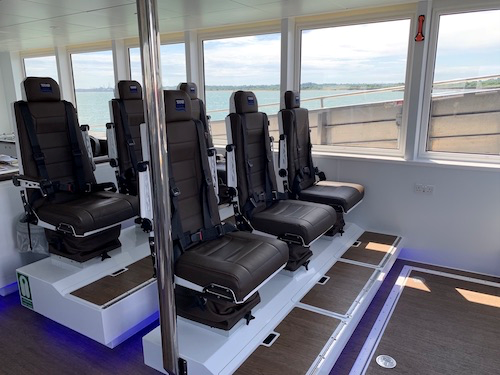 KPM Marine offers a variety of different upholstery options as well as foldable armrests, seat swivel and slider options. There are also several available accessories like heated seat panels, USB chargers, grab handles, fold down trays with cupholders and elastic storage nets. Their engineer's chair also offers options for armrest mounted controls and monitors as an option for helm seating.
To learn more about KPM seating, all of their catalogs and products can be found through this page on Imtra's website, or please feel free to reach out to us for more information.