WorkBoat recognized the 10 Significant Boats of 2021 and named its Boat of the Year at an awards ceremony at the 41st International WorkBoat Show Wednesday afternoon. The 2021 Boat of the Year is the Michael H. Ollis, a 4,500-passenger ferry built by Eastern Shipbuilding Group, Panama City, Fla., for the New York City Department of Transportation Staten Island Ferry Division.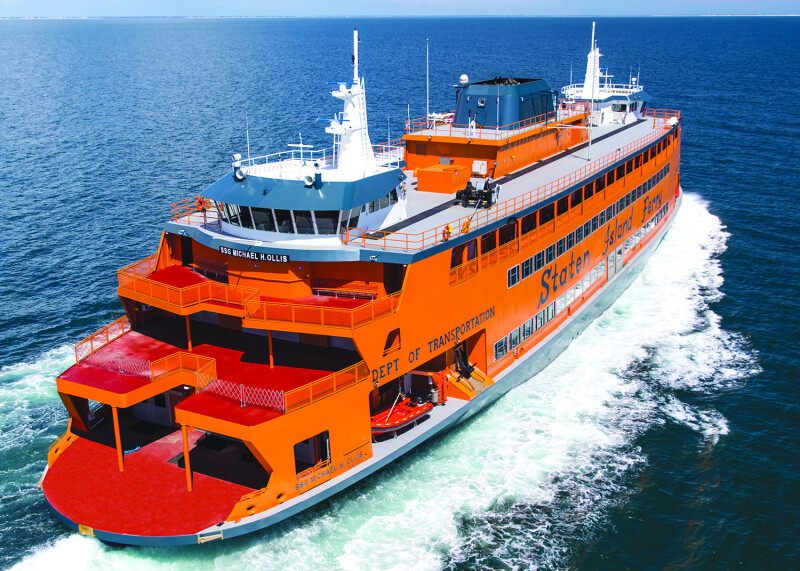 The Ollis is the first of three new 320'×70'×21'6" Ollis-class ferries. The Michael H. Ollis departed ESG's Port St. Joe, Fla., facility in early August fully certified and passenger ready.
The second Ollis-class ferry, Sandy Ground, completed sea trials in November and is scheduled to be towed up to New York from ESG's Port St. Joe shipyard this month. Delivery of the third ferry, the Dorothy Day, was not released.
Eastern was awarded a $257 million contract to build the three ferries in 2017.
"It's an honor to be recognized at the largest commercial shipbuilding event in the world and to be selected for this prestigious award," said Joey D'Isernia, president of Eastern Shipbuilding. "The Michael H. Ollis Staten Island Ferry is in a league of its own with the Buy America certifications, environmental protections, high energy efficiency, innovative safety measures, powerful performance, and elegant design features. We are proud to deliver this exceptional vessel that millions of passengers will get to ride."
With a design draft of 13', the three new Ollis-class double-ended ferries are from a design by Elliott Bay Design Group, Seattle. Each 4,500-passenger ferry features four Electro-Motive Diesel (EMD) 12-710 EPA Tier 4 marine propulsion engines, producing 9,980 hp, with two engines powering one Reintjes DUP 3000 P combining gear, and one 36 RV6 ECS/285-2 Voith Schneider propeller at each end of the vessel. Geislinger torsional couplings are installed on the EMD flywheels and provide torsional damping and driveline misalignment from the resiliently mounted EMD engines. The ferries will each have a crew of 16.
Ship's service power is provided by three EPA Tier 3 marine continuous duty diesel generator sets, Caterpillar C18s driving 480V, 60 Hz, 3-phase generators rated at 425 kW. The approximate fuel oil capacity is 30,000 gals.
The new ferries are ABS-classed Maltese Cross A1, Ferry Service, River Service, AMS Notation, and USCG certified, Subchapter H.
The layout of the three new Ollis-class ferries is similar to the 52-year-old John F. Kennedy ferry, a favorite of Staten Island Ferry commuters and tourists because of its outdoor promenade seating and extended foredecks. The Kennedy and two other boats are expected to be retired once the new ferries come into service.
The new ferries are larger, reflect modern technology, and will operate more safely in extreme weather conditions, Eastern said. They feature popular design elements of past Staten Island ferries and new customer service amenities such as more comfortable seating and phone charging outlets and an oval upper-deck promenade that will for the first time serve as an outdoor "walking track" for ferry riders. They have the latest in marine technology for energy efficiency and environmental friendliness. There are design features on the vessels that are part of the emergency response plan with the city of New York.
New York City has operated Staten Island Ferry since 1905. The ferries, which run 24/7 on a 5.2-mile route between St. George Terminal on the north shore of Staten Island and Whitehall Terminal in Lower Manhattan, carry about 23 million passengers annually.
OLLIS-CLASS FERRIES
Length Overall 320'
Length on Design Load Waterline 308'-3 1/2"
Beam, Molded 70'
Beam over Guards 70'-3"
Depth at Main Deck at Side 21'-6"
Design Draft 13'
Installed Horsepower 9,980 HP
Fuel Oil Capacity (95%, approximate) 30,000 gallons
Minimum Seating Capacity 2,551
Maximum Passenger Capacity 4,500
Crew 16
Regulatory ABS A1, Ferry Service, River Service, AMS Notation. USCG Subchapter H
Here are the other winners:
CHIEF POTACKEE BETTY MAE TIGER JUMPER 36'7"x12' (tour boat)
Owner: Silver Springs State Park
Builder: St. Johns Ship Building
Designer: Lay, Pitman & Associates
SEA CHANGE 72'7"x24'6" (commercial hydrogen fuel ferry)
Owner: SWITCH Maritime
Builder: All American Marine
Designers: Incat Crowther (structural), Hornblower Group (systems), Zero Emissions Industries (hydrogen power)
MAGNET 158'x39' (private yacht)
Owner: George Wallner (private owner)
Builder: Metal Shark
Designer: Metal Shark/Incat Crowther
NICOLA TESLA, JAMES V GLEEN 90'x32' (tour boat)
Owner: Maid of the Mist
Builder: Maid of the Mist
Designer: Propulsion Data Services
SPINDLETOP 90'x23'x12'4" (pilot boat)
Owner: Sabine Pilots
Builder: Breaux's Bay Craft
Designer: C. Fly Marine Services, Breaux's Bay Craft
JACK K, WILLIAM O 62'6"x25' (modified lugger tug)
Owner: Weeks Marine
Builder: Rodriguez Shipbuilding
Designer: Rodriguez Shipbuilding, Weeks Marine, MINO
Q-LNG 4000 452'x106' LNG articulated tug/barge unit (ATB)
Owner: Q-LNG Transport
Builder: VT Halter Marine
Designer: Q-LNG Transport/ Harvey Gulf International Marine
AMERICAN JAZZ 328'x60'4" (overnight riverboat)
Owner: American Cruise Lines
Builder: Chesapeake Shipbuilding
Designer: Chesapeake Shipbuilding
GRETCHEN V. COOPER 110'x33' (linehaul towboat)
Owner: Cooper Marine & Timberlands Corp.
Builder: Blakeley BoatWorks
Designer: Farrell and Norton Architects