The International WorkBoat Show (IWBS) has announced the formation of an advisory board made up of eight commercial marine industry leaders.
The 2023 WorkBoat Show advisory board members are:
Joey D'Isernia, CEO and chairman, Eastern Shipbuilding Group Inc.
Joe Hudspeth, director business development and global marine, BAE Systems
Bronson Lamb, marketing manager, All American Marine
Troy Matherne, vice president, energy and transportation division, Louisiana Cat
Kelsey Nemeth, marketing manager, Marine Jet Power
Rick Schwab, senior director, workforce development, Delgado Maritime
Aaron Smith, president and CEO, Offshore Marine Service Association (OMSA)
Robert Socha, vice president marketing and sales, Conrad Shipyard
Mark Wright, vice president - Southern regision, The American Waterways Operators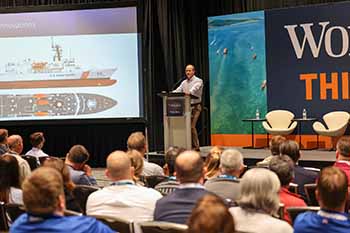 The advisory board will provide advice and insights on the WorkBoat Show's annual conference program and the long-term direction of the show.
"I am glad to represent American-owned and -operated shipyards as a member of WorkBoat's advisory board in support of the maritime industry," said Joey D'Isernia of Eastern Shipbuilding.
"It is an honor to be selected as an advisory board member for the International WorkBoat Show," said Robert Socha of Conrad. "I am looking forward to working to contribute to the positive image of our industry that WorkBoat consistently delivers to the marketplace."
Featuring in-depth discussions with industry leaders, the 2023 IWBS conference program will highlight innovations and the latest in marine technology, and will also feature presentations from the Navy and Coast Guard. Among the topics to be discussed during this year's conference program include:
Doing business with the U.S. military: How to improve your chances of landing a U.S. military boat contract.
Start them young: A look at the maritime workforce and strategies for attracting a new generation of workers.
Offshore wind: The latest developments in the marine industry's nascent offshore wind energy sector.
These sessions, as well as ones that will be announced over the next few months, will receive support from the advisory board. This will help ensure that Workboat Show attendees will get the most out of being at the show.
Also, the conference program will again feature the Significant Boats Awards and the Boat of the Year. To be considered, boats must appear in WorkBoat magazine from December 2022 to November 2023. Does your fleet have a unique vessel that you think fits the bill? Upload your submission here.
This year's IWBS will be held Nov. 29-Dec. 1, 2023, in New Orleans. The three-day event brings together vessel owners, operators, boatbuilders, equipment and service suppliers and others. Attendees will visit an exhibit floor that features vendors and suppliers from over 800 companies.
Sign up to receive more information about the WorkBoat Show program and other industry news