The Maritime Administration (Marad) announced today that $12.4 million is available in fiscal year 2023 funds through the U.S. Marine Highway Program (USMHP), previously named America's Marine Highway Program.
"America's waterways serve as critical links in our nation's supply chains," U.S. Transportation Secretary Pete Buttigieg said in a statement. "These investments in our marine highways will help to strengthen our supply chains, reduce emissions, and create jobs across the country."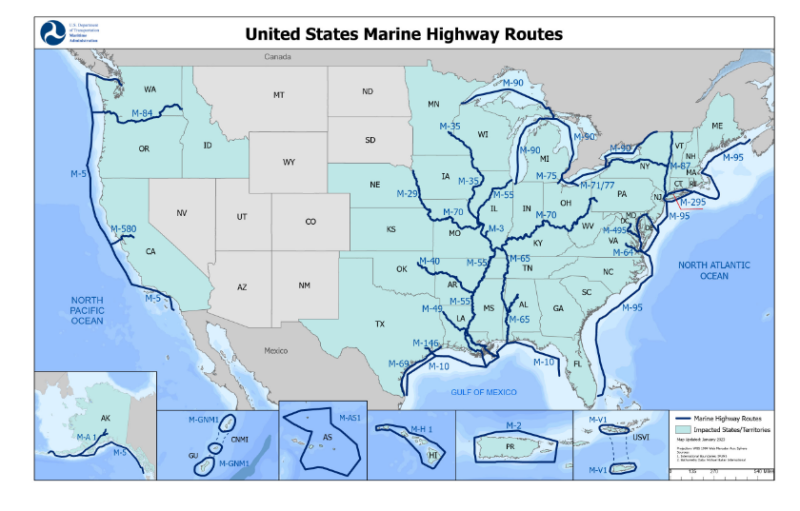 The USMHP seeks to increase the use of navigable waterways in the U.S., especially where water-based transport is the most efficient, effective, and sustainable option. The USMHP helps to create maritime jobs, strengthen the nation's supply chains, reduce emissions, and lower maintenance costs, Marad said
"Since the establishment of the marine highways program, Marad has awarded more than $91.6 million in competitive grants to eligible organizations for marine highway services," said Maritime Administrator Ann Phillips. "These grants have supported the development and expansion of marine highways, vessels, and landside ports and infrastructure, which are critical to building supply chain resilience."
Marad will evaluate projects using criteria including the effect on movement of goods, level of non-federal funding investment, use of domestic preference, consideration of equity, and environmental justice. The department will also consider geographic diversity when selecting grant recipients, as well as how the project addresses challenges faced by rural areas.
Applications must be submitted now through by 11:59 p.m. EST on April 28, 2023.
For technical assistance, Marad will host a series of webinars during the USMHP grant application process. For webinar registration details or for additional information regarding the USMHP, contact the USMHP staff via email at [email protected], or by phone at 202–366–1123.