A full-time dredging operation to free the grounded container vessel Ever Forward continued Tuesday, aiming to refloat the ship near the Craighill Channel in upper Chesapeake Bay.
"It has to succeed, and I believe it will succeed. We'll get that ship off and running sometime in the near future," Maryland Port Administration Executive Director Bill Doyle told Baltimore television station WBLTV. "We have two dredgers there and several barges that will carry the dredge material. One of the dredgers is the largest clamshell dredge in the Western Hemisphere."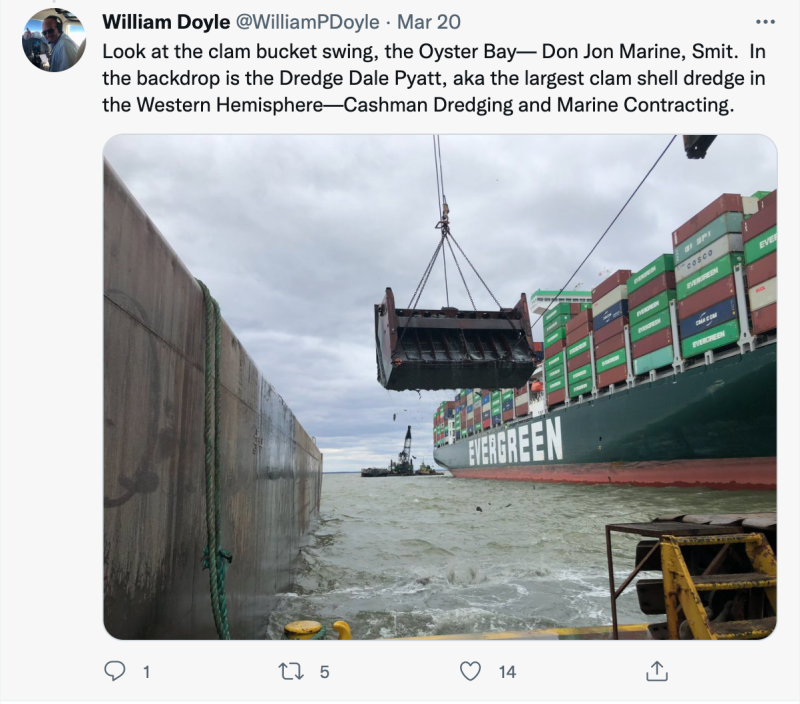 Contractors including Cashman Dredging and Marine Contracting and Donjon Marine began the operation Sunday. In updates posted to Twitter, Doyle the dredged sediment will be deposited at Poplar Island, an ongoing ecosystem restoration project that's been receiving materials from the Port of Baltimore's other dredging projects.
The 1,095'x157' Evergreen Marine Corp. vessel ran aground March 13 near Gibson Island, Md., while enroute to the Port of Virginia after discharging and taking on containers in Baltimore. A Coast Guard-supervised response detected no pollution, and the grounding has not impeded other vessel traffic in the bay.