The grounded tugboat Sea Eagle and its barge were freed from a Florida beach Saturday and moved to Port Everglades for inspection and repairs, Coast Guard officials said.
Th barge was refloated and under tow at 10:30 a.m. Feb. 5 and the cleanup operation was complete by 10 p.m. that evening, according to the Coast Guard 7th District headquarters.
Four Sea Eagle crew members were rescued after they sent a mayday call at 8:45 p.m. Feb. 3 that the tug was taking on water three miles off Hillsboro Beach, Fla. The 70' tug and barge wound up grounded at Deerfield Beach.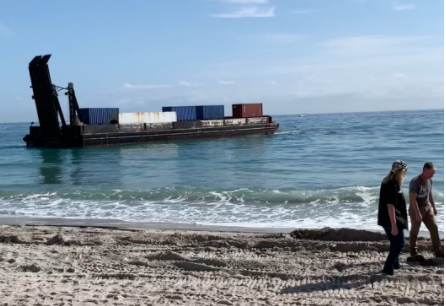 Coast Guard Sector Miami's Incident Management Division personnel worked with the responsible party and a commercial salvage company to refloat the tugboat and barge, and oversaw the removal of 9,500 gallons of diesel fuel from the Sea Eagle.
"With the help of the responsible party, federal and local partners, we were able to safely and expeditiously remove the hazards from the beach," said Cmdr. Eric Paré, the incident commander for the response.
The Sea Eagle and barge were chartered by the U.S. Navy's Military Sealift Command. These routine shipments provide regular supply service between Port Everglades, Florida, and Atlantic Undersea Test and Evaluation Center Naval Base, Bahamas. The tug and barge are owned and operated by Northcliffe Ocean Shipping & Trading and were headed to AUTEC Naval Base.
The cause of the grounding remains under Coast Guard investigation.