After a month aground in Chesapeake Bay, the 1,095' Ever Forward was hauled free into the channel and taken under tow Easter Sunday morning.
A lightering operation using two crane barges had removed 500 containers the previous week – about 10 percent of the cargo carried by Evergreen Marine Corp. vessel as it departed Baltimore March 13.
Lifting the containers was recommended by salvage experts as a last resort, after weeks of dredging around and astern of the vessel, and two unsuccessful efforts to pull the 42.6' draft ship free with multiple tugs.
The feat was finally accomplished on Easter Sunday morning using two anchored pull barges. The Coast Guard Sector Maryland-National Capital Region called a halt to one-way traffic through a safety zone at 5 a.m. Sunday in preparation for the pulling evolution.
Aided by a slightly higher than usual tide, the anchored barges and six tugs finally moved the Ever Forward around 7 a.m.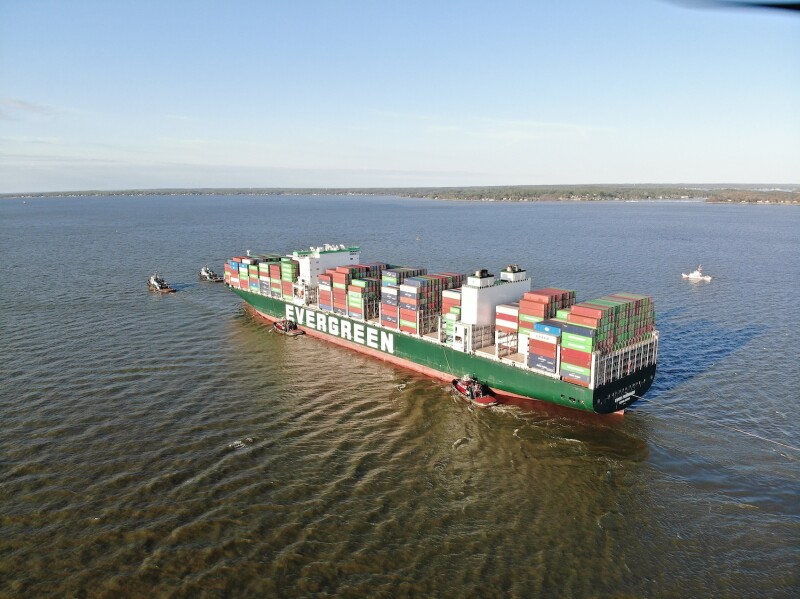 In all, some 206,280 cubic yards of sediment were dredged in the operation under an emergency wetlands permit from Maryland officials.
The permit includes a requirement for contractor Donjon-Smit LLC "to assess the dredge and vessel grounding area for impacts to a natural oyster bar in the area, provide a report to the Maryland Department of the Environment after the vessel's removal and then develop a plan for any mitigation determined to be required for impacts to that oyster bar," according to a statement Sunday from the Coast Guard.
"A tremendous team effort with a little help from the Easter Sunday rising tide in the Chesapeake Bay," Maryland Port Administration Executive Director William Doyle reported on LinkedIn social media. "Outstanding team effort led by Donjon-Smit, LLC, the salvage manager. This was a #jonesact effort using every facet of the sector including dredging, marine construction, tugs, barges (deck barges, crane barges, and pull barges). The U.S. Coast Guard as the lead federal agency, and leader of the Unified Command, exhibited outstanding leadership."
The Ever Forward was moved south of the Chesapeake Bay Bridge to anchorage between Annapolis and Kent Island, Md., for continued survey and assessments before proceeding to its destination of Norfolk, Va.
"The vastness and complexity of this response were historic, as an incident like the Ever Forward grounding, in type and duration, is a rare occurrence," said Capt. David O'Connell, commander of Coast Guard Sector Maryland-National Capital Region. "It was the collaboration of each responding agency, Evergreen Marine Corporation, and dedicated responders that resulted in the successful refloating of Ever Forward while ensuring the safety of the public and response personnel, mitigating pollution potential, and minimizing economic impacts."