The first of three new oceanographic research vessels was launched in May at Bollinger Shipyards, Houma, La. Construction will be staggered for about six months between each vessel. The 199'6"x41'x19' Taani is being built as part of a project led by Oregon State University and funded by the U.S. National Science Foundation to provide scientists with valuable new tools to study critical issues such as rapidly changing ocean conditions and human impacts on the marine environment. The vessel will feature a range of over 5,000 nautical miles, with berths for 16 scientists and 13 crew, a cruising speed of 11.5 knots, and a maximum speed of 13 knots. Taani will have a 12'6" draft.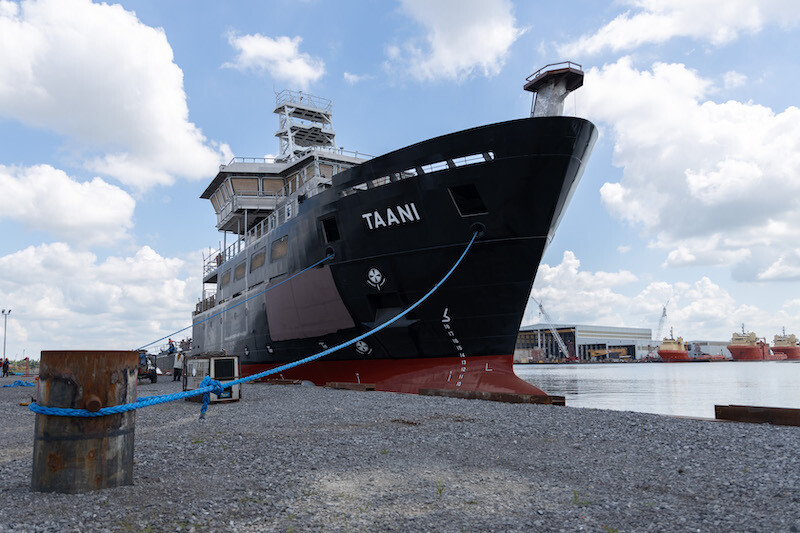 In a canyon at the Idaho border and alongside a bayou in Louisiana, two nearly identical cruise ships were christened by American Cruise Lines. ACL announced in May the christening of the 345'x60' American Jazz and the 328'x60'4" American Serenade. The sisterships are two of the company's six new American Riverboats. The new riverboats each accommodate 180 guests and feature the largest staterooms on any riverboat in the world, ACL officials said. Each has multiple dining and lounge options, as well as spacious sundecks and lecture rooms. They also feature the hallmark architectural detail of the American Riverboat series, a four-story glass atrium in the center of the ship.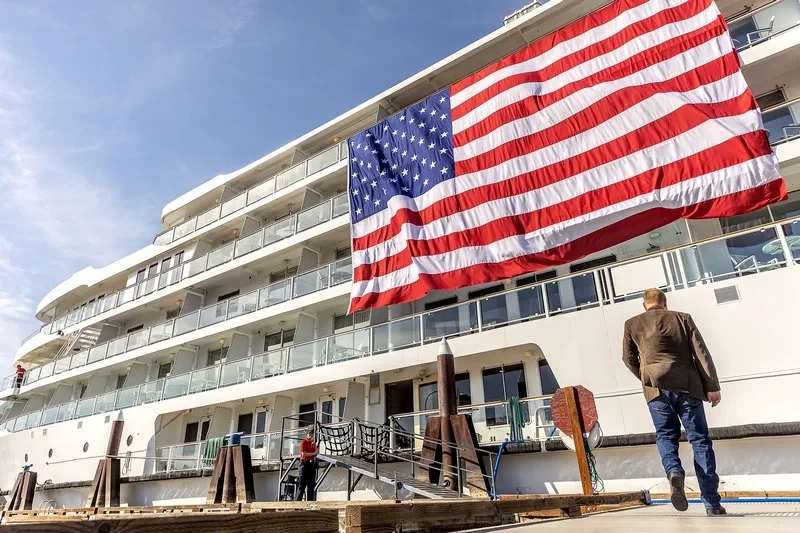 Bristol Harbor Group Inc. (BHGI) was recently awarded a contract from United Launch Alliance (ULA) to design a river and oceangoing manned roll-on/roll-off barge for the transportation of ULA's Vulcan Centaur rockets. The barge will be supported by an operations and cargo monitoring crew. BHGI, Bristol, R.I., will also aid in the bidding process for prospective shipyards including answering any bidder questions, reviewing shipyard proposals and providing construction oversight. BHGI handled design work on the Pegasus barge for the Army Corps of Engineers. NASA partnered with Corps Marine Design Center to refurbish the barge. It was used to transport rocket components for NASA's Space Launch System. BHGI was tasked to design the structure of the Pegasus hull for transport and load on/off of new structural test assemblies and the core stage for the Space Launch System. BHGI did not release any specifications.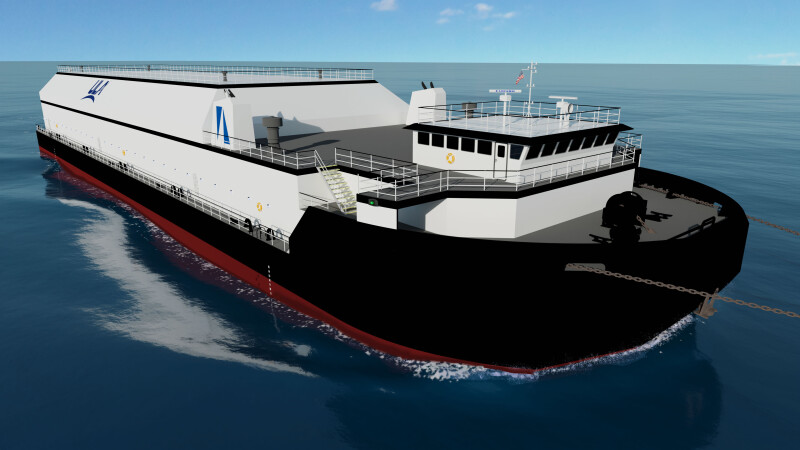 Fincantieri Marinette Marine, Manitowoc, Wis., has been awarded a $526 million contract to build a fourth 496'x65' Constellation-class frigate. FMM received the contract for the first-in-class Constellation-class frigate in 2020, and since then, the Navy has exercised three options for follow-on vessels. Construction on the first frigate began in late August 2022 in Marinette, Wis. FMM is scheduled to deliver that ship, the future Constellation, in 2026. The generator sets are based on the MTU 20V 4000 M53B engine and provide a total power output of 12 MW for propulsion and onboard power supply. Each ship will also be powered by a GE LM2500+G4 gas turbine.