A wind turbine installation vessel to be built in Singapore will be teamed with U.S.-built tugs and barges to install the Empire Wind offshore turbine project outside New York Harbor, according to wind developers Equinor and BP, and Maersk Supply Service.
Maersk says it's been developing a design concept since 2019 with "unique feeder capabilities" to make its WTIV 30 percent more efficient than using other jack-up vessels.
Without any U.S.-flag installation vessels built yet, offshore wind developers are expected to rely on the so-called feeder model – using Jones Act-compliant tugs and barges to carry wind turbine components out to foreign-flag installation vessels at sea.
With its improved handling design, the Maersk WTIV may address some of the shortcomings of those tricky transfers of heavy turbine tower parts. In its description of the design and a video, Maersk says its installation concept includes a novel WTIV design "with a patented load transfer system that will enable safe transfer of cargo."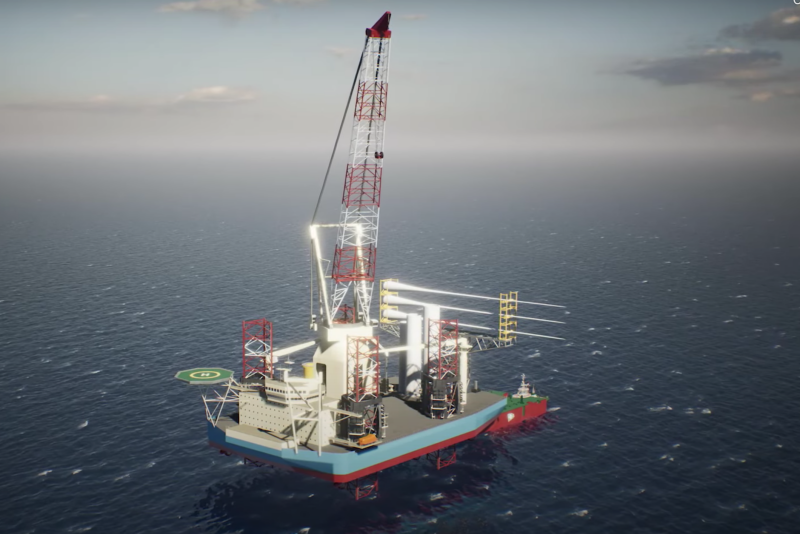 The concept will utilize two newbuilt tugs and barges to transport wind turbine components out to the the installation site, while the wind installation vessel itself will remain on location to carry out successive installations."
SembCorp Marine, Singapore, will commence construction with a steel-cutting ceremony set for Q4 2022, according to Maersk. The vessel's jacking units, load transfer system and crane will be provided by offshore crane manufacturer NOV, while ABS is supporting the design work.
Maersk expects it will deliver the vessel into U.S. waters in 2025. Meanwhile, Jones Act-compliant tugs and barges will be built in the U.S. by Kirby Offshore Wind – in the "feeder barge" model that's to be used, pending arrival of new U.S.-built WTIVs into the market.
"The newbuilt tugs and barges will further create employment opportunities for U.S. citizens – both during the vessel construction phase and the subsequent operations for Equinor and BP," according to Maersk.
"The new feeder solution equips Maersk Supply Service with a methodology that ensures a radically more efficient installation, which will in turn enable developers to release their supply chains more quickly and lead to faster revenue generation from their wind farms," Jonas Munch Agerskov, chief commercial officer at Maersk Supply Service, said in a statement from the company.
"All of this will contribute to bringing down the levelized costs of offshore wind. The solution is also less weather dependent, allowing installation all year round. The feeder methodology has been designed in-house and patented by Maersk Supply Service, and is a real credit to the innovation and hard work of the teams involved," said Agerskov.
Parent company A.P.Møller-Maersk is pressing ahead to develop 'green methanol' as maritime fuel, and Maersk Supply Service and Kirby Offshore Wind are looking at how the WTIV, tugs and barges could operate on climate-neutral fuels.
"This is Maersk Supply Service's first newbuild investment dedicated entirely to the offshore wind industry," the company said. "With this, the company makes a significant breakthrough in transitioning to becoming a major contractor in offshore wind, an industry expected to grow substantially in the coming decades."