DEME Marine's new state of the art vessel Orion will be deployed to U.S. waters in 2024 to install 176 monopile foundations for the Coastal Virginia Offshore Wind turbine array.
The foundation installation is another major contract for the Belgium-based company, already committed to southern New England wind power.
Built in 2019 and formally christened April 30, the 858'x160.7'x 36' Orion, classed DNV GL, is equipped with a 5,000-ton crane to handle the coming generation of larger wind turbines and foundations.
With a total power rated at 59,260 horsepower and maximum 30,000-ton payload, the vessel "has a large unobstructed deck and a deadweight that has been maximised so it can handle the heaviest components," according to a statement from DEME.
The Orion's first job is off Germany to install foundations at the Arcadis Ost 1 wind array, followed by a decommissioning project in the United Kingdom to remove obsolete turbines. Its trans-Atlantic deployments in 2024-2025 will be for Coastal Virginia Offshore Wind, anticipated to be one of the world's largest offshore wind developments.
Virginia-based power company Dominion Energy plans for the Orion to install foundations and transition pieces over those two years, during a May 1 to Oct. 31 window which is outside the migration season for endangered northern right whales along the U.S. East Coast, said Jeremy Slayton, a Dominion spokesman.
Dominion's own U.S. flag wind turbine installation vessel, the Charybdis, is under construction by Keppel AmFELS at Brownsville, Texas. That new vessel will be under charter to developers Ørsted and Eversource for two Northeast wind projects based out of New London, Conn.
It's planned that the Charybdis will begin installing wind turbines on the 176 foundations off Virginia in the third quarter of 2025, said Slayton.
Co-designed by C-Job Naval Architects in the Netherlands alongside DEME, the Orion was built at the COSCO shipyard in China.
To handle the oncoming generations of turbines – already anticipated to be 14-megawatt machines for U.S. projects – the Orion is equipped "with an integrated Motion Compensated Pile Gripper (MCPG), which has been designed by DEME's and Huisman's expert engineers," according to DEME, referring to heavy equipment manufacturer Huisman, based in the Netherlands, a supplier of installation tools for the offshore industry.
"Coupled with the vessel's DP3 capability, the MCPG allows the monopiles to remain vertical and stable during installation, despite motions of the ship and waves, and crucially, to be installed without the use of mooring anchors."
Altogether the engineering package and the Orion's capacity to transport turbines, jackets and other components in a single shipment, "will speed up installation times dramatically, making the vessel an extremely cost-effective solution for wind farm developers," according to the company.
The vessel has dual fuel engines that can burn liquified natural gas or alternative cleaner marine fuels and carries a Green Passport and Clean Design notation.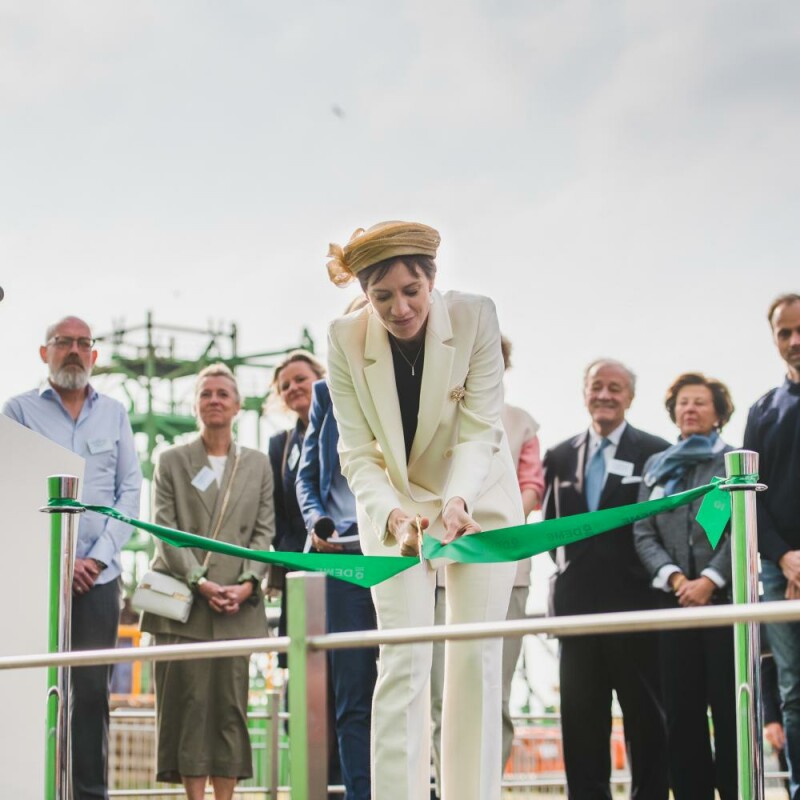 A waste heat recovery system converts heat from the exhaust gases to electrical energy. The evaporation of LNG also cools the crew quarters with a cold recovery system.
The Virginia project will follow DEME's installation of 62 turbines at the ongoing Vineyard Wind project off southern New England. Foss Maritime's U.S. flag fleet is slated to carry turbine components to that installation site.
In all, the Coastal Virginia Offshore Wind project, in a consortium with underwater energy cable supplier Prysmian, represents a total contract value of $1.9 billion, the biggest thus far in U.S. offshore wind.
It includes the transport and installation of 176 monopile transition piece foundations, three offshore substations, scour protection and the supply and installation of export and inter-array submarine cable systems. DEME Offshore will oversee the complete offshore installation work for the foundations, substations, infield cables, as well as part of the export cables.