In July, the WorkBoat Composite Index rose over 222 points, or almost 8%. For the month, winners topped losers by more than 3-1.
Kirby Corp. was up over 4% in July. The Houston-based inland tank barge operator reported second-quarter revenue of $698 million and earnings of 47 cents per share, compared to 2021 second-quarter revenue of $560 million and earnings of 17 cents per share.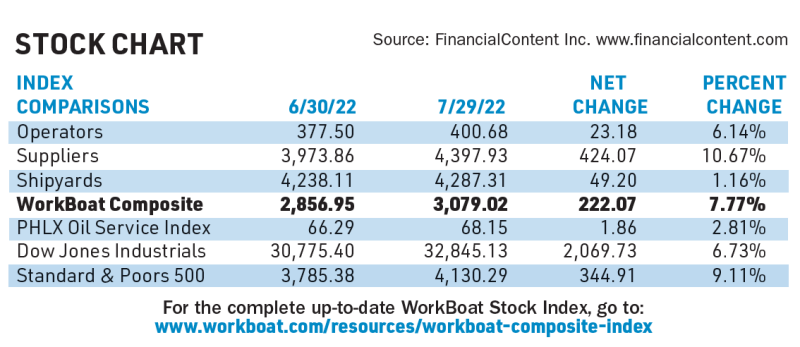 In the company's July 28 earnings call, David Grzebinski, Kirby's president and CEO, said inland marine transportation enjoyed strong results as high refinery utilization led to a steady improvement in demand with the company's overall barge utilization increasing into the low 90% range. Tight market conditions, in part due to the limited supply of barges, continued to put upward pressure on prices, "with spot prices up approximately 10% sequentially and mid-teens year-over-year."
"In summary, despite significant inflationary and supply chain challenges in the quarter, our second-quarter results reflected continued improvement and market fundamentals for both segments," Grzebinski told analysts. "The inland market is improving nicely, demand is strengthening and rates are moving higher. While the coastal market remains challenged by industry supply dynamics, our barge utilization is good and we realized modest rate improvements."
Grzebinski added that the company was "very excited" about the outlook for one of the company's newest business lines, Kirby Offshore Wind.