The U.S. military always needs new vessels. There is usually never a point at which the Navy, Coast Guard and even the Marine Corps, Air Force and Army, say, "Okay, we're good for now." That's because military vessels are in constant use, and they usually wear out faster than a commercial boat.
Luckily, there are plenty of U.S. shipyards ready to build whatever boats or ships these agencies need. And because of the Byrnes-Tollefson Amendment, they must all be built in the U.S., with many of them built in Gulf Coast shipyards.
Cordova, Alaska-based ReconCraft is not a Gulf Coast business, but something that its production manager Kurt Boardman said about building for the government applies nationwide. Commenting on the yard's just completed 12-boat contract for U.S. Customs and Border Protection's 21'×8'6" riverine shallow draft vessel (RSDV), Boardman said that the CBP program "is a perfect example of the success realized when industry and government collaborate to design and manufacture exceptional vessels that exactly satisfy operational, maintenance, and program requirements. Recon currently has contracts to build for both the Navy and Coast Guard.
FRCs AND OPCs
Some shipyards along the Gulf Coast have been building military vessels for decades. They know what the government wants and expects.
One of those yards, Bollinger Shipyards, Lockport, La., has been building the Coast Guard's 154'×25' fast response cutters for over a decade. FRCs have a flank speed of 28 knots, a C4ISR (command, control, communications, computers, intelligence, surveillance, and reconnaissance) suite, and a stern launch and recovery ramp for a 26' over-the-horizon interceptor cutter boat.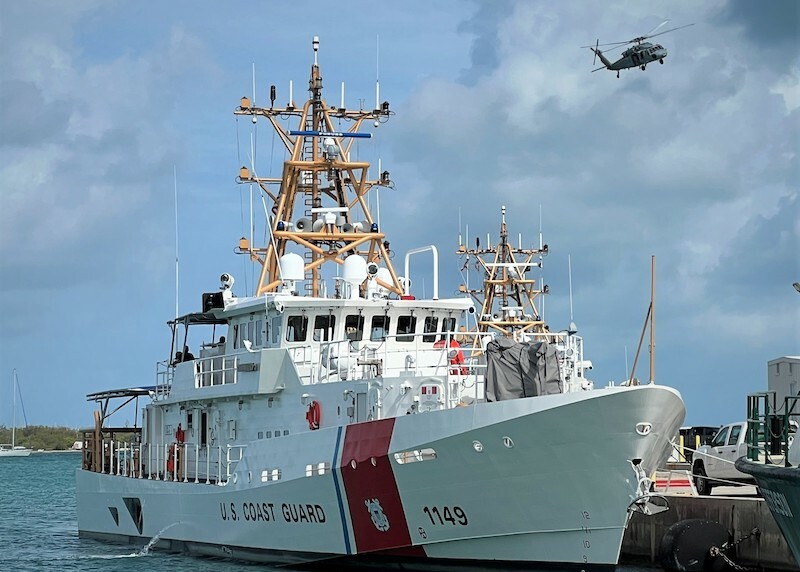 Bollinger's FRC design is based on the Damen Stan Patrol Boat 4708. Main propulsion comes from twin MTU 20V4000 M93L diesel engines, producing 2,900 hp each. The shipyard delivered the 49th FRC, Douglas Denman, in May. It was the 175th boat Bollinger has built for the Coast Guard in the past 35 years.
When President Biden signed the Consolidated Appropriations Act this year, it included a $130 million increase for two additional FRCs, continuing the program beyond its 64-vessel program of record. It was the second time Congress authorized the building of additional FRCs beyond the original 58 vessels.
"Bollinger-built fast response cutters are continuing a long tradition of exceeding all expectations in mission effectiveness, endurance and capability," according to Skip Bowen, the shipyard's vice president, government relations.
Eastern Shipbuilding Group Inc. (ESG), Panama City, Fla., has a contract to begin construction of the fourth Heritage-class offshore patrol cutter (OPC) for the Coast Guard, the future Rush (WMSM 918).
The OPC is forming the backbone of the service's future fleet around the globe. ESG, in collaboration with its partners, produced the winning design of the OPC and was awarded detail design and construction of the first hulls in 2016, beating out the likes of Vigor, VT Halter Marine, Ingalls Shipyard, Marinette Marine, NASSCO, Bollinger, and General Dynamics.
The new OPC designs reflect cutting edge technology and will replace the Coast Guard's 270' and 210' medium endurance cutters, which are becoming increasingly expensive to maintain and operate.
Eastern's design of the 360'×54' OPC calls for a draft of 17', speed in excess of 22 knots, a range of 10,200 nautical miles (at 14 knots), endurance for 60-day patrol cycles, and the capacity to carry an MH-60R or MH-65 helicopter, and three over-the-horizon (OTH) cutter boats. The OPC's missions will include law enforcement, drug and migrant interdiction, search and rescue, and other homeland security and defense operations. Each OPC features a flight deck and advanced command, control, communications, computers, intelligence, surveillance, and reconnaissance equipment.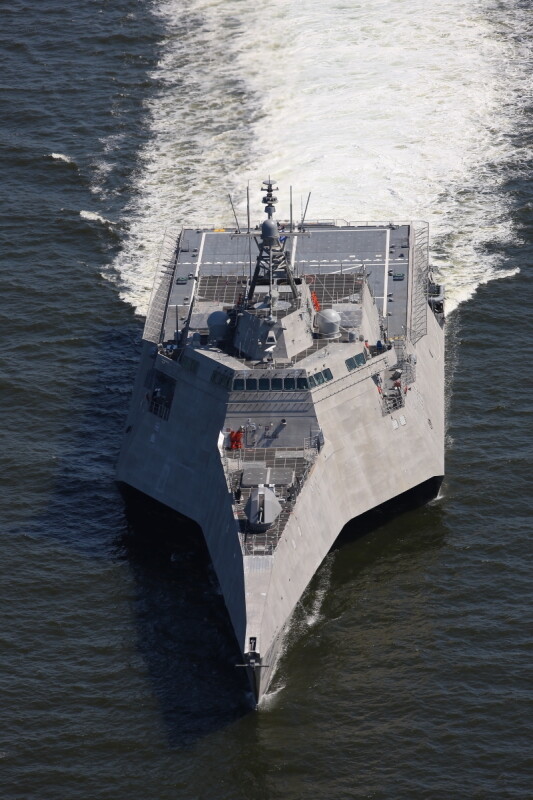 This summer, however, Austal USA, Mobile, Ala., was awarded a contract with a potential value of $3.3 billion for the detail design and construction of up to an additional 11 OPCs for the Coast Guard.
The award marks Austal USA's first Coast Guard acquisition program and follows the company's recent award of its first competitive steel shipbuilding contract, the Navy's auxiliary floating drydock medium (AFDM).
The OPC program is the Coast Guard's highest investment priority. It will recapitalize the aging endurance cutters and provide a capability bridge between the service's NSCs, which operate in the open ocean, and the FRCs. which operate closer to shore.
In March 2021, Austal broke ground on its $100 million steel production assembly line facility right next to
its 700,000-sq.-ft. aluminum module manufacturing facility. Steel production began in the spring of 2022.
In a visit to the shipyard early this year, Mike Bell, senior vice president of operations, said the shipyard will bring its proven lean manufacturing processes and facility design to the steel shipbuilding market. These processes have helped deliver 24 ships to the Navy in the last nine years.
"We'll be the only shipyard that can build aluminum and steel combatants," said Bell.
While the shipyard can't control the rising cost of steel, it's close proximity to a steel mill will help keep the trans- portation costs down. "We've got a steel mill 40 miles away from us," said Bell.
Austal USA will build the OPC using its ship manufacturing processes and production methods that incorporate lean manufacturing principles, modular construction, and moving assembly lines in its new state-of-the-art enclosed steel production facility, the company said.
The 360' OPCs will provide the majority of offshore presence for the Coast Guard's cutter fleet and will be capable of conducting a variety of missions including law enforcement, drug and migrant interdiction, and search and rescue. With a range of 10,200 nautical miles at 14 knots and a 60-day endurance period, each OPC will be capable of deploying independently or as part of task groups and serving as a mobile command and control platform for surge operations such as hurricane response, mass migration incidents and other events.
The cutters will also support Arctic objectives by helping regulate and protect emerging commerce and energy exploration in Alaska.
Austal USA was also awarded a $144 million contract from the Navy last year for two towing, salvage, and rescue ships (T-ATS). The contract award marked the first steel new ship construction program for the shipyard. T-ATS. Then, last month, the Navy awarded Austal a $156 million contract option for the construction of two more Navajo-class T-ATSes.
The T-ATSes will provide oceangoing tug, salvage, and rescue capabilities to support U.S. fleet operations and will be a multimission common hull platform capable of towing heavy ships. These ships will be able to support current missions, including oil spill response, humanitarian assistance, and wide area search and surveillance. The platform also enables future capability initiatives like modular payloads with hotel services and appropriate interfaces.
Austal has been a prolific builder of aluminum fast warships for the Navy for two decades. From its humble beginnings in the late 1990s, the yard has blossomed into a world-class shipbuilder, primarily on two Navy contracts — the 421'6"x103.7' Independence- variant littoral combat ship (LCS) and the 338'x93'x12' expeditionary fast transport (EPF) vessel.
MORE VARIETY
Down the road in Pascagoula, Miss., Ingalls Shipbuilding is constructing the Coast Guard's 418'×54' Legend-class national security cutters (NSC). Ingalls is the sole designer and provider of the cutters, which cost about $670 million each. NSCs, which have 22'6" drafts, are capable of embarking and supporting a wide range of Coast Guard, Navy and NATO manned and unmanned aircraft. NSCs have proven to be successful platforms for drug interdiction, illegal fishing enforcement, disaster relief and defense support operations.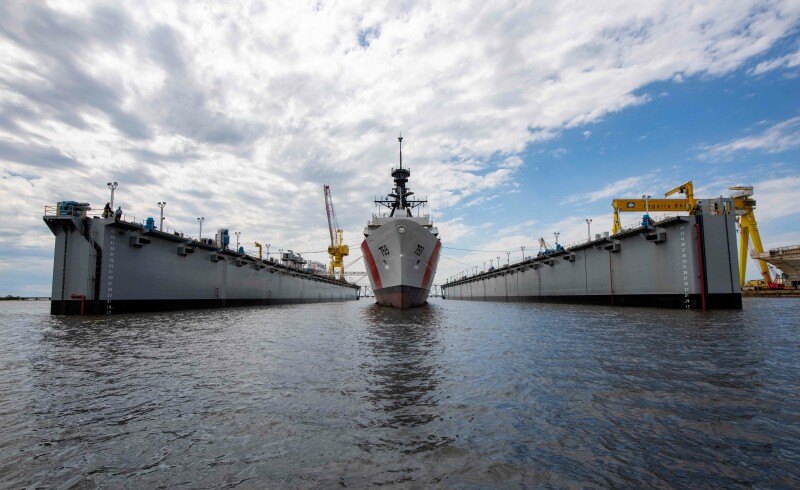 Main propulsion for the NSC comes from twin MTU 20V1163 diesel engines and a GE LM2500 gas turbine that combine for a total of 39,900 hp and give the ship a running speed of 28 knots. Ship's service power is the responsibility of three Caterpillar 3512B gensets.
The NSC isn't the only government contract Ingalls is working on. The yard has so much military work that in July it announced plans to hire 2,000 additional workers.
Part of the U.S.'s plan to assist Ukraine in better protecting its coastline, waterways and ports, is a range of defense "articles", including 23 welded-aluminum military vessels built by Louisiana-based Metal Shark.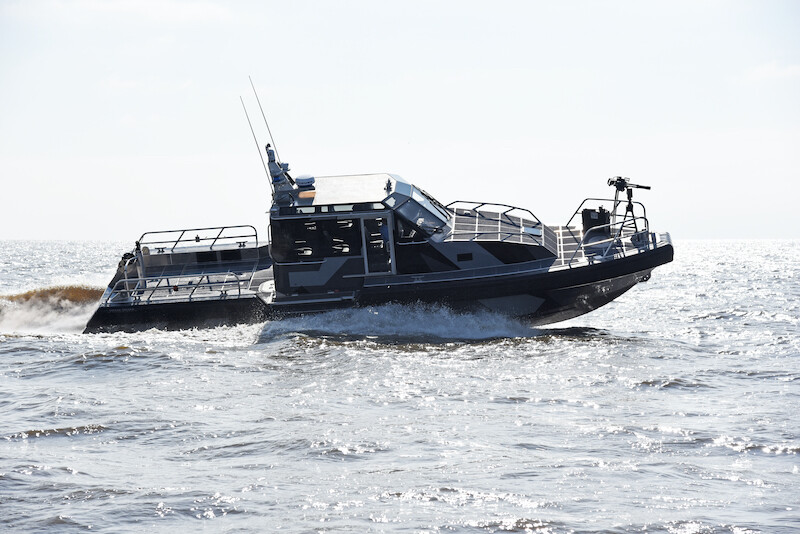 In July, it was announced that six of the Navy's new 40PB (patrol boat) maritime combat vessels would be sent to Ukraine as part of a $450 million security assistance package. Built by Metal Shark and delivered to the Navy in 2021 as part of a currently active defense contract for 50 vessels, these next-generation vessels feature six MK 16 weapons foundations plus a large forward foundation for stabilized, remote operated, optically guided MK 49/MK 50 weapons systems. Ballistic protection enables the 40PB to sustain extended firefights, allowing crews to respond with overwhelming force while remaining secure and protected from hostile fire.
At Metal Shark's Franklin, La., and Jeanerette, La., facilities, production is underway on 17 additional vessels for Ukraine, including 10 38' Defiant pilothouse patrol vessels, four 38' Defiant center console patrol vessels, and three 36' Fearless high-performance military interceptor vessels. Each of these boats is a proven military platform optimized for the Ukraine mission. (Bremerton, Wash.-based Safe Boats International is also building patrol boats for Ukraine — six 84.8'×20'6" modified Mk VIs.)
Last spring, Conrad Shipyard LLC, Morgan City, La., announced it had been awarded a $140 million contract by the Navy for the design and construction of up to eight 151'x49'x14' yard, repair, berthing and messing (YRBM) barges.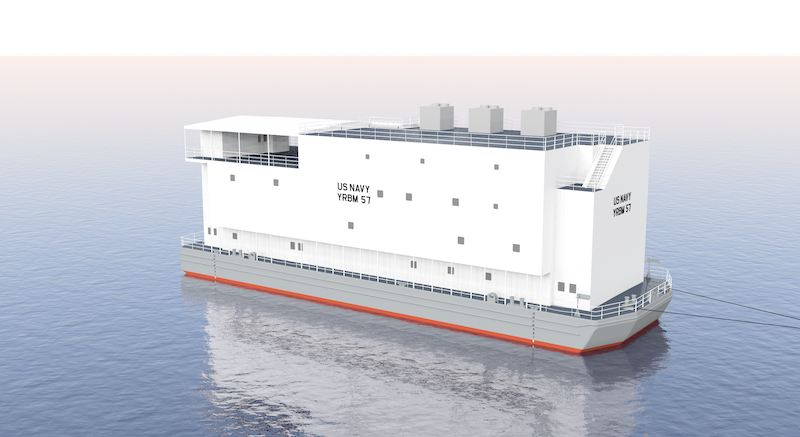 The YRBM barges provide a temporary home away from home and workplace for service men and women whose vessels are in port for repairs and/or maintenance.
Conrad's design incorporates functional spaces which allow the sailors to work, sleep and eat comfortably. The fixed-price contract has a potential value of over $140 million.