In May, Fairlead, Portsmouth, Va., signed an exclusive agreement with the Icelandic company Rafnar to build Rafnar's patented ÖK Hull in the U.S. for both manned and unmanned applications. The goal of the partnership is to become the leading solution provider in the early days of autonomous boat development.

Fairlead is a supplier of integrated electrical and control systems, large-scale mechanical fabrications and structures, precision machined metal components and subsystems, and advanced mobile containerized products.
The company's products are part of mission-critical systems in the U.S. Navy's Nimitz and Ford-class aircraft carriers, Virginia and Columbia-class submarines, all classes of surface combatants and amphibious ships including Arleigh Burke Class DDGs, San Antonio Class LPDs, LHA-8, the Littoral Combat Ship class, and many classes of support and auxiliary ships of the Military Sealift Command, the Maritime Administration, and the U.S. Coast Guard.
In addition, Fairlead provides repair and maintenance services to vessels, small boats, and craft through its ship repair facility in Newport News, Va. Fairlead also provides Down River services to the U.S. Navy and Auxiliary Fleet worldwide.
The company has a shipyard in Newport News, Va., and built the 36'6"x10'6" boat, Fairlead bought a Rafnar 1100, 36'6"x10'6" boat with a fiberglass ÖK Hull and brought it to the MACC conference and will bring the same vessel, which has a 1'10" draft, to the International WorkBoat Show in New Orleans in December. The boat, which weighs 8,400 lbs., is powered by twin Evinrude 250-hp outboards that give the boat a running speed of about 40 knots.
Fairlead has a shipyard in Newport News, Va., and will eventually build its own 1100s.
"Part of what we did at MACC and what we'll do at the WorkBoat Show is collect information so we can decide what we want to build first," said Todd Babcock, Fairlead's vice president, business development and marketing. "What engines do we want, do we want to go electric, is there an autonomous possibility?
The Rafnar ÖK Hull is a hull-and-keel technology that impressed Fairlead officials several years ago during a hull test in the U.S.
"We are targeting [hull] molds by September," said Babcock, "but we won't be ready to build for another 18 months, probably."
The team's objective is to not only enter the U.S. manned vessel market but to position themselves as the premium platform in what it suggests is perhaps the largest paradigm shift in the maritime industry in recent years, the advent of the unmanned vessel.
Over the months ahead, Fairlead will be developing the infrastructure and tooling to support hull production, as well as designing a new 11-to-12-meter variant, specific to the needs of certain U.S. tactical and unmanned requirements.
As far as MACC is concerned, "We thought it went extraordinarily fine," said Babcock.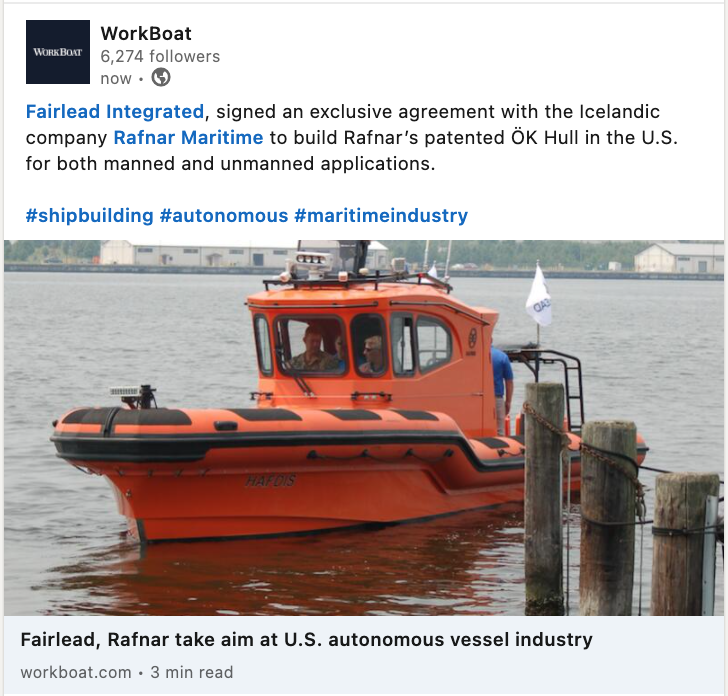 Stay connected, and follow us on LinkedIn: https://www.linkedin.com/company/workboat-com