After being idled for a year by the virus and government shutdowns, U.S.-flag overnight passenger vessels are starting to cruise again at reduced capacities and with new health and safety protocols in place.
Also trying to get back on track, Alaska and UnCruise Adventures Monday said the state was open for business. The popular tourist destination "may be the safest locale in the world," said Gov. Mike Dunleavy, and may hit herd immunity sooner than other states because of its vaccination rate. Alaska has been especially hurt by the U.S. ban on overnight ships carrying at least 250 passengers and crew. The state was walloped again recently by Canada extending its own ban, which curtails visits by foreign-flag megaships that often start voyages in or visit the country on their way to the 49th state.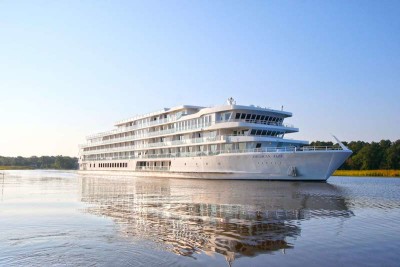 In the lower 48, American Cruise Lines' (ACL) new 190-passenger, 328'x60'4"x7'10" American Jazz — third of five in its modern riverboat series – left Sunday on a Lower Mississippi River trip between New Orleans and Memphis. On March 13, the 195'x50'x11', 100-passenger coastal American Independence began a Jacksonville, Fla., to Charleston, S.C., itinerary.
ACL expects all 13 of its ships to be operating by summer. The cruise operator required Covid-19 vaccines for its first cruises of the season, "out of an abundance of caution for the safe operation of our ships and in collaboration with the communities we visit," spokesman Alexa Paolella said. They are not required for cruises leaving after April 10, but ACL requires a negative test result for all passengers and crew.
American Queen Steamboat Co. (AQSC) and sister company Victory Cruise Lines are mandating vaccinations for all passengers on sailings beginning July 1 as well as crew and non-shipboard employees. AQSC also requires pre-cruise testing and masks in all public areas where social distancing is not possible.
On Sunday AQSC christened the 245-passenger, 310'x78'x14' American Countess, an event originally scheduled for last April. It will begin public sailings on the Lower Mississippi March 28 from Memphis, Tenn., to New Orleans. The christening follows the American Duchess' recent return to service with reduced passenger capacity on March 15 on the Mississippi from New Orleans to Memphis. The American Empress and flagship American Queen will sail later this year, the company said.
Alaska is attempting to recover from a rough year for tourism. "Alaska is open – not only open but wide open," said Capt. Dan Blanchard, owner and CEO of overnight cruise operator UnCruise Adventures, which will start sailing there May 10. Crew and passengers must be vaccinated and show proof with the Centers for Disease Control and Prevention's (CDC) vaccination record card.
The company will have in service six vessels which hold fewer than 100 passengers and one in reserve if needed.
Alaska was originally expecting 1.3 million cruise passengers this year and instead may have only about 15,000 combined from U.S.-flag smaller ships like UnCruise, Lindblad Expeditions, Alaskan Dream Cruises and ACL, Blanchard said.
Alaska's congressional delegation is pushing for an exemption to the Passenger Vessel Services Act (PVSA), which is similar to the Jones Act and requires foreign-flag vessels to stop at a foreign port between domestic calls.
The governor was reluctant to handicap the chances for passage and said he expected to check with the federal delegation Monday or Tuesday. "We're a seasonal destination," he said. "We need to know soon."