October 6, 2023
Outfitting a Vessel With Libra Doors
Originally founded in 1954 as a composites company that built boats and storage containers, Libra began manufacturing doors for the maritime market in 1970. They started with composite GRP (Glass Reinforced Plastic) but soon expanded into aluminum and steel doors to meet market demands. Today they are the largest maritime door manufacturer in Europe, producing over 7,000 doors with a full line of watertight, weathertight & spraytight doors, as well as hatches.
Where are Libra doors manufactured?
Headquartered, designed and engineered in Norway, Libra products are manufactured in three production facilities in Norway, Latvia and Vietnam. All of the GRP products are manufactured in Norway, as well as some the steel products, while the rest of the steel and aluminum products are split between the factories in Latvia & Vietnam.
Can Libra Doors be Refit, or Only for New-Builds?
Libra Doors are a great option for both new-builds and refits. New builds only have to provide the plans for the build to with the number of doors, locations, opening directions, and make choices on which types of doors should go in each location. Often, the type of door is determined by rules and regulations, but there can still be choices like which material is better for the application. For example, a high-speed ferry might opt for Libra's SLD doors, which are designed to be lightweight, while a more rugged Tug or offshore vessel might prefer the heavier, robust WRD doors. From there, Imtra works with Libra to quote a full package of doors and hatches for the new build, which comes with full dimensional drawings of each door in the proposal.
For refits, all the same information needs to be provided and the same decisions need to be made. In addition, precise measurements of the existing door need to be provided, as well as a few images of the existing door. Otherwise, the process is the same and Imtra and Libra will provide a quote and full dimensional drawing of the replacement door.
What are the differences among watertight, weathertight & spraytight doors?
Watertight Doors: Located in watertight bulkheads below the main deck, watertight doors are required to withstand static water pressure from both sides of the door.
Weathertight Doors: Located on the main deck (typically position I and II according to International Load Lines Convention), weathertight doors are required to withstand dynamic pressure from one side of the door. Weathertight doors lead into rooms which are an essential part of the vessel's stability calculation.
Spraytight doors: Leading into rooms which are not part of the vessel's stability calculation, spraytight doors do not require type approvals. These are often found leading into wheelhouses and other areas high above the waterline.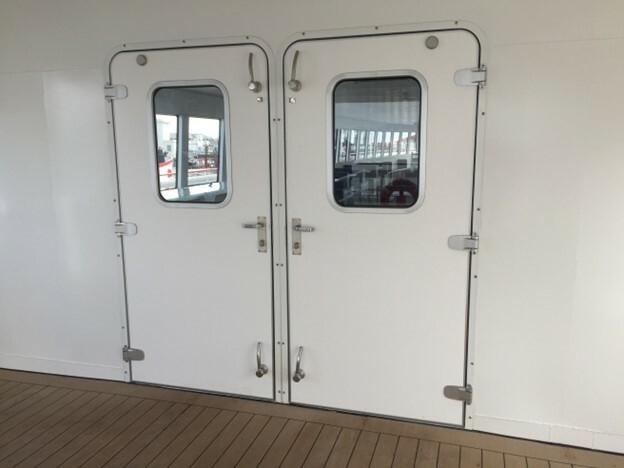 Does Libra offer double doors?
Yes, Libra offers double doors with fixed or removable mid-posts. They're available for watertight, weathertight, and spraytight doors with quick acting or single toggles. These tend to be popular for passenger entry locations or areas where equipment such as a forklift needs to enter the vessel or enclosure.
Are Libra doors Type Approved?
Yes, Libra offers DNV-GL Fire certificates, DNV-GL Type Approvals (USCG), and ABS PDA certificates. Project approval certificates outside of these classifications can be applied for on a case by case basis.
Does Libra offer fire rated doors?
Yes, they offer A0 and A60 fire-rated doors.
What type of toggle systems are available?
Libra offers Single Toggle, Quick Acting and Wheel Operated toggle systems.
What coaming radius options are available?
The radius options are 100mm or 30mm.
What coaming profiles are available?
Libra offers Flat Bar, Angle Frame and Z-Frame coaming profiles
What are some standard accessories Libra offers for their doors?
Libra offers windows, portholes (and porthole covers), locks/cylinders, door hooks/hasps/closers, anti-piracy locks, padlock brackets, keypads, magnetic locks, and de-icing solutions, among others. Libra primarily uses Trioving handle and lock accessories.
Libra's dogs are also unique in design, featuring a stainless steel, self-lubricating roller that makes engaging & disengaging them smoother and easier.

What materials does Libra use for parts?
All moving parts (dogs, linkage, handles, locks, etc.) are made from stainless steel and the gaskets are neoprene.
How do you determine right-hand (RH) and left-hand (LH) hinge directions?
Different door manufactured define LH & RH hinges differently, but Libra's definition is as follows: Stand outside of the enclosure so the door is swinging towards you, if the hinge is located on the right from that position it's a RH, if the hinge is located on the left from that position it's a LH. See illustration below.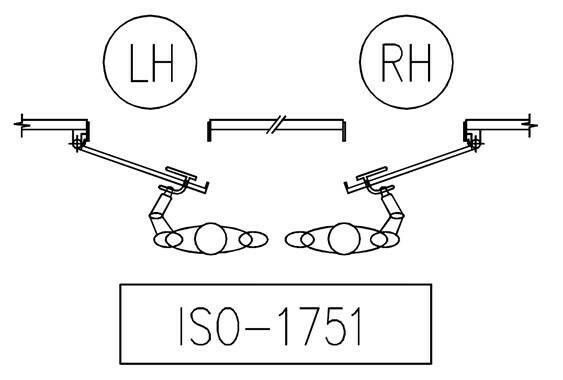 What other products does Libra offer?
Beyond doors, Libra offers an extensive range of deck hatches including escape hatches as well as flush and custom solutions. Similar to their doors, these are available in steel, aluminum, and GRP in watertight, weathertight, and spraytight integrity. They also offer GRP consoles which are commonly used for exterior bridge wing steering stations or crane operating stations. In addition, Libra has a complete range of storage containers in aluminum or GRP. These are commonly used for fire equipment, lifejackets, survival suits, etc.
For more information: