October 24, 2023
Orchestrating Offshore Vessel Connectivity With Fleet Reach
Inmarsat

In an industry that is increasingly focused on optimising efficiency, sustainability and crew welfare, digitalisation is transforming the way offshore service providers operate. The smart solutions that support better decision-making and enhancements in crew connectivity are driving soaring data consumption by offshore support vessels (OSVs).
However, the operating profile of the OSV demands sector-specific attention to optimise connectivity performance on a continuous basis. With the average vessel spending up to 40% of its time close to shore, OSVs routinely switch to shore-based LTE networks and rely on VSAT services only when they are out of reach.
LTE networks are highly reliable in congested ports and densely populated areas where bandwidth demand is intense. Using 4G LTE service when in range of shore or offshore fields, Fleet LTE from Inmarsat connects to Inmarsat's Fleet Xpress Ka-band service when the vessel sails outside the range of LTE coverage.
All-in-one with Fleet LTE
A fully automated switch-over maintains connectivity when the vessel moves from shore-based networks to Fleet Xpress, with the resilient L-band coverage of Inmarsat's FleetBroadband providing unlimited back-up, resulting in 99.9% network availability.
The equivalent switch from VSAT to 4G has so far required manual intervention, however, in a transition whose costs can be difficult to manage, and which can compromise signal strength and cause interruptions. At a time when vessel efficiency and sustainability, and crew performance, are more reliant than ever on stability in high-capacity connectivity, there is a clear need for continuity and seamlessness through the transition to near-shore networks.
To address this challenge, Inmarsat recently launched Fleet Reach - a coastal LTE service optimised by Fleet Xpress which offers access to uninterrupted high-speed broadband even when vessels sail near the coast or are docked in port. The new service forms part of Inmarsat ORCHESTRA, the satellite company's 'network of networks' which uses multiple technologies in multiple orbits to deliver connectivity wherever and whenever it is needed.
Fleet Reach makes the transition from VSAT to 4G seamless by automatically connecting the vessel to the high-speed LTE up to 10 nautical miles from the coast, while constantly scanning signal quality to ensure the best connectivity is maintained all the way into port. The solution is significantly more cybersecure than the existing method of using dongles in port, also doing away separate contract provisions for dongles so that operators have greater control over costs.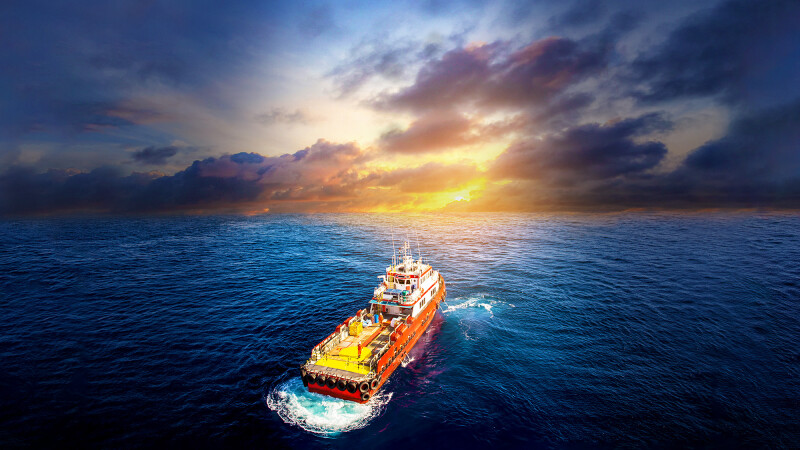 Transparent gains
For operators, Fleet LTE has already been proving itself as a cost-effective all-in-one solution with no hidden costs, throttling or unexpected bills and a single flat rate, whether LTE, Fleet Xpress or FleetBroadband is being used. Plans can also be upgraded or downgraded at no additional cost as demand changes, while a separate charterer bandwidth pipe addresses client connectivity requirements to give operators a competitive edge.
Offering high speeds and low latency, Inmarsat's Fleet LTE services are tailored to the data-intensive requirements of modern OSVs operating in the North Sea and Gulf of Mexico regions. Moreover, by unlocking the power of Fleet Data – Inmarsat's IoT data transfer and management application – Fleet LTE helps ship owners to make informed decisions to optimise performance, reduce fuel consumption and minimise emissions.
Longstanding Inmarsat customer Golden Energy Offshore, for example, relies on Fleet LTE bandwidth and Fleet Data to collect, analyse and transfer significant volumes of vessel and machinery performance data, which it harnesses to support decision-making towards fleetwide efficiency and sustainability enhancements.
With crew welfare another vital consideration for Golden Energy Offshore, Fleet LTE ensures that onboard personnel can contact family and friends and access entertainment services in their free time. The company also uses Fleet LTE bandwidth for video conferencing, remote vessel inspections by classification societies and remote equipment servicing for customers.
Through Fleet LTE and, now through Fleet Reach, Inmarsat continues to ensure optimal connectivity offshore, in transit and in port to meet the fast-evolving requirements of OSV operations.
To find out more, book a discovery call with Inmarsat.