Washington State Ferries is investigating why its vessel Walla Walla lost power and grounded near Bainbridge Island on April 15 while en route from Bremerton to Seattle. There were no injuries, and all 596 passengers were safely evacuated, according to WSF and the Coast Guard.
The Walla Walla, a 440'x87'x18' jumbo class ferry with 15 crew and a capacity for up to 2,000 passengers and 188 vehicles, ran aground in the Rich Passage around 4:30 p.m. Saturday. Early indications were the vessel suffered a generator failure and lost power, according to ferry officials.
With dead low tide at 8 p.m., passengers were initially kept on the vessel with the Coast Guard and a tugboat standing by as WSF and assisting agencies planned an evacuation. Kitsap Transit dispatched its hybrid electric ferry Waterman to and the ferry Commander to begin shuttling passengers off the Walla Walla to the Brementon terminal around 8 p.m. and provided buses for moving on shore.
Ferry officials also coordinated with the Coast Guard to evacuate one passenger due to a medical emergency unrelated to the grounding.
During those hours, WSF and Kitsap Transit kept passengers up to date via social media and postings on Twitter.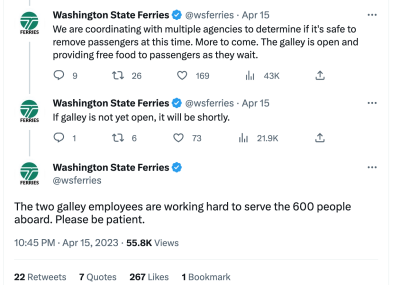 "For those with vehicles aboard the currently grounded Walla Walla: The plan is to get you to Bremerton via @KitsapTransit," ferry officials messaged at one point. "Retrieve cars at the Bremerton terminal tomorrow at 9 a.m. We know it's not ideal, but thanks for helping us make the best of a bad situation."
The incident underscored Washington's difficulties replacing its aging ferry fleet – a point Gov. Jay Inslee made when he went to Bainbridge Saturday to see the evacuation operation.
Built in 1973 in Seattle and and rebuilt in 2003, the diesel-electric Walla Walla is at the half-century mark.
"Look, we have a very old fleet," Inslee told the Seattle Times. "We desperately need new boats. We've known this for a long time."