Despite a surge in Covid-19 infections across the country, especially in communities and states where they operate, the inland shipping industry has been reluctant to impose vaccination mandates on its workers even though many other industries have moved in that direction. That may change soon for large barge operators under new rules announced Thursday by President Joe Biden.
Industry leaders, concerned about the spike and its affect on worker health and their businesses, say they have considered mandates but have so far decided not to impose them, citing the high number of skeptical workers and a tight job market that would make it difficult to replace those who quit over the issue.
In fact, a new Washington Post-ABC News poll underscored this concern when it found that among unvaccinated workers nationwide who are not self-employed, about seven in 10 said they would likely leave their jobs if required to get vaccinated.
Many operators believe that their workers are already following required health and sanitation protocols on and off the job, which has kept infections low, and many say they want to respect the personal decisions of their workers.
Like many other businesses across the country, tug and barge operators are finding themselves in the middle of a hot national debate: how to combat the coronavirus spread in their workplace and communities while also respecting the rights of workers who are skeptical of the vaccine and view mandates as an assault on their Constitutional rights. Also of concern for barge operators are the costly delays when a mariner falls ill and the boat must be idled and the crew quarantined, or when a mariner's family member is sick, and the mariner must stay home to care for them.
"For many companies, Covid is a bigger challenge to their operations now than it has been at any time during the pandemic," Jennifer Carpenter, president and CEO of the American Waterways Operators, said at a recent WorkBoat webinar. "Low vaccination rates are a big topic of concern among the member companies I talk to. They've tried education, they've tried incentives. I've heard about everything from additional vacation days to vaccine lotteries with cash prizes. It has worked to a point but not enough for many of them, so some companies are now saying, especially with the Pfizer vaccine receiving full FDA approval, that maybe it's time to try a different approach."
People don't like to be told what to do and companies know that in a tight labor market there's a risk to forcing mandates, she said. "You mandate vaccination and someone who doesn't want to take it quits and goes somewhere that doesn't require it."
But, Carpenter added, "the business case for vaccination is growing. She cited an example of one barge company that reported that it costs five times as much to deal with a Covid-19 case involving an unvaccinated person as it does a vaccinated one. "A prospect of losing business because a boat goes down and you can't do the job is something no company can afford to deal with."
Austin Golding, president of Golding Barge Line in Vicksburg, Miss., said his challenge is convincing skeptical workers who also live in a low vaccination state or community to take the shot. He said his company is pro-vaccine and has been highly pro-active, making vaccine information easily accessible to mariners and consulting with a physician who also serves on Mississippi's Covid-19 task force to provide bi-weekly updates that "catch each crew change with fresh information and knock down some of the misinformation" about vaccines.
"Being pro-vaccine, getting good information into mariner's hands, not running from it but taking it on, is good business," Golding said at the Workboat webinar. "When you ask people to get on a small vessel for a month at a time, share rooms, bunks, bathrooms, eat at the same table and bring people from around the country to live with you on a rotation, it makes no sense not to take it on and take it seriously." But he acknowledges there are risks to a mandate as it might encourage some mariners to quit. "They have other options and there are people with various degrees of seriousness about their Covid management."
As a result, Golding has found creative ways to push vaccinations without mandating. The company is not hiring anyone for any position who isn't vaccinated and is not promoting anyone into its steersman training program who is not vaccinated. "We're not going to make our problem worse while trying to make it better for our existing employees," he said.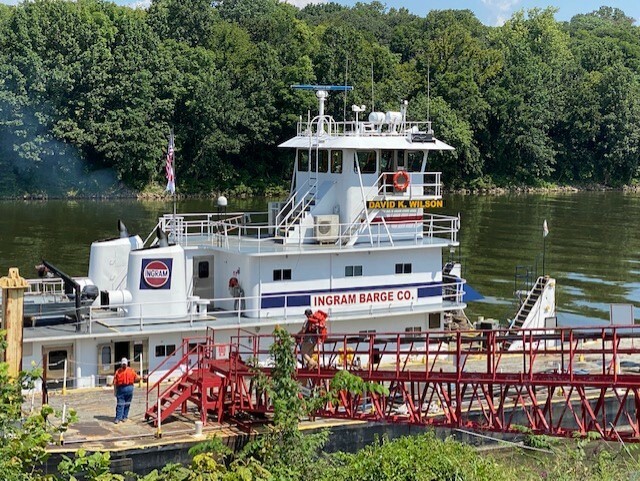 At Nashville-based Ingram Barge Co., the emphasis has been on setting protocols, social distancing, mask wearing and educating workers with Covid-19 information including video messages from Ingram owner Orrin Ingram and the company's medical director, said Oscar Harrell, vice president of vessel operations in Paducah, Ky. To make it easier for workers, Ingram has also offered vaccines at the office and has worked with the Seaman's Church Institute to encourage the jabs.
But the results haven't been encouraging. "We are certainly a proponent of vaccines, but we haven't had a huge amount of success. I think we're doing what we can but understand that we could do better. Many companies feel that at this point that we're doing as much as we can based on the labor market and the strong feelings of our associates, however we wish we could get a higher level of vaccination within our workforce."
He estimated that only about 20% of mariners on Ingram boats are vaccinated, which he believes is typical in the industry, and that Ingram boats operate in states with only about 40% or slightly higher vaccination rates. Even when information is shared that over 90% of Covid-19 hospitalizations are the unvaccinated, "we still only get small winds of four, five people here or there who change their minds."
Has Ingram considered a mandate? "We have not considered anything that drastic, but I'm keenly aware that there are companies in other industries that are going down that road," Harrell said in an interview. "We look at what other companies are doing in our industry and outside, but ultimately we have to look at our workforce. Any employer has a special relationship with his employees, and you know how much you can push that relationship until it is damaged. That's the delicate balancing act and respecting their decision to not get vaccinated obviously puts all of us more at risk, but it maintains the level of respect for that decision."
He added, "we're not moving toward any hardline vision for folks in terms of trying to force their hand. We're using the carrot but not the stick. We are a family-owned business and our owner and our leaders and executives have personal conversations with our folks and we ask them to treat each other with respect and we expect the same of ourselves in how we treat them. We feel it would be inconsistent to how we operate" to force vaccinations.
Biden's executive order may change the situation for some
In recent months, as the Delta variant has spread with lightening speed, vaccination mandates have gained traction. President Biden announced Thursday that millions of federal workers will be required to be vaccinated or face disciplinary action.
As part of a more assertive Covid-19 policy, he is also instructing the Labor Department to draft an emergency rule mandating that all private businesses with 100 or more employees require vaccinations or test their workers weekly. Companies that don't comply could face thousands of dollars in fines. Although many barge lines are small operations, this new rule would affect a number of industry operators that have large workforces.
A growing number of other businesses have already adopted requirements, including Amtrak, Netflix, Tyson Foods, Disney Co., Facebook, United and Delta airlines, Ford, Uber, McDonalds, as well as many banks, hospitals, state governments and the military. Universities and many public schools now require them, while a Gallup poll released this week revealed that a majority of Americans now favor vaccine mandates for travel.
There also is legal support and precedent for mandates. The Equal Opportunity Employment Commission has ruled that employers can legally require Covid-19 vaccines in the workplace as long as they find alternatives for employees unable to get the shot for medical or religious reasons.
At least one major blue water shipping company has imposed mandatory vaccinations. Matson Shipping, a Honolulu-based Pacific Ocean container transportation company, announced that as of Oct 1, only fully vaccinated workers will be eligible to be dispatched to Matson vessels as crewmembers, port relief offers, standby or shore gang members.
In a fleetwide communication, the company called the new policy "an effort to tighten procedures and protocols to safeguard against Covid-19 outbreaks aboard Matson's ships and ensure continuity of service in our trade lanes, while protecting the health and safety of our maritime employees." The company offers $500 to workers as an incentive to get the jab.