DeFelsko Corporation

The PosiTector 6000 coating thickness gage for all metal substrates is smarter, faster and more powerful than ever before. The ergonomically designed PosiTector 6000 is rugged and weatherproof— ideal for all weather conditions. Both Standard and Advanced models feature built-in memory, onscreen statistics, USB mass storage, and new Fast Mode. Fast Mode increases measurement speed even further to over 90 readings per minute for experienced users and straightforward applications. Advanced models also include 3 powerful scan modes to take over 180 readings per minute.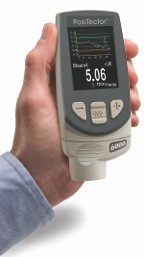 The award winning PosiTector gage body accepts ALL coating thickness (6000/200), surface profile (SPG/RTR), environmental (DPM), salt contamination (SST), hardness (SHD/BHI), and ultrasonic wall thickness (UTG) probes. This innovation allows quick conversion from a coating thickness gage to a surface profile gage, dew point meter, soluble salt meter, hardness tester or ultrasonic wall thickness gage with a simple probe change. Each probe retains its own unique calibration information allowing for full probe interchangeability. Long form certificates of calibration are included with each probe.
As always, tough probes, robust housing and a strong two year warranty make the PosiTector 6000 the right choice for painters, inspectors and more.
Visit booth #862 or www.defelsko.com for more information.
For more information:
Tel:      1-800-448-3835 (USA)  or + 1-315-393-4450
Fax:     +1-315-393-8471
Email:  [email protected]
Web:  www.defelsko.com
DeFelsko Corporation
800 Proctor Avenue, Ogdensburg,   New York   13669 USA